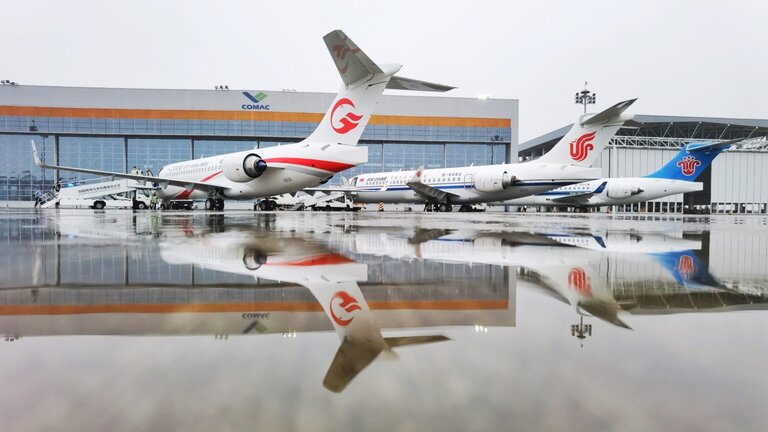 The US Trump Administration, in its final days in office, has thrown a political incendiary at China by blacklisting Commercial Aircraft Corporation of China (Comac), a state-owned enterprise that has recently gained some traction in the international market with its ARJ21 regional jet that uses US-made engines and other components.
The US Government, which is still under the control of US president Donald Trump until 20 January, has added Comac to a US Department of Defense blacklist that forbids American investors from buying securities – such as shares or providing loans – to Chinese companies on the list, because the government says these companies have links to the Chinese military.
The blacklist will have no impact on Comac, because it is not publicly traded and has no need to seek financing from the US. But other Chinese companies that were put on this black-list such as Aviation Industry Corporation of China (AVIC) have later ended up on more severe black-lists, such as the US Government's military end-user list that forbids the Chinese company from buying US technology products unless they have specific permission from the US to do so.
AVIC makes both military and civilian aircraft, but Comac only manufactures civil aircraft. Comac's ARJ21 regional jet and C919 airliner program rely heavily on US equipment. For example, the ARJ21 is powered by GE CF34 engines, Parker Hannifin provides the hydraulic system, Honeywell provides the 'fly-by-wire' system and Collins Aerospace provides the avionics.
Comac announced earlier this month that it has delivered a total of 46 ARJ21s to airlines in China. It also secured this month a firm order for 30 ARJ21s, with options for 30 more, from China Aircraft Leasing (CALC) which plans to place the aircraft with Indonesian carrier TransNusa Aviation Mandiri. CALC, its CEO and deputy CEO own 49% of the airline.
Political observers say the Trump administration has been imposing controversial policies in its final days so as to create political pitfalls for the incoming Biden Administration.
Related posts
SUBSCRIBE TO OUR NEWSLETTER