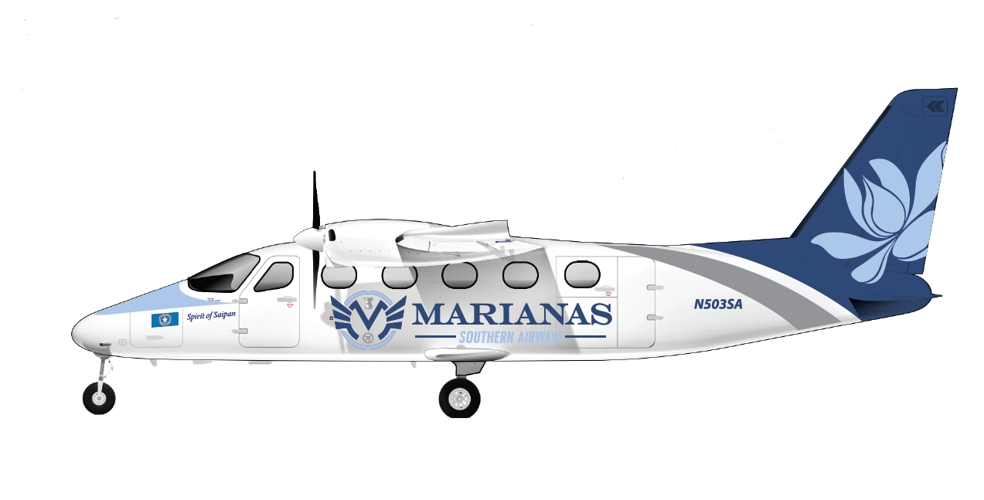 The US Department of Transport (DoT) has approved a start-up airline in the Northern Marianas, which plans to start operating inter-island passenger services next month using new Tecnam P2012 aircraft.
The start-up, Marianas Southern Airways, says in a statement that the US DoT has approved its name, adding that this was the last regulatory hurdle it needed to overcome and it will start operating in July. The Northern Marianas is a US overseas territory in the Pacific.
The first aircraft, an Italian-built Tecnam P2012 named the 'Spirit of Saipan', left Italy on 1 June and it is now being ferried to mainland United States where it will be painted in the airline's livery before arriving in Saipan next month, Marianas Southern Airways co-founder, Keith Stewart, says in the statement.
Additional aircraft will be added to the airlines' fleet over the next six months, he adds.
The Tecnam P2012 is a piston-powered twin engine 11-seater that can also be reconfigured for cargo.
The new operation is a joint-venture between US carrier Southern Airways Express and MP Enterprises, a Saipan-based construction and real estate development company.
It will be competing against Star Marianas Airlines, currently the only inter-island service provider on local flights within the Northern Mariana Islands.
According to local newspaper Saipan Tribune, Star Marianas on 31 May requested, under the Open Government Act, that all dialogue be made public between government and the new airline's partners, MP Enterprises and Southern Airways Express, with regards to Marianas Southern Airways.
Star Marianas's website shows it has a fleet of: eight Piper PA-32 Cherokee Six aircraft and five Piper PA-31 Navajo aircraft. Both types are used for passenger and cargo within the Marianas, it adds.
The Piper PA-32 is a piston single engine aircraft that seats five passengers, and the Piper PA-31 is a piston twin engine that seats eight passengers.
Feature picture, from Marianas Southern Airways, shows an artist's impression of its aircraft livery.
Related Stories:
North Pacific Start-Up Aims To Begin In July (30 May 2022)
Davy Lim
Davy is based in Singapore. He is passionate about aviation and has flight experience in various single engine piston aircraft, gliders and seaplanes from his time in the United States. Davy holds a BA in Economics from the State University of New York in Buffalo.
Related posts
SUBSCRIBE TO OUR NEWSLETTER