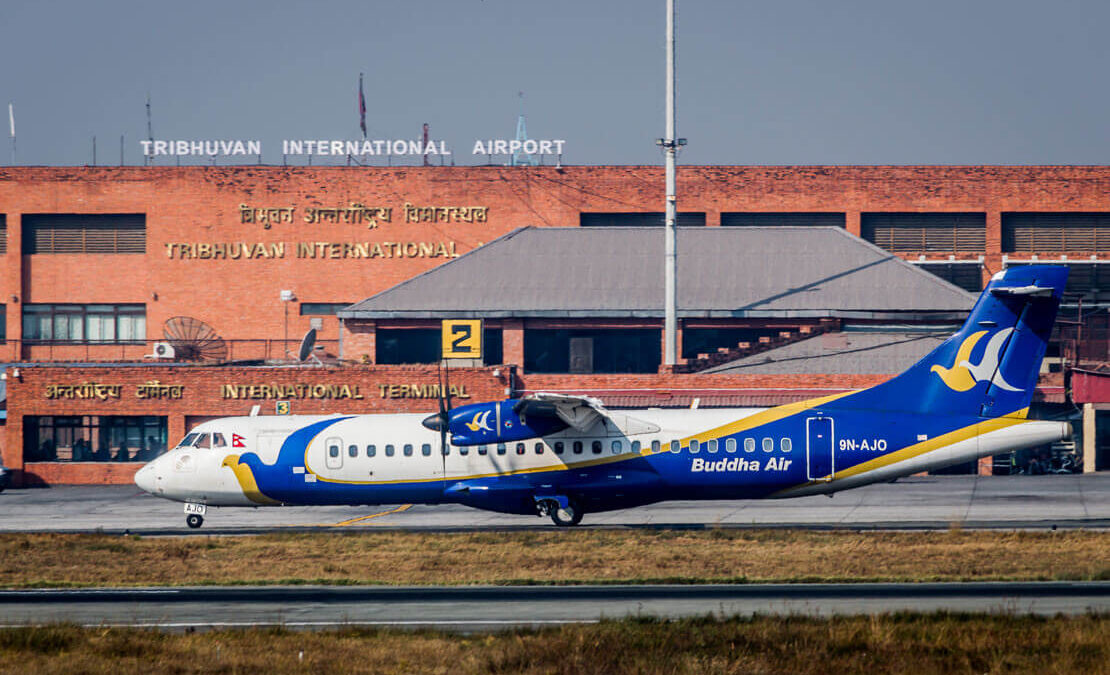 A Nepalese Buddha Air ATR 72 safely returned to Kathmandu's airport after air traffic control (ATC) notified it of tyre material on the runway after it took off.  
A Buddha Air spokesperson tells Smart Aviation Asia Pacific the ATR 72-200, local registration 9N-ANP, operating on 1 June from Kathmandu to Bhadrapur took off at 10:42hr local time.
After take-off, ATC of Kathmandu's Tribhuvan International Airport reported suspected tyre treads on the runway and immediately informed the aircraft, he says.
The aircraft diverted back to the airport and landed safely at 11:07hr, he adds.
Buddha Air then inspected the aircraft and found the number-three tyre had deflated with damage to the tyre treads, he says. The number-three tyre is one of two tyres on the right main landing gear.
Both tyres and brake units of the right main landing gear were removed, with the other tyre in visibly good condition with no damage, he says. For safety purposes, all six tyres on the aircraft were replaced with new tyres, he says.
The airline's engineering team and workshop experts suspects the tyre damage was caused by foreign object damage (FOD) as there is a cut on the side wall of the tyre, he says. The tyre has been sent to the manufacturer for a detailed investigation and will proceed accordingly after the report is received, he adds.
The aircraft was added to the Buddha Air fleet on 20 May 2022, and was previously operated by Jet Airways in India, he says.
The number-three tyre has only done 88 cycles and was last replaced by a different operator in 2019, he adds.
A tyre cycle count is an accumulation of the number of take-offs and landings that the tyre has performed.
According Airfleets.net, the aircraft is 13.5 years old and was in put in storage by lessor Constellation Aircraft in April 2019.
The spokesperson confirms Buddha Air has two Beechcraft B1900D, three ATR 42s and 11 ATR 72 aircraft, and is working to expand with more ATR 72s this year.
Picture Source: buddhaair.com
Related Stories:
Nepal's Buddha Air Plans Fleet Expansion (13 January 2022)
Nepal Breaks Domestic Travel Record (10 January 2022)
Buddha Air Aims To Fly To Nepal's Remote Regions In Near Future (25 November 2021)
Nepal's Buddha Air Expanding Amidst Pandemic (15 September 2021)
Interview: Nepal's Buddha Air Adding Two ATR 72-500s in Early 2021 (29 December 2020)
Nepal's Buddha Air Aims To Start STOL Operation Late 2021 (7 December 2020)
Davy Lim
Davy is based in Singapore. He is passionate about aviation and has flight experience in various single engine piston aircraft, gliders and seaplanes from his time in the United States. Davy holds a BA in Economics from the State University of New York in Buffalo.
Related posts
SUBSCRIBE TO OUR NEWSLETTER