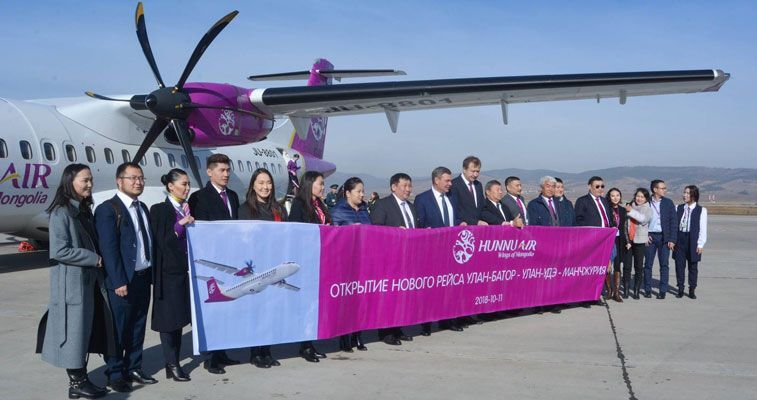 Russian Carrier KrasAvia Reducing Western-Built ATR Fleet
Staff Writer, 20 Aug 2022
2 min

read
Siberian carrier KrasAvia, which only started operating ATR aircraft early last year, appears to be phasing the aircraft out, now that western aircraft manufacturers are strictly forbidden from providing spare parts and customer support to Russian operators or Russian-linked companies.
Data from Planespotters.net shows that privately-owned Mongolian carrier Hunnu Airlines has just taken delivery of an ATR 42-500 previously operated by KrasAvia. This 17-year-old aircraft has local manufacturer's serial number 641 and now has local registration JU 1803.
It says KrasAvia only started operating this aircraft in August 2021. This is about six months before Russia's 26 February invasion this year of Ukraine.
According to Planespotters.net, KrasAvia has a second ATR 42 now in storage, but it is still operating three ATR 42s. It also says it is operating one ATR 72, even though the carrier earlier had two.
ATR issued a statement in February 2021 saying KrasAvia had started operating two ATR 72-500s that the airline had bought and that these were the very first ATR aircraft to join the airline's fleet. The fleet renewal using ATR aircraft was to replace 40-year Antonov An-24 and An-26 aircraft, it said, referring to Soviet-era aircraft made in the Ukraine.
Russia's invasion of Ukraine has led the European Union and various countries around the world to impose strict trade sanctions against Russia. This includes forbidding western aircraft manufacturers and equipment suppliers from doing business with Russian operators or companies linked to Russia.
Since the sanctions were imposed, Russia's government has been encouraging local airlines to acquire Russian-made aircraft.
Russia's state-owned news agency TASS earlier this month quoted KrasAvia general director, Andrei Egorov, as saying the airline signed a preliminary agreement on 6 August to acquire ten LMS-901 utility aircraft for delivery in the period 2025-2029. The LMS-901 is a single-engine, high-wing aircraft that seats nine passengers, making it a competitor to the Pratt & Whitney Canada PT6-powered Cessna Caravan. The LMS-901, which can take off from runways as short as 250m (820ft), is to be powered by a Klimov VK-800 turboprop.
Data online shows this is the first ATR 42 for the Mongolian carrier which also operates two ATR 72s and one Embraer 190.
Feature picture, from Vonsvon, shows people posing in front of Hunnu's ATR 72.
Related articles:
Russian Aircraft Manufacturers Lobbying To Replace Western Built Aircraft (8 June 2022)
Russia Authorises Five Domestic Companies To Produce Spare Parts For Western Aircraft (7 June 2022)
Russia Plans To Certify MC-21 And Sukhoi SuperJet By End 2023 (6 June 2022)
Far Eastern Russia's Kamchatka Airlines Ceases Operations Due To Lack Of Western Aircraft (26 May 2022)
Russia Testing Domestically-Developed PD-8 Engine For Sukhoi Superjet (17 May 2022)
Russia's Aurora Airlines To Add New Baikal Utility Aircraft (12 October 2021)
Related posts
SUBSCRIBE TO OUR NEWSLETTER