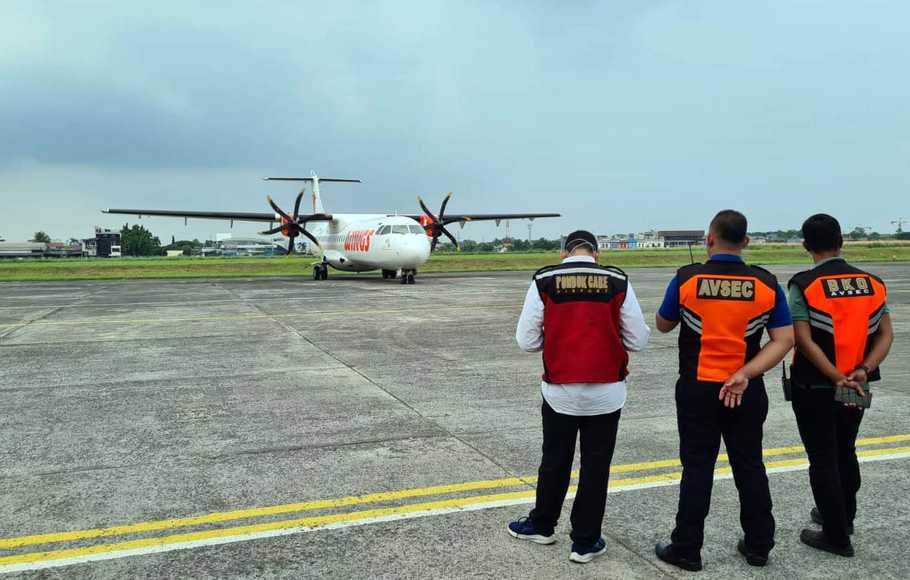 Lion Air's Wings Air has suspended indefinitely its short-lived air services from South Jakarta's Pondok Cabe Airport, citing a lack of passenger demand.
Wings Air launched scheduled passenger services from Pondok Cabe Airport, starting 5 August, with ATR 72 services to two destinations, but Lion Air's spokesman tells local media the Wings Air services have now been suspended because the market demand, including number of passengers, are too low.
Even though the spokesman says Wings Air was losing money on the newly opened routes, he says they hope to relaunch the services sometime in future but he stopped short of giving a time-frame.
With no scheduled air services to the two destinations – Purbalingga and Cepu Blora – Wings Air is offering charter services to these destinations as an alternative, he adds.
Purbalingga is a town in central Java that is 370km and about six hours' drive from Jakarta; while Cepu Blora is a district in central Java that is 650km and nine hours' drive from Jakarta. Both are remote places dependent on air transportation.
Wings Air started services from Pondok Cabe, because it, and other airlines, had to vacate Jakarta's Halim Perdanakusuma International Airport which is closed for runway repairs and airport upgrading.
The authorities allowed jet operators to relocate to Jakarta's Soekarno-Hatta International Airport, but encouraged turboprop operators to relocate to Pondok Cabe Airport which is in South Jakarta and further away from the city-centre than Halim airport and Soekarno-Hatta.
Cessna Caravan operator Susi Air started passenger services from Pondok Cabe Airport on 3 August, with flights to Pangandaran and Tasikmalaya, and is continuing there.
Pangandaran is a fishing town on Java's south coast where Susi Air, coincidentally is based. The town is 340km and seven hours' drive from Jakarta. Tasikmalaya is a city in West Java that is about 260km and five hours' drive from Jakarta.
Editor's comments: Pondok Cabe Airport is operated by Pelita Air Service, an airline controlled by state-owned oil and gas company Pertamina. Prior to Susi Air and Wings Air moving in, the airport was used by charter operators and the Indonesian Police's air wing.
The airport is convenient for people in South Jakarta but not for people living in the rest of Jakarta because it is far away and there is only one road to the airport, as you get closer, and it is often heavily jammed with traffic.
Feature picture, from BeritaSatu Photo/Mohammad Defrizal, shows a Wings Air ATR 72 at Pondok Cabe Airport.
Related articles:
Wings Air Launching ATR Services From Jakarta's Pondok Cabe Airport (4 July 2022)
Massive reloation For Jakarta's Halim Airport Operators (24 January 2022)
Jakarta's Halim Airport Closing For Renovation For One Year Effective 1 January (28 December 2021)
Turboprops Likely To Shift To Pondok Cabe And Curug Due To Temporary Closure of Jakarta's Halim Airport (11 November 2021)
Indonesian Air Operators Worried As Jakarta's Halim Airport Announces Closure For Renovation (9 November 2021)
Related posts
SUBSCRIBE TO OUR NEWSLETTER