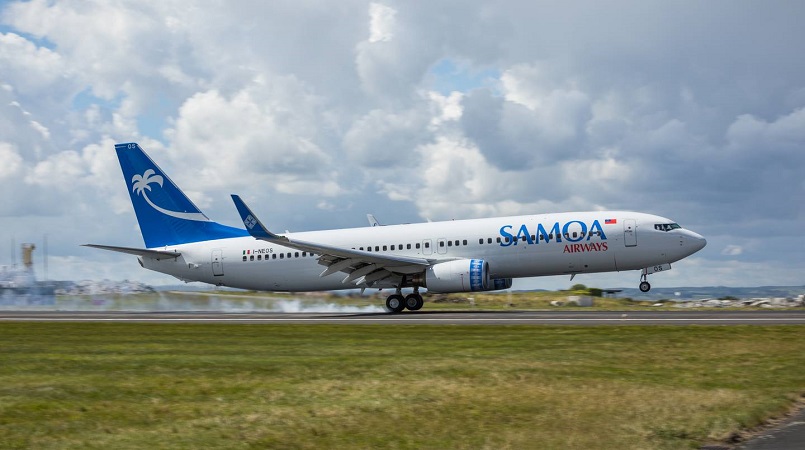 The Samoa government will soon be paying 16 million Samoan tala (USD$6 million) to terminate the lease on a Boeing 737-800, the only 737 that loss-making national carrier Samoa Airways operates.
Minister of Public Enterprises spokesperson, Leatinu'u Wayne So'oialo, says it has almost completed negotiations with the lessor Fly Aircraft Holdings Eighteen Limited.
Paying 16 million Samoan tala to end the lease early will save the airline money, he says.
Samoan prime minister, Fiame Naomi Mata'afa, says foreign carriers are sufficient to serve Samoa internationally, which means the 737-800 is no longer needed. The aircraft was leased when the previous government was in power.
The airline had also earlier ordered a Boeing 737 Max 9 aircraft, but cancelled that order in the wake of worldwide grounding of Max aircraft.
Samoa Airways also operates De Havilland Aircraft of Canada 300 Series Twin Otter aircraft domestically.
Feature picture, from Loop Pacific, shows Samoa Airways' 737-800 local registration 2-WTFL.
Prudence Lim
Prudence is based in Singapore and is a budding reporter who is passionate about journalism. She also has various experience in the media industry, ranging from film to news. She is pursuing a BA in Communication Studies from Wee Kim Wee School of Communication and Information, Nanyang Technological University, Singapore.
Related posts
SUBSCRIBE TO OUR NEWSLETTER