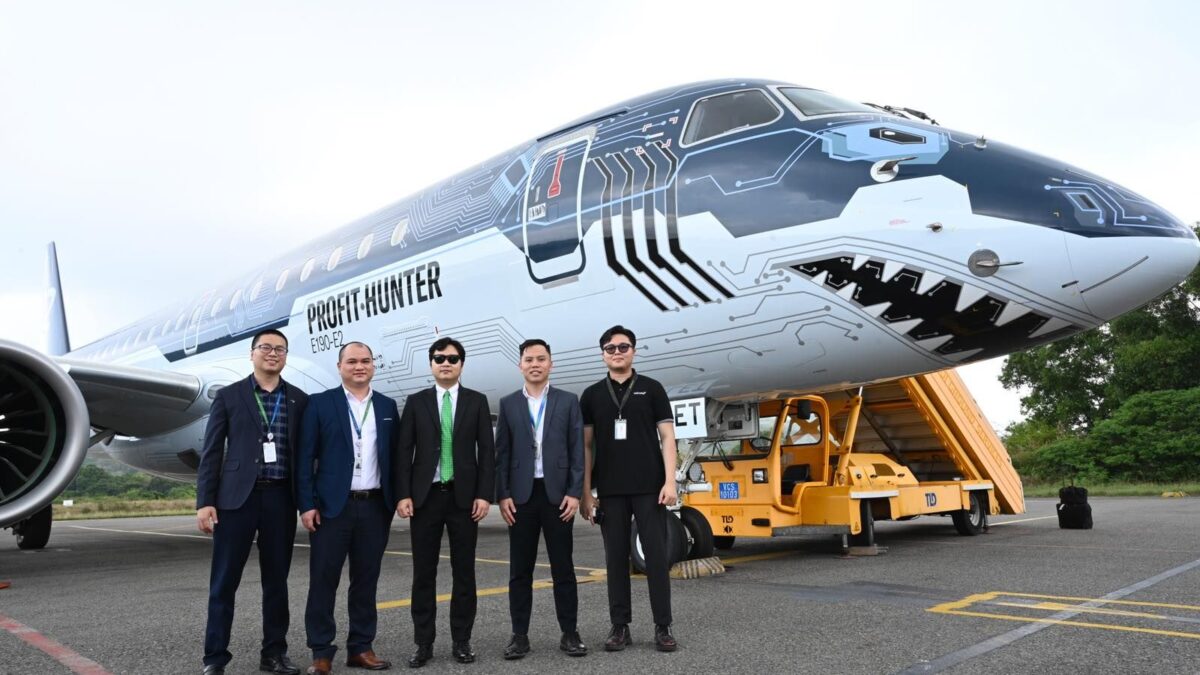 Embraer has completed a three-day demonstration tour of its Embraer E190-E2 in Vietnam, a market where national carrier Vietnam Airlines has expressed its intention to replace its ATR turboprop fleet with regional jets.
The Brazilian aircraft-maker says in a statement its E190-E2 demonstration aircraft visited Hanoi, Ho Chi Minh City and the Vietnamese resort island of Con Dao over three days from 12 April to 14 April.
Con Dao Island has a short runway making it only accessible by regional turboprops and regional jets. Vietnam Airlines serves the airport with its ATR 72-500s, while Bamboo Airways operates there with Embraer E-190s.
But Vietnam Airlines has said publicly several times in recent years that it wants to replace its ATR turboprops with regional jets.
Embraer, without mentioning specific airlines it is pitching to in Vietnam, says it brought the E2 to Vietnam to demonstrate the aircraft's fuel-efficiency, minimal noise emissions and short runway performance.
It says: "The E190-E2 is an immediate option to serve regional airports, including those with shortened and lighter runways currently [unable] … to handle large aircraft."
"The E190-E2 capability offers a unique opportunity to improve air connectivity nationwide, which in turn delivers a wide range of benefits to aviation's customers as well as the broader economy," it adds.
Embraer's E190-E2 that toured Vietnam features the Embraer 'TechShark' livery, which was unveiled in February at the Singapore Airshow.
The aircraft-maker says the livery "reflects the advanced engineering innovation and the streamlined efficiency of Embraer's latest E2 jets."
Besides the demonstration tour, Embraer also released an industry 'white paper', entitled Vietnam's Connectivity Potential, "to highlight how regional jets can enable airlines to enhance Vietnam's air connectivity within the country and beyond."
"The paper also illustrates how regional jets will enable alternate ways of national budget allocation to focus on post-pandemic recovery [and] supporting the Transport Infrastructure Masterplan announced by the Ministry of Transport of Vietnam," it adds.
Martyn Holmes, chief commercial officer of Embraer Commercial Aviation, says in the statement: "Vietnam is an economic powerhouse and incorporating modern regional jets like the E190-E2 into the country's aviation scene will open more opportunities for new domestic and regional routes to be established. This will further stimulate trade, tourism and job creation and boost national development."
Feature picture, from Bamboo Airways' Linh Nguyen, shows Embraer and Bamboo Airways personnel posing in front of the E2 at Con Dao airport.
Related Stories:
Australian Corporate Jet Centres Adds Embraer ERJ-145s (6 April 2022)
Newly Created Flag Carrier Madagascar Airlines Eyes Embraer E190-E2 (7 March 2022)
Related posts
SUBSCRIBE TO OUR NEWSLETTER