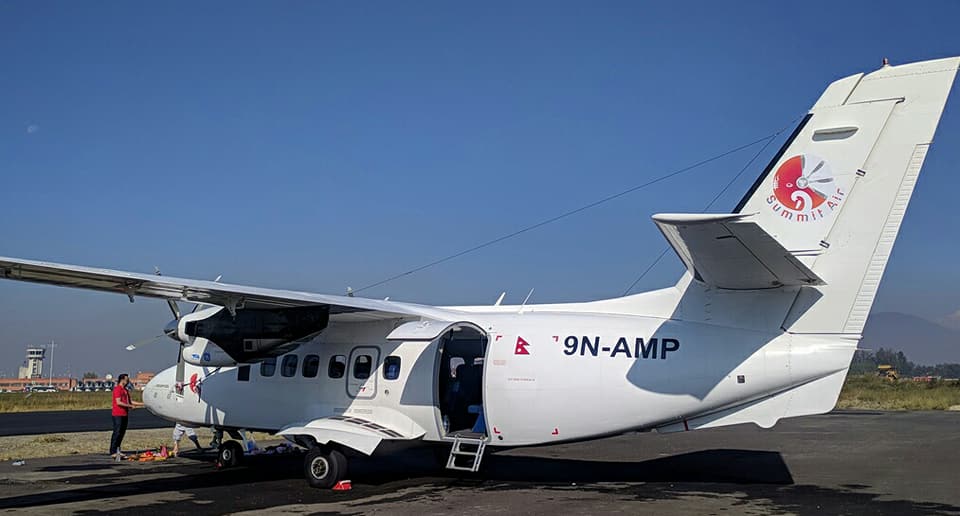 A Let 410 from Nepalese domestic carrier Summit Air was forced to land soon after takeoff from Kathmandu, citing an engine failure.
Summit Air's Let 410, local registration 9N-AMP, departed Kathmandu's Tribhuvan International Airport for Lukla's Tenzing–Hillary Airport at 11:05hr local time yesterday, but encountered problems within 15 minutes of flight, local media says.
The reports say the pilots encountered technical issues with the aircraft's left engine immediately after taking off, and decided to return back to Tribhuvan International Airport, where it landed safely. The Let 410 is a Czech 19-seat aircraft powered by Walter M601 turboprop engines. Let and Walter are both Czech companies, although Walter Engines is now owned by GE Aviation. 
Eighteen people were on board, three crew members and 15 passengers, the reports say, quoting Tribhuvan International Airport officials.
The airport's emergency services were activated during the aircraft's landing, and the fire brigade and security units remained on standby for rescue operations, the reports add.
No injuries were reported, but the airport was closed for about 10 minutes, the reports say.
According to Summit Air's website, it operates four aircraft, namely Cessna Grand Caravans and Let 410s.
Picture Source: english.khabarhub.com
Ong Jeng Yang
Based in Singapore, Ong Jeng Yang has more than four years of experience working in the media industry.
Related posts
SUBSCRIBE TO OUR NEWSLETTER