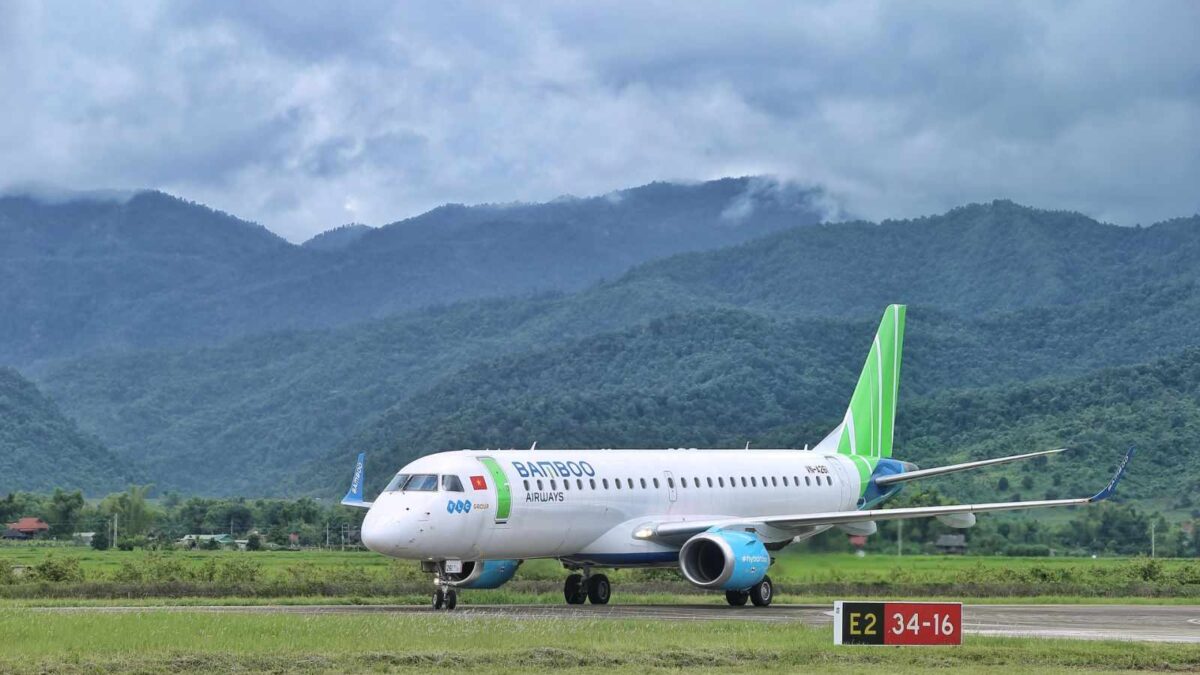 Bamboo Airways' Embraer 190 has completed a test flight to Dien Bien Phu Airport, paving way for this turboprop route to be served by jet aircraft starting in September.
The Vietnamese airline says in a statement the 19 August test flight direct from Hanoi to Dien Bien Phu, marks the first time Dien Bien Phu airport has welcomed a commercial jet aircraft with high approach speeds.
Dien Bien Phu airport is the largest commercial airport serving Dien Bien Phu city and Vietnam's northwest region. But the airport's 1,830m-long (6,000ft) runway reportedly cannot be extended. Aerial photos show the airport is surrounded by residential housing and roads. 
The short runway means currently the only scheduled service on the Hanoi-Dien Bien Phu route is Vietnam Airlines' ATR 72 service. 
The airline says Dien Bien Phu airport is challenging to land at due, for example, to the area's mountainous terrain and high altitude. Hence, it is crucial to accurately calculate data, such as topographical data, to determine the flight path for the aircraft, it adds.
Applying the navigation system using airborne satellite signals is a new solution that gives the Embraer an advantage when operating in low visibility and cloudy weather conditions due to dry fog in the region, it asserts.
The airline says the Civil Aviation Authority of Vietnam has issued the flight method regulation document for Bamboo Airways' Embraer aircraft at Dien Bien Phu airport.
Now that the test flight has been successfully completed, Bamboo Airways plans to launch scheduled services on the Hanoi-Dien Bien Phu from September, it says, without elaborating on the frequency.
The airline says its Embraer jets have pioneered jet operations to many other destinations in Vietnam that have short runways, such as Con Dao and Rach Gia.
Vietnam Civil Aviation Administration deputy director, Vo Huy Cuong, says Bamboo Airways also plans to connect Dien Bien Phu to other destinations in Vietnam, besides Hanoi, which will contribute to the development of the northwest region.
The airline says it plans to expand its domestic network in 2021, by adding more routes to smaller destinations such as: Dien Bien Phu, Ca Mau, Con Dao, Rach Gia, etc using Embraer regional jets. 
According to information online, Bamboo Airways' fleet includes Airbus A319, A320, Boeing 787, Embraer 190 and Embraer 195 aircraft.
Picture Source: Bamboo Airways
Related Stories:
Vietnam's Bamboo Airways Planning To Add More Embraer RJs (30 September 2020)
Vietnam's Con Dao Airport In Works For Upgrading (19 August 2021)
Ong Jeng Yang
Based in Singapore, Ong Jeng Yang has more than four years of experience working in the media industry.
Related posts
SUBSCRIBE TO OUR NEWSLETTER