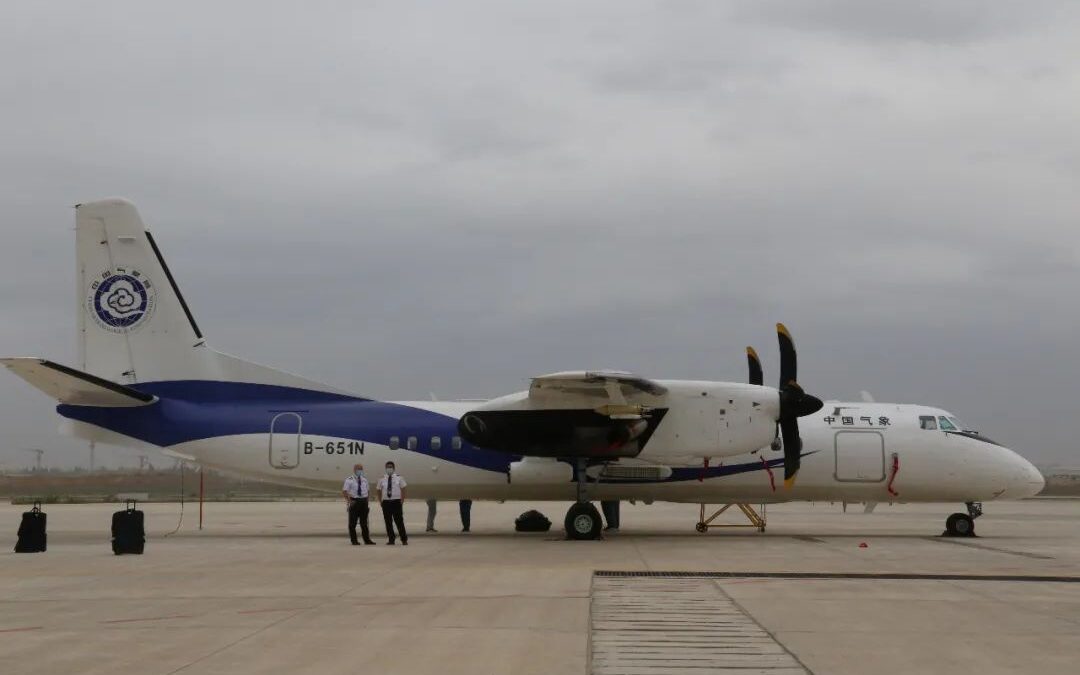 Chinese aircraft manufacturer Xian Aircraft has developed a version of the MA60 aircraft for rain-making and the aircraft has just completed its first flight in Gansu province, bringing precipitation to the region.
China online news site Sxcntv.com says the modified MA60 has various systems, such as: an atmospheric detection system, an air to ground information system and a new mission integration system. 
The modified aircraft has a maximum payload of 5.5t, a maximum cruising altitude of 25,000ft, a cruising speed of 232kt, endurance of 5.7hr, and a maximum range of 2,600km, according to the report. The aircraft has 1,000km more range than the standard commercial MA60 which has 1,600km range based on data from Xian Aircraft. 
The China Meteorological Administration arranged for the MA60 rainmaking aircraft to be stationed in Gansu to artificially modify weather in China's northwest region so as to mitigate drought and prevent forest fires, the report says. The northwest province of Gansu – which includes parts of the Gobi, Badain Jaran and Tengger deserts. – generally has a semi-arid to arid climate.
China online news site Sxcntv.com says the aircraft carried out artificial rain enhancement operations in Gansu province's Jingning prefecture, Huining prefecture and Dingxi city on 18 August. 
The aircraft operated along the rain-belt for one and a half hours covering a 21,000 square km area, the report says.
For the period 18-20 August 1,932 observation stations in the province registered precipitation, with heavy rainstorms in Qingyang and Longnan cities, heavy rains in Pingliang, Gannan and Dingxi prefectures, according to the report.
Gansu Weather Modification Office senior engineer, Li Bao Zi, attributed the rain to the MA60 rain-making operation, the report says. 
He says using the aircraft is better than ground operations since it spreads the composite catalyst across a larger area.
Rain-making aircraft fly through clouds and spray catalytic substances, namely silver iodide, to change the clouds' microphysical structure, so as to maximize further cloud formation and increase precipitation, the report says.
Picture Source: Gansu Meteorological Bureau
Ong Jeng Yang
Based in Singapore, Ong Jeng Yang has more than four years of experience working in the media industry.
Related posts
SUBSCRIBE TO OUR NEWSLETTER