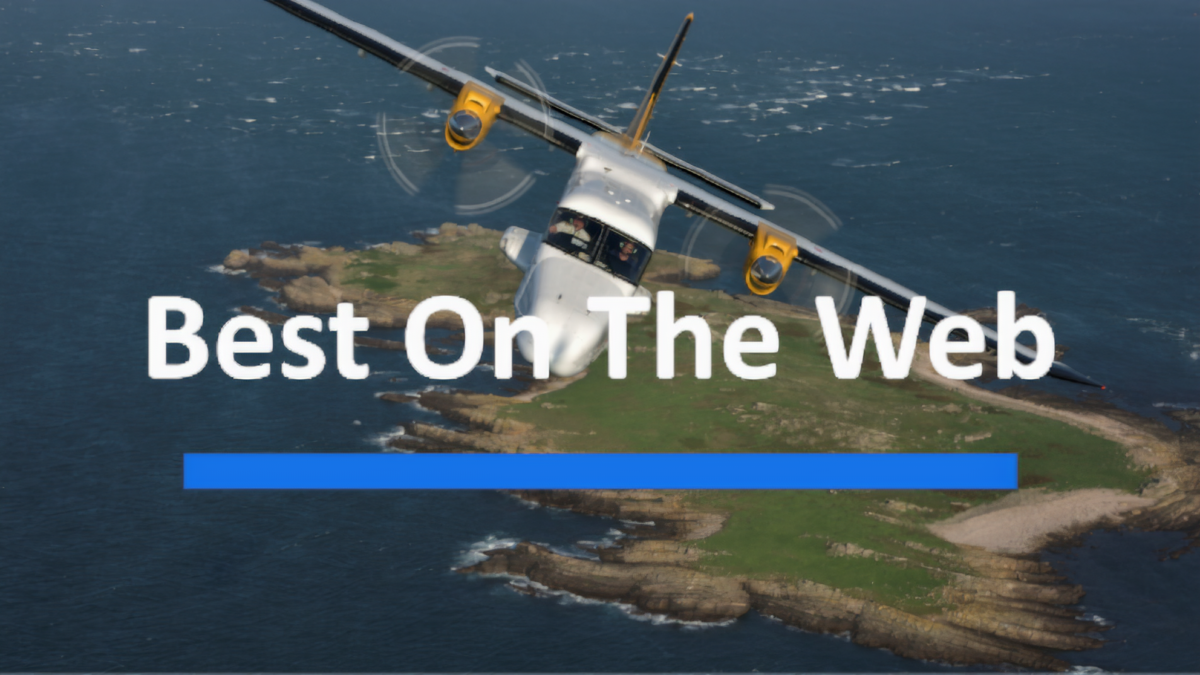 Best on the Web | August 2019
Edward Eng, 23 Aug 2019
3 min

read
US Allows ATR To Supply Spare Parts to Iran
Air Transport World
The US has given regional turboprop maker ATR permission to ship aircraft spare parts, tools and software to Iran to support ATR operators such as Iran Air and Iran Aseman Airlines. This is necessary for safe operation of the aircraft, ATR says.
But the US Office of Foreign Asset Control's (OFAC) export license to ATR ends April 30, 2021. The export license also excludes the sale of additional aircraft to Iran. Iran Air still has seven aircraft on order from ATR, according to Air Transport World.
Australia's Cobham Takes Delivery Of Its First Q400
Australian Aviation
Australian charter operator Cobham Aviation Services has received its first de Havilland Canada Dash 8 Q400. CEO Ryan Both says the Q400 was chosen because it has lower fuel consumption than the British Aerospace 146 which accounts for much of its fly-in fly-out fleet. The pre-owned Q400 will allow Cobham to get more work from the recovering mining charter sector, he adds.
Cobham expects to receive a second Q400 in about a month, the airline says.
Brazil's Desaer Working on Embraer Bandeirante Replacement
Aviation International News
A modern replacement for the 19-seat Embraer Bandeirante is being designed by Brazilian manufacturer Desaer. The ATL-100, which is a twin-engine unpressurised high-wing aircraft, is being pitched as a utility transport for commercial and military use, much like the 50-year-old Bandeirante, Desaer says. It says the cabin will be able to accommodate three LD3 containers, while matching the takeoff capability and speed of comparable utility aircraft such as the Viking Air Twin Otter and Dornier 228NG.
Desaer, which is founded in 2017 by former Embraer staff, is backed by the Brazilian air force through the Incubaero aerospace incubator.
Cebu Pacific Adds ATR Freighters
The Philippine Star
Cebu Pacific Air has received its first dedicated freighter, an ATR 72-500 that was previously used by the airline for passenger operations. The aircraft had the aircraft converted to an all-cargo configuration. There is a second ATR 72-500 that Cebu Pacific has had converted and it too will be delivered soon, says Cebu Pacific.
Cebu Pacific says the first freighter will begin flying between Manila and the southern island of Mindanao, whilst Sangley Airport undergoes development. Sangley Airport is a naval air base, southwest of central Manila, that is being upgraded to become a secondary domestic commercial airport. Sangley is due to open for commercial operations year-end, say airport officials.
Simrik Airlines Flights Suspended by Nepal Authority
The Himalayan Times
The Civil Aviation Authority of Nepal (CAAN) has temporarily suspended all flights by Simrik Airlines for failing to meet airworthiness requirements. CAAN says Simrik Airlines has still been using non-permitted spare parts on its fleet, comprising of two Beechcraft 1900Cs. It says it also discovered in an earlier inspection last year that Simrik Airlines was using substandard spare parts, but refrained from taking any action against the airline then.
Edward Eng
Edward is based in Singapore. He writes stories on regional aviation across the Asia-Pacific region and has a background on covering socio-political issues. Edward holds a BA (Hons) in Philosophy, Politics and Economics from the University of Warwick in the UK.
Related posts
SUBSCRIBE TO OUR NEWSLETTER