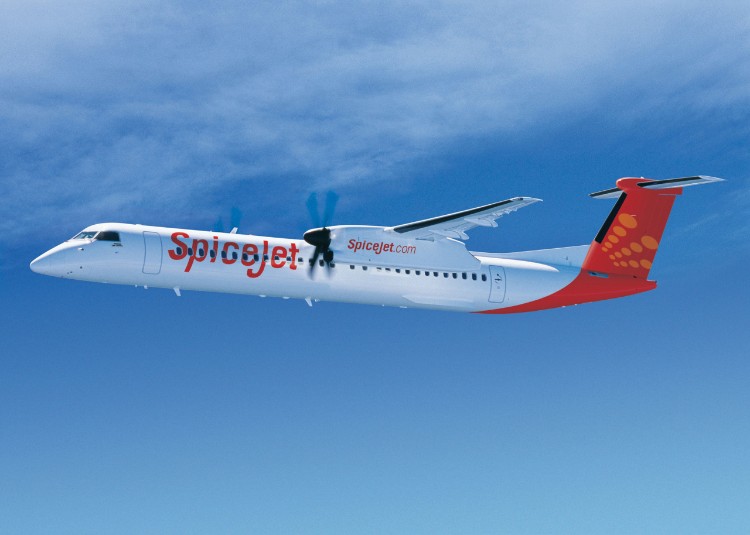 De Havilland Aircraft of Canada is suing SpiceJet in England's High Court for nearly $43 million in damages stemming from cancelled purchase agreements after the Indian carrier failed to make payments for the delivery of nearly 20 Dash 8-400 aircraft.
Philippa King, a De Havilland Canada spokesperson, confirms to Smart Aviation APAC that the Dash 8-400 manufacturer had filed the US$42.9 million lawsuit in relation to a purchase agreement it had with the Indian low-cost carrier for the sale of 25 Dash 8-400 turboprops.
SpiceJet has failed to take delivery of 19 aircraft in the purchase agreement and has defaulted on several payments, the claim alleges. De Havilland Canada says only US$7 million in down-payments were made on the 19 aircraft, and that it has terminated the contracts as it argues they are now void.
The manufacturer says that it is now entitled to lease or sell the 90-seat aircraft to other operators. It adds that it will move to recover "liquidated damages" of US$2.5 million per aircraft, plus interest based on the three-month London interbank offered rate (Libor).
"As the matter is before the court, we will offer no further comment at this time," King tells Smart Aviation APAC.
According to CAPA data, SpiceJet operates 62 Boeing 737s, not including its grounded Boeing 737 Max 8 aircraft, as well as 32 Dash 8-400 turboprops.
SpiceJet management and spokespeople failed to respond to calls and emails when contacted by Smart Aviation APAC.
The lawsuit can be found under: De Havilland Aircraft of Canada Ltd. v. SpiceJet Ltd. [2020] (CL-2020-000079, Commercial Court, Queen's Bench Division of the High Court of Justice of England and Wales).
Analysis: What the Dispute with SpiceJet Means for De Havilland Canada
The news of De Havilland Aircraft of Canada suing SpiceJet is significant because the Indian carrier is the Canadian aircraft maker's largest customer.
When Longview Aviation Capital was negotiating to buy the Dash 8-400 program in early 2019 from Bombardier, SpiceJet accounted for almost half of the order backlog.
This link to the aircraft orders and deliveries statement from Bombardier shows the 25 aircraft on order from SpiceJet and that the total order backlog for the program – as of 31 December 2018 – was 52.
| | |
| --- | --- |
| AIRLINE | ORDERS |
| SpiceJet | 25 |
| Biman Bangladesh Airlines | 3 |
| CIB (China Industrial Bank) Leasing | 1 |
| Ethiopian Airlines | 10 |
| Conair* | 5 |
| Philippine Airlines | 2 |
| Qazaq Air | 2 |
| Undisclosed | 4 |
| TOTAL | 52 |
*ordered six but already taken delivery of one, so five on order
Having so much of your order backlog with one customer is never good. It is a lesson aircraft-maker Avcraft Aerospace learnt when it was trying to revive the Dornier 328 program in the early 2000s – it was too dependent on one big customer which at that time was China's Hainan Airlines.
It is now clear that De Havilland Aircraft of Canada is unable to complete the transaction for the remaining 19 aircraft for SpiceJet. Also, some of the other aircraft in the earlier order backlog have already been delivered.
According to CAPA data, Ethiopian Airlines now only has six Dash 8-400s on order.
Philippine Airlines took delivery in February this year of its last Dash 8-400 order.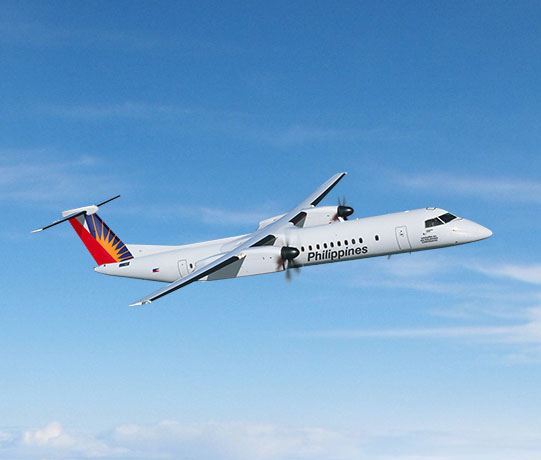 Kazakhstan domestic carrier Qazaq has already received its two Dash 8-400s on order – first delivered in April 2019 and second in June 2019.
Conair, a Canadian aerial firefighting company, has been taking delivery of Dash 8-400s. It converts the aircraft for fire-fighting and then delivers the aircraft to the France's Civil Security Department. First of the six to the department was delivered in June of last year. 
Biman Bangladesh Airlines, meanwhile, still has three Dash 8-400s on order, according to CAPA data.
Following its acquisition of the Dash 8-400 program in June, the new owners of the program did announce some new orders, giving a boost to the program's order backlog. These were an announcement in June last year at the Paris Airshow that national carrier TAAG Angola Airlines had ordered six Dash 8-400s. The Angolan carrier says it will be receiving the first Dash 8-400 later this month, the second in late April and the remaining aircraft in late 2020.
De Havilland also announced in October last year a follow-on order from Air Tanzania for one more Dash 8-400. This aircraft, along with the four ordered earlier, have since all been delivered, according to CAPA data.
Last November, at the Dubai Airshow, De Havilland announced a firm order for three Dash 8-400s from Elin Group, which has a Nigerian charter airline involved in the country's oil and gas industry.
Firm orders announced since June 2019:
| | |
| --- | --- |
| Airline | Orders |
| Air Tanzania | 1 |
| TAAG Angola Airlines | 6 |
| Elin Group | 3 |
| Total | 10 |
The aircraft-maker also announced in Dubai that Aeroflot's subsidiary in far eastern Russia, Aurora Airlines, had signed a letter of intent (LOI) to purchase five Dash 8-400s aircraft; the Republic of Ghana had signed a letter of intent to purchase six Dash 8-400s; Mauritius-based aircraft lessor ACIA Aero had signed a "conditional purchase agreement" for three Dash 8-400s and Dubai-based lessor Palma Holding's had signed a letter of intent for 20 Dash 8-400s. If all these deals eventuate it will add 34 aircraft to De Havilland's order backlog, a welcome boost. But as is, LOIs and MOUs don't count as they are not legally binding contracts.
The aircraft-maker needs to turn these into firm orders and secure more firm orders. Also, to shore up the program, the new firm orders in the future need to be, not just single-digit orders, but double-digit orders.
The aircraft-maker has announced no firm orders from operators in Asia-Pacific, since acquiring the program last June, even though Asia-Pacific is the largest market in the world for commercial turboprops. It has also announced no aircraft orders from North America and Europe. North America was a market that De Havilland Aircraft of Canada's chief operating officer, Todd Young, said last November was a priority market it was targeting for large aircraft orders. In his interview with AIN, he also disclosed that the airline had a production rate of two to two-and-a-half aircraft per month and that the order backlog, as of October 2019, was sufficient to sustain production until the fall of 2020. In other words, the period September-November 2020.
With a production volume of two to two and a half aircraft per month, and the loss of the 19 aircraft order from SpiceJet, it is clear that De Havilland Aircraft of Canada needs to get a lot more aircraft orders to sustain the program longer term.
Another issue they now must grapple with is the flood of used Dash 8-400s coming onto the market. The lessors of these aircraft – Nordic Aviation Capital (NAC), HEH Aviation Management, Chorus Aviation and the receiver of defunct UK regional carrier Flybe – will all be competing against them to place Dash 8-400s with airlines.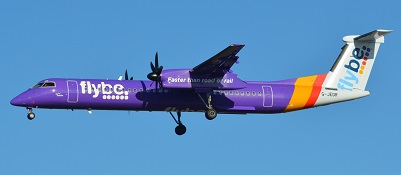 Flybe collapsed in early March and was the largest operator of Dash 8-400 aircraft in the world with a fleet of 54, according to CAPA data.
The lessors with the biggest exposure to Flybe were NAC with 18 aircraft; HEH Aviation Management, 11; and Chorus Aviation, five, according to CAPA. The airline, meanwhile, owned 14 Dash 8s, so the receiver will now be responsible for placing those.
Airlines needing Dash 8-400s will be tempted to buy or lease the pre-owned aircraft as these aircraft are still fairly new and were on the UK registry and maintained in accordance with EASA standards.
There are also other European carriers that have announced plans to phase out their Dash 8-400s, namely: Air Baltic with 12 aircraft, Austrian Airlines 14 and German regional carrier LGW with 16.
Companies like NAC, which is the world's largest commercial turboprop lessor, is a formidable competitor with sales teams spread across the globe. In Asia-Pacific, NAC has offices in Singapore and Hong Kong, while Chorus Aviation has an office in Singapore.
When Longview Aviation Capital acquired the Dash 8-400 program from Bombardier, it recruited its own sales team and based them in Toronto where its manufacturing facility is rather than have the sales people based in region, close to the customer, like what Bombardier did.
With the current coronavirus crisis putting a stop to most international air travel and playing havoc with airlines' cashflow and financials, small aircraft-makers like De Havilland will have a hard time this year getting airlines to even meet, let alone place aircraft orders. De Havilland's best bet this year would be to focus closer to home on trying to get large aircraft orders from Canada and the US.
Edward Eng
Edward is based in Singapore. He writes stories on regional aviation across the Asia-Pacific region and has a background on covering socio-political issues. Edward holds a BA (Hons) in Philosophy, Politics and Economics from the University of Warwick in the UK.
Related posts
SUBSCRIBE TO OUR NEWSLETTER