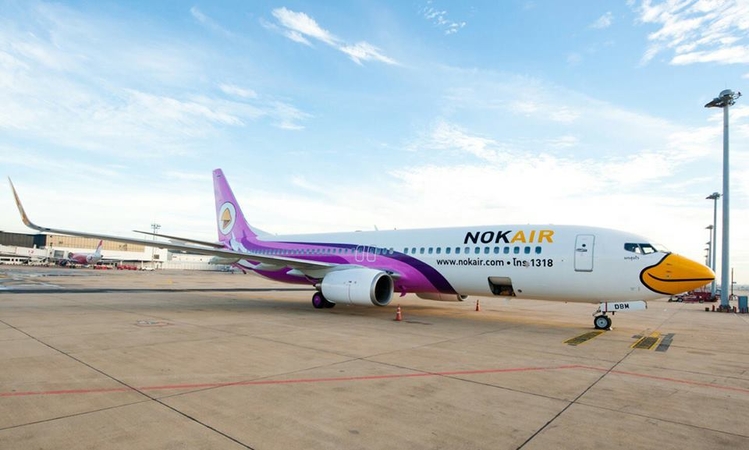 Low-cost Thai carrier Nok Air sees Betong International Airport as a potential travel hub that can serve both domestic and international destinations, as well as cargo flights, and aims to restart its operations there with assistance from local tourism industry stakeholders.
Nok Air's CEO, Wutthiphum Jurangkool, tells The Bangkok Post that Nok Air "is still waiting for government support as it [the airline] is studying" the possibility of connecting Betong International Airport to Hat Yai and Phuket in Thailand as well as to countries such as Malaysia and Singapore.
He adds they are considering operating cargo flights to export local produce, such as durians, to Singapore as well as to attract tourists.
Betong is very near the border with Malaysia, making it a popular destination for budget conscious Malaysian travellers. Developing the airport in Betong also to improve connectivity between the very southern part of Thailand to the rest of the country.
Nok Air launched a service from Bangkok's Don Mueang International Airport first to Betong International Airport on 14 March, but cancelled all flights a day later, citing a lack of demand and high operational costs, Smart Aviation Asia Pacific previously reported.
Nok Air then highlighted that Betong is a new destination and needs time to market, as well as support from the government and private sector.
The Bangkok Post has since reported that Nok Air signed a memorandum of understanding on 8 April with travel agency Tangmo Tour, tour operator CCT Group, and the Thai Tourism Promotion Association to provide charter flights from Bangkok to Betong district for three months starting 29 April.
Tourism Authority of Thailand, Betong airport, the Betong municipality, local restaurants and business operators in Betong are also supportive, the report adds.
Wutthiphum says Nok Air will serve Betong for three months, without any cancellation, with expected passenger load factor of 75%, the report adds. Betong airport has too short a runway for Airbus A320s or Boeing 737s, so Nok Air flies there with its De Havilland Aircraft of Canada Dash 8-400.
Thailand's Department of Airports operates Betong airport, and has granted Nok Air an 80% reduction in landing and parking fees, the report says. 
But the airline is now calling for more fee waivers, such as passenger service charge, landing and parking fees from Airports of Thailand which operates Don Mueang airport. Nok Air is also asking for navigation fees waivers from Aeronautical Radio of Thailand.
Wutthiphum also says Thailand's Ministry of Finance should extend the excise tax on jet fuel at 0.2 Thai Baht (US$0.0059) a litre until the end of this year, the report says.
Picture Source: nationthailand.com
Related Stories:
Thailand's Nok Air Announces Plan To Avoid Delisting From Stock Exchange (7 April 2022)
Nok Air Shuts Operations To Thailand's Betong International Airport A Day After Inaugural Flight (18 March 2022)
Thailand's Nok Air To Launch Services To Newly Opened Betong Airport (28 February 2022)
EXCLUSIVE INTERVIEW: Rehabilitation Gives A New Lease Of Life To Nok Air (4 November 2021)
Thailand's Betong Airport Set To Open Next Month (20 August 2021)
Ong Jeng Yang
Based in Singapore, Ong Jeng Yang has more than four years of experience working in the media industry.
Related posts
SUBSCRIBE TO OUR NEWSLETTER