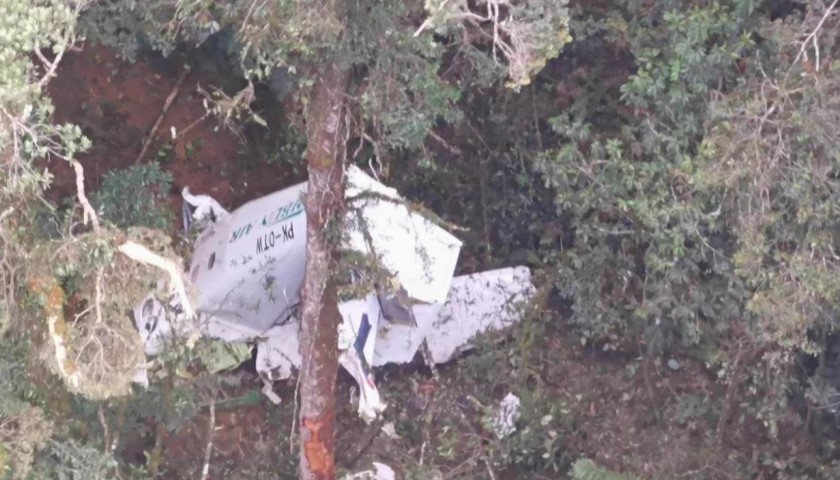 A De Havilland Canada DHC-6 Twin Otter 300 operated by Indonesia's Rimbun Air has crashed in mountainous forest of Indonesia's West Papua province, in  poor weather conditions, killing all three crew on board.
Indonesian news reports say the aircraft bearing registration PK-OTW departed Nabire airport yesterday 06:40hr local time for Bilogai-Sugapa airport, carrying food supplies and construction materials.
Bilogai-Sugapa airport is in West Papua Intan Jaya regency and has a 600m-long runway (1,969ft) at the edge of the cliff and is surrounded by mountains.
The aircraft reportedly attempted an approach Bilogai-Sugapa airport, but encountered dense fog and poor weather, prompting the crew to initiate a go-around at 07:22hr. Thereafter, loud noises of impact and trees falling were heard in the vicinity of the airport and a signal of the emergency locator was transmitted, but the aircraft was not seen.
Sugapa air navigation authority lost communications with the aircraft around 7:37hr. Search and rescue teams were then dispatched to locate the lost Rimbun Air plane.
An aerial search by a chartered helicopter eventually found the crash site a few hours later after identifying parts of the Twin Otter.
The wreckage was located at an altitude of 2,400 meters in the mountains, about 5,000 to 6,000m  from the airport runway, Intan Jaya's police says.
The aircraft was described as  "in a state of total destruction", destroyed and burned, with no sign of survivors.
Emergency services reached the location and confirmed that the pilot, co-pilot and technician had died in the accident.
Video of the crash site uploaded onto twitter by Indonesia's Nuice Media shows one of the aircraft's wings lodged in trees. The tail section remains largely intact, but the cockpit was destroyed, suggesting the aircraft went down nose-first.
Timika Rescue Agency chief George Leo Mercy Randang says weather conditions in the morning when the plane took off were sunny, but rather cloudy where the aircraft  crashed.
Papuan regional police spokesperson, commissioner Ahmad Musthofa Kamal says he  thinks bad weather was a contributing factor, adding  that this may have caused the runway to not be clearly visible when the pilot was trying to land.
Information online shows the aircraft's flight age is more than 45 years.
Papua province is covered with massive jungle and relies on air travel for transportation in the absence of substantial road networks. The Bilogai-Sugapa airport had accidents back in 2008, 2011 and 2018 near its vicinity.
Picture/Video Source: Nuice Media Twitter
Ong Jeng Yang
Based in Singapore, Ong Jeng Yang has more than four years of experience working in the media industry.
Related posts
SUBSCRIBE TO OUR NEWSLETTER