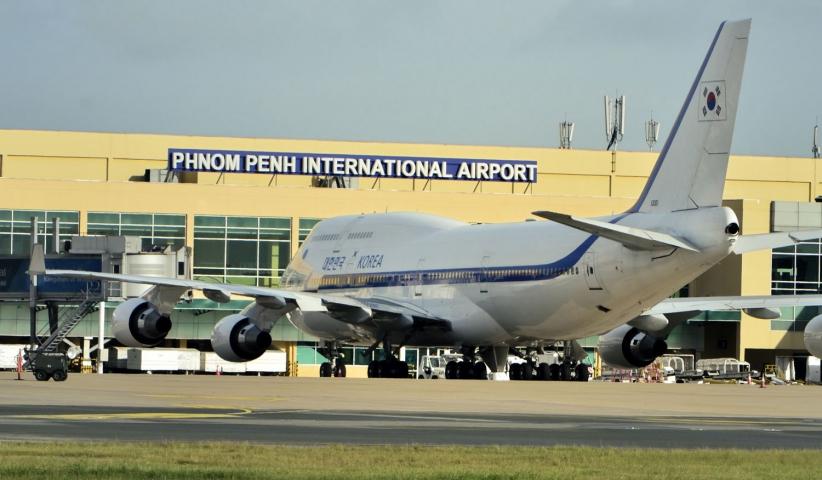 Cambodia's three international airports, which have already installed energy saving devices, are looking to further reduce their carbon footprint by installing solar panels in future.
Cambodia Airports – which is part of Vinci Group – operates Phnom Penh, Siem Reap and Sihanoukville airports. Its quality, health, safety and environment manager, Florent de Warren, says they aim to halve the airports' carbon footprint by 2030.
All three airports have already embarked on a program to switch to LED lighting, including lights at the main passenger terminal, apron, car park, approach locations and navigational aids, he says.
"Whatever lights that can be replaced are all LED now," adds Warren, who was speaking at a webinar organized by Smart Aviation Asia Pacific discussing the topic of how airports can reduce their carbon footprint by adopting solar.
Warren says the three airports have also replaced the heating, ventilation and air conditioning systems with alternatives that are much more efficient, while ensuring passenger comfort is taken care of.
"We look in the market for better replacement options and modernize them (the systems) every year. We also have a management system in place to monitor our electricity consumption for all these facilities and to highlight any issues or problems that can arise," he says.
Warren says Phnom Penh International Airport is now equipped to provide pre-conditioned air (PCA) and has 400Hz ground power units.
It means aircraft parked at the terminal no longer need to use the aircraft's auxiliary power unit – which burns fuel – and can instead draw on electricity from the terminal.
He says the airports in future will tentatively ban auxiliary power unit (APU) usage when the aircraft is parked at the terminal.
"Airlines can get electricity through the terminal rather than relying on the aircraft's own [auxiliary] engine to supply electricity," he says.
Warren says the three Cambodian airports have plans to deploy solar panels to produce carbon-free electricity.
He also says they are looking to roll out a fleet of 'clean' vehicles.
"We want to reduce our dependence (on carbon) and if there is a solution in the market to transfer to electric (vehicles) then we will definitely consider," he adds.
Warren says all three airports are certified level two under Airport Carbon Accreditation (ACA). This is an institutionally-endorsed global carbon management certification programme for airports that Airports Council International spear-heads
The programme independently assesses and recognises the efforts of airports to manage and reduce their carbon emissions through six levels of certification.
Warren says fuel and electricity are the main contributors to carbon emissions and the three Cambodian airports are working towards level three, which will include third parties at the airport – such as tenants, shops, offices, etc.
"The idea is to make the whole airport net carbon and not just the operator, but this requires a step-by-step process. We will collect monthly data on electricity and energy consumption and get their commitment to reduce carbon emissions, aiming to complete this by the end of next year," he says.
Warren adds that the three airports aim to get certification for ISO 14001 by June 2022, which is the international standard for environmental management systems (EMS).
Picture Source: vinci-airports.com
Related stories:
Best on the Web: Manta Air , Indigo, SpiceJet , TruJet , Air Seychelles , Cambodia airports (21 February 2021)
Ong Jeng Yang
Based in Singapore, Ong Jeng Yang has more than four years of experience working in the media industry.
Related posts
SUBSCRIBE TO OUR NEWSLETTER