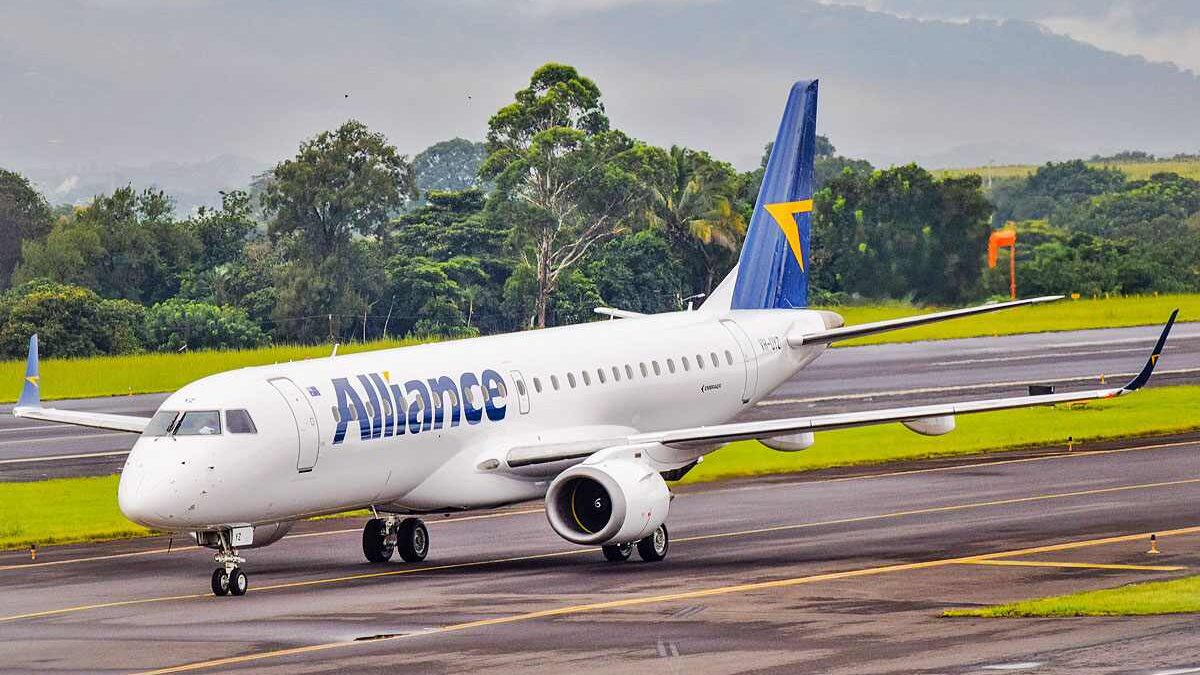 Qantas To Wet-Lease Alliance E-190s For Domestic Trunk Routes
Leithen Francis, 4 Feb 2021
3 min

read
Qantas Airways has responded to the lower passenger volumes and uncertainty caused by the pandemic by deciding to have its regional arm take over some domestic trunk routes and serve these using smaller capacity Embraer 190s wet-leased from Alliance Airlines.
QantasLink has signed a three-year wet-lease deal with Alliance Airlines for three Embraer 190s that will be deployed on the Adelaide-Alice Springs, Darwin-Alice Springs and Darwin-Adelaide routes starting mid-year, Alliance says in a statement to the Australian stock exchange.
The booking engine of Qantas shows it is currently serving these routes using Boeing 737-800s and the frequency is normally once daily. Qantas' 737-800s seat 174 passengers whereas Alliance's E-190s seat 94 passengers, representing a significant reduction in capacity.
QantasLink says in a separate statement that: "Alliance will provide the QantasLink network with flexible capacity using recently acquired E-190s."
"The 737s that we currently use on these routes will move to other parts of our network."
QantasLink CEO, John Gissing, says even though they are switching to smaller capacity aircraft on the routes, if domestic demand recovers significantly, then the E-190s give QantasLink the flexibility to increase overall capacity on the route by increasing flight frequency.
"Instead of one or two flights a day with a larger aircraft, we can offer three or four flights a day on the E-190, which gives customers a lot more choice about when they travel."
He says the deal with Alliance was appealing, "because it reflects the kind of flexibility needed to respond to opportunities without committing any capital."
The wet-lease agreement is expected to start in June and also provides the flexibility to access an additional 11 E-190 regional jets or switch off some or all of this capacity, depending on market conditions, he adds.
Gissing says the deal was also appealing because Alliance agreed to employ some of Qantas' international flight crew to operate the E-190s, "given it will take some time before overseas markets fully recover."
Qantas owns 19.9% of Alliance Airlines and has wet-leased aircraft from the airline before.
Gissing also says in the statement that Alliance's E-190s have more range than QantasLink's Boeing 717s.
QantasLink last year bought Adelaide-based National Jet Systems (NJS) which operates QantasLink's 717 fleet.
Editor's comment:
Cobham Aviation Services sold NJS to QantasLink last year. NJS has a 10-year contract with Qantas to operate the 717s on its behalf. That contract is reportedly due to end in 2026, but in light of the fact Qantas now owns NJS that contract can easily end.
Qantas' new wet-lease agreement with Alliance is also bad news for Cobham Aviation Services, which still has its own air operator certificate in Australia and is understood to be angling to do wet-lease work for Qantas. It is understood that this is one reason why Cobham decided to operate De Havilland Aircraft of Canada Dash 8-400s, so it is in a good position to pitch to operate QantasLink's Dash 8-400s if such a wet-lease opportunity should arise.
Alliance currently operates no turboprops, with the exception of three Fokker 50s based in Adelaide for mining charters. But I wonder if Alliance may become more predisposed to turboprops in future in light of its growing relationship with Qantas.
As for QantasLink's decision to turn to Alliance for E-190s, it must be said it is a smart move, as it gives Qantas the flexibility to better match capacity with market demand. In addition, there is no need to outlay capital, something that is very important to all airlines trying to conserve cash.
Leithen Francis
Leithen is based in Singapore and has over 17 years' experience working for news organisations. He is the former deputy Asia editor of Flightglobal and the former Asia editor of Aviation Week. Leithen has a BA in journalism from RMIT University in Melbourne, Australia.
Related posts
SUBSCRIBE TO OUR NEWSLETTER