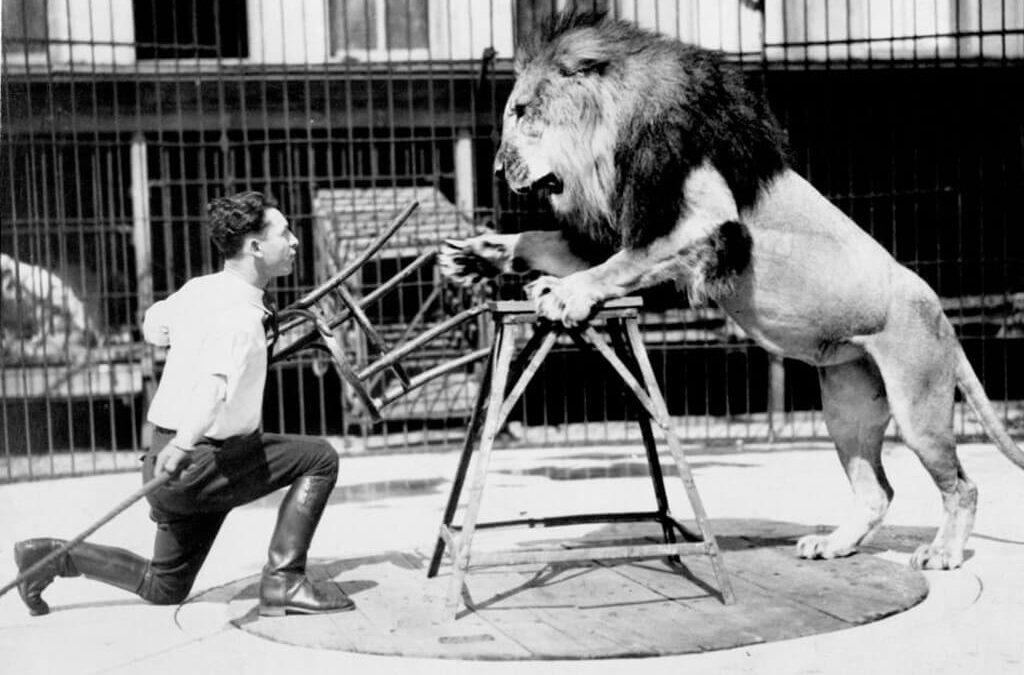 The withdrawal of some airlines from Indonesia's regional aviation market and Garuda Indonesia substantially downsizing its regional aircraft fleet, has left Lion Group's Wings Air as the dominant carrier in this market segment.
Prior to the pandemic, Wings Air accounted for 54% of regional passenger aircraft operating in Indonesia on a scheduled basis, while Garuda Group, Sriwijaya Air's NAM Air, Trigana Air Service, Expressair and TransNusa accounted for the other half, according to data compiled by Smart Aviation Asia Pacific. In this analysis, we focus on regional aircraft greater than 19 seats.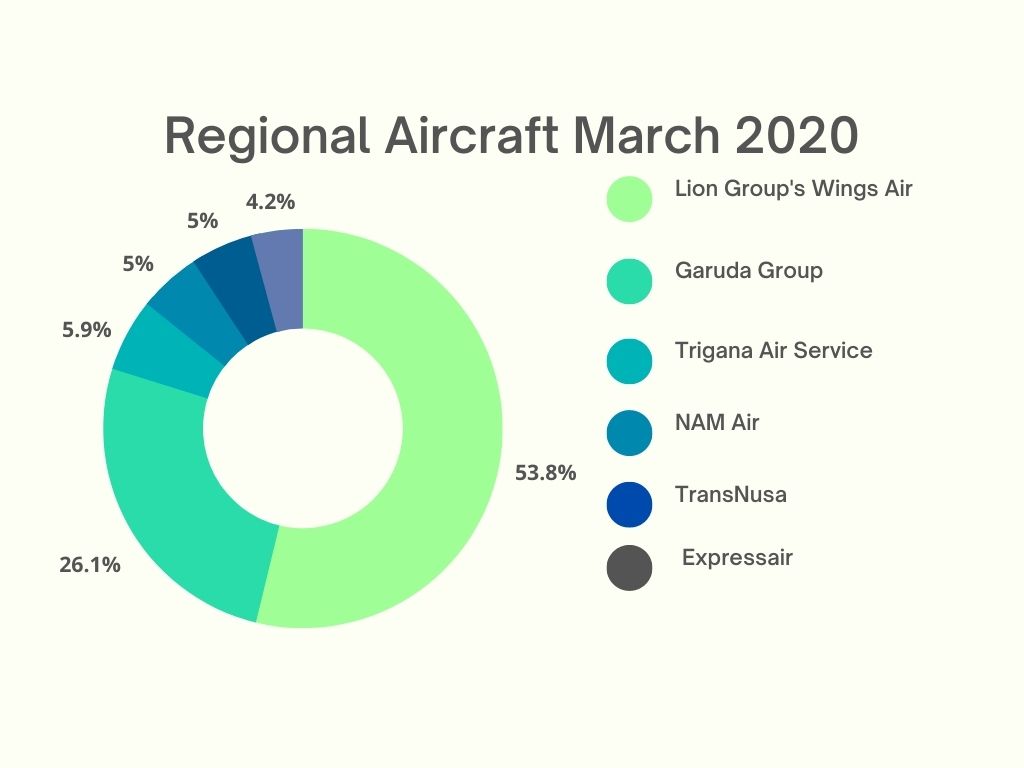 Since the pandemic took hold in Indonesia in March 2020, Garuda's financial problems worsened leading it to downsize and restructure its entire fleet, including retiring its 18 Bombardier CRJ1000s. It has retained 13 ATR 72-600s, says the airline.
Trigana Air Service today is operating seven regional aircraft, according to data from Planespotters.net; but the big shake-up has occurred with the other scheduled regional aircraft operators.
Expressair shuttered its operation soon after the pandemic took hold in Indonesia. It was operating three Dornier 328s and two ATR 42-300s in addition to its fleet of Boeing 737s, according to data from Planespotters.
TransNusa shuttered its entire operation in September 2020 and phased out its regional aircraft fleet, but plans to resume air services before year-end as an Airbus A320 operator. According to Airfleets.net its regional aircraft fleet comprised of five ATR 72-600s and one ATR 42-500.
NAM Air, which is primarily a Boeing 737 operator, sometime during the pandemic decided to phase out its entire fleet of six ATR 72-600s which were based in West Papua.
In the meantime, Wings Air has increased its ATR fleet to 67 aircraft from 64 by transferring three ATR 72-600s that were earlier assigned to its sister carrier in Malaysia Malindo Air, also known as Batik Air Malaysia.
Indonesia is a vast archipelago of more than 17,000 islands where there are many airports with short runways that are unable to accommodate jet aircraft or where the passenger volumes are too low to support larger aircraft.
Indonesia's government under president Joko Widodo, more popularly known as Jokowi, has always promoted the importance of regional air connectivity, especially for remote communities.
But the consolidation of the regional aviation market – brought on by the pandemic – has meant there is now far less competition in this market segment than before, with Lion Group's Wings Air now controlling nearly 80% of this segment.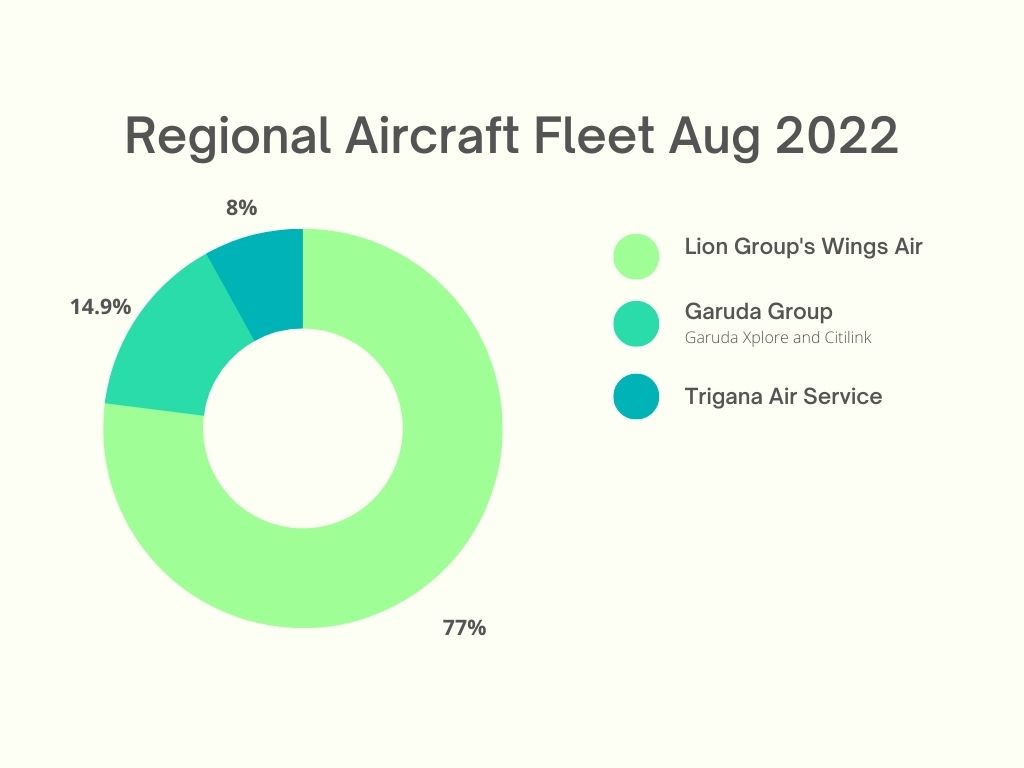 This does not augur well for Indonesian local governments that want affordable air travel for their constituents.
For example, Government officials from the Tanimbar Islands Regency, some remote islands in eastern Indonesia, earlier this month complained in the media that Wings Air's air fares are too high.  They even reported Wings Air management to the authorities, arguing the sudden price hike was illegal. The airline responded in the media arguing it increased its air fares due to higher fuel prices.
But this week it took further action by announcing the suspension of air services to Tanimbar Islands until the end of this month. Wings Air is the only operator to the islands, so its sudden move effectively cuts off the islands from the rest of the world.
When a Lion can no longer be tamed, what to do?
Related articles:
Indonesia's Lion Group Hits Back At Local Govt Complaints Over Higher Air Fares (11 August 2022)
Feature picture, from Harvard Library, shows a Lion tamer.
Related posts
SUBSCRIBE TO OUR NEWSLETTER