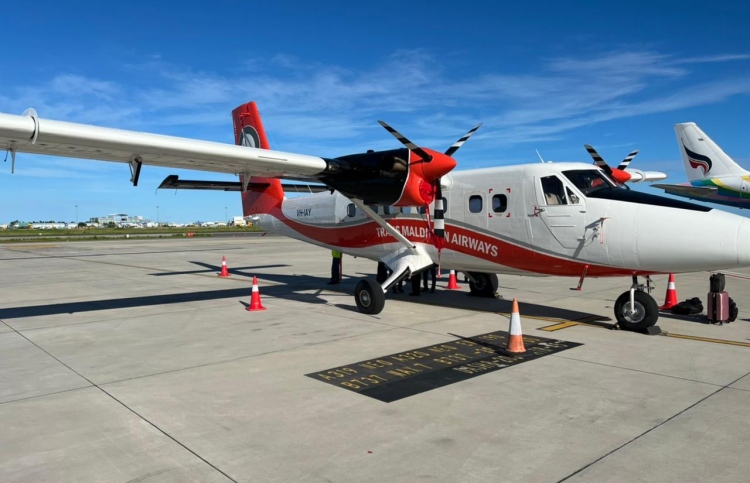 Trans Maldivian Airways (TMA) has added an additional De Havilland Aircraft of Canada Twin Otter Series 300 seaplane, a move that comes as the country's other seaplane operators are also adding aircraft.
TMA says the additional Twin Otter Series 300 seaplane is its 59th aircraft.
It says it is adding the aircraft to meet growing demand for air services from international tourists visiting the Maldives.
A picture, provided by TMA of the Twin Otter immediately after its ferry flight, shows the fuselage still sporting its foreign aircraft registration number VH-IAY.
According to TwinOtterWorld.com this Australian registered aircraft, manufacturer's serial number 634, was registered to Australian maintenance, repair and overhaul company SkyTek in Cairns prior to delivery to the Maldives. It also shows this aircraft was manufactured in 1979 and in more recent years was operated by charter operator Hevilift in Papua New Guinea.
TMA is the world's largest operator of Twin Otter seaplanes, but it faces increased competition from new players such as Manta Air which is also adding seaplanes. There are also some resorts that are opting to buy their own seaplanes and then contract an operator to fly the aircraft on their behalf.
Feature picture, from TMA, shows its latest Twin Otter Series 300 aircraft.
Related articles:
Owners Reportedly Putting Trans Maldivian Up For Sale (27 July 2022)
Maldives Resort Plans August Start For Leased Twin Otter (23 May 2022)
Trans Maldivian Twin Otter Hits Resort (16 November 2021)
Accident Report Into Maldives Seaplane Crash Raises Concerns That Deteriorating Skills Of Furloughed Pilots May Pose Safety Risk (1 October 2021)
Tourism In The Maldives Slowly Recovering (8 October 2020)
Related posts
SUBSCRIBE TO OUR NEWSLETTER