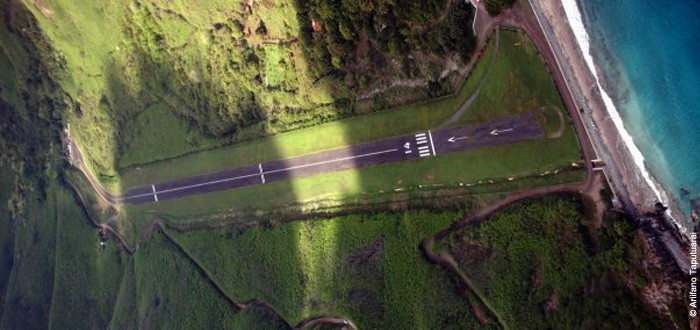 French Polynesia's government has decided to subsidize twin engine passenger air services on two routes to the Marquesas Islands after deciding that single-engine operations were insufficient.
Local media reports show the country's vice-president, Jean Christophe Bouissou, and the CEO of Air Tahiti, Manate Vivish, signing an agreement for subsidized air services to Ua Pou and Ua Huka, two small islands in the Marquesas group of islands north of the capital Papeete.
The incumbent on the two routes is Tahiti Air Charter which operates single-engine Cessna Caravans. The reports – without citing sources – say the government decided to hand the routes to national carrier Air Tahiti, because the local civil aviation regulator was reticent about having single-engine aircraft serve such long routes over water.
The reports say Air Tahiti will be wet-leasing a De Havilland Aircraft Twin Otter from Swiss operator Zimex Aviation for the services on the routes will be five-times weekly flights starting in mid-November.
The routes will be operated by Zimex until July 2026 at a financial loss to the state, say the reports.
But the reports say the government has a plan to upgrade the runways on Ua Pou and Ua Huka so Air Tahiti in 2026 can replace the Twin Otter on the routes with new ATR 42-600S aircraft. This is a new variant of the ATR 42 in development that is designed to take off and land on runways as short at 800m (2,623ft).
Ua Pou has an 830m-long runway and Ua Huka has a 755m-long runway.
Vivish says Air Tahiti is seeing a strong recovery in domestic passenger traffic and anticipates that this year it will have transported 900,000 people; the equivalent of 2019's pre-COVID passenger traffic.
He says the airline today operates a fleet of 10 ATR aircraft but has an ATR 72-600 on order that was originally due to be delivered in 2020, but is now being delivered in May 2023.
The airline in mid-2019 ordered two ATR 42-600S aircraft. Manish says it will start taking delivery of these aircraft in 2025.
Feature picture, from borabora.com , is an aerial view of Ua Pou's  830m-long runway.
Related posts
SUBSCRIBE TO OUR NEWSLETTER