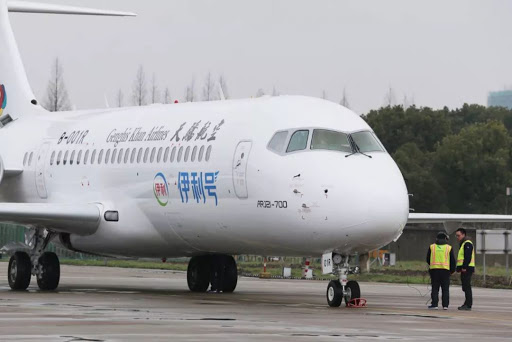 Regional Aircraft Needed to Develop China's Regional Routes
Edward Eng, 20 Nov 2020
2 min

read
The importance of regional aviation to Chinese airlines' earnings, as a result of COVID-19 restrictions, is highlighting the lack of right-size aircraft on regional routes in China.
Boeing 737 and Airbus A320-family aircraft dominate China's small and medium-size airports even though demand on routes between such airports is typically only enough to support twice-weekly 737 or A320 flights, says Commercial Aircraft Corporation of China (Comac) senior economist Guo Caisen, who was speaking at a conference (18-19 November) in Zhengzhou organized by the Civil Aviation Resource Network of China (Carnoc).
He says the large number of 737s and A320s in China, operating on thin routes, represents a misallocation of capacity.
Guo also says operating aircraft with too many seats means the airlines can only provide limited frequency, discouraging local business formation and social development in these areas.
Flights should be at least daily for a city to be considered well connected, he says.
Regional aircraft, such as Comac's 90-seat ARJ21, can better match capacity with demand, and also save governments money on route subsidies and airport development, Guo says.
Government policy should prioritize aircraft right-sizing over direct support for China's domestic regional aircraft manufacturing industry, he says. The policy of supporting indigenous industry has proven to be ineffective, since the Chinese airlines have ended up buying more mainline aircraft from overseas than locally-produced regional aircraft, he adds.
Li Mingye, general manager of Okay Airways said at the conference the lack of regional aviation is evident because regional aircraft comprise just two percent of China' commercial fleet. China only has four regional airlines, despite being the world's second-largest aviation market, he adds.
Li says high-speed rail and low yield traffic partly explains why regional aviation has yet to take off in China, but the main impediment are policies that favor larger aircraft over smaller aircraft.
Photo: Comac
Edward Eng
Edward is based in Singapore. He writes stories on regional aviation across the Asia-Pacific region and has a background on covering socio-political issues. Edward holds a BA (Hons) in Philosophy, Politics and Economics from the University of Warwick in the UK.
Related posts
SUBSCRIBE TO OUR NEWSLETTER