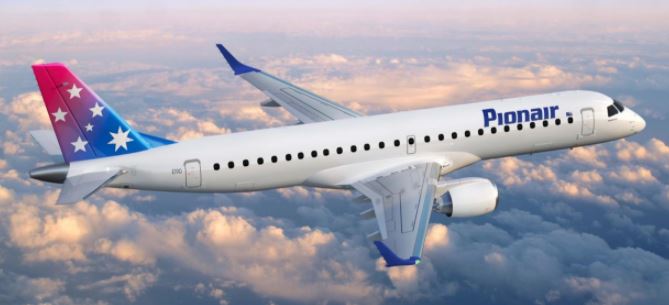 Sydney-based wet-lease and charter specialist Pionair has purchased an Embraer E-190-100L, with additional E-190 aircraft to arrive in 2021.
Pionair has bought its first E190-100L which it will receive on 24 November, the airline says in a statement.
It also says additional E-190s will come next year but refrains from saying when and how many.
Steve Ferris, Pionair's owner and CEO, says it is adding the E-190 to develop more business in Australia and the Pacific, and chose the aircraft for its fuel efficiency, performance and economics. The capacity of this aircraft is ideally suited to routes in Australia and beyond with fluctuating demand, he adds.
Pionair's 112-seat Embraer E-190-100LR is in a two-two format, with wider seats and a wider aisle as compared to larger jets, the airline says.
Pionair already provides pilots and maintenance services for an Embraer E190-E2 on its air operator's certificate (AOC), but the aircraft is operated on behalf of Air Kiribati and owned by the Kiribati government. Air Kiribati has a further E190-E2 on order, with two on option, but none of the additional aircraft have a confirmed delivery date yet, according to local reports.
Pionair's own fleet comprises eight BAe 146 regional jets that it owns.
Photo: Pionair
Edward Eng
Edward is based in Singapore. He writes stories on regional aviation across the Asia-Pacific region and has a background on covering socio-political issues. Edward holds a BA (Hons) in Philosophy, Politics and Economics from the University of Warwick in the UK.
Related posts
SUBSCRIBE TO OUR NEWSLETTER