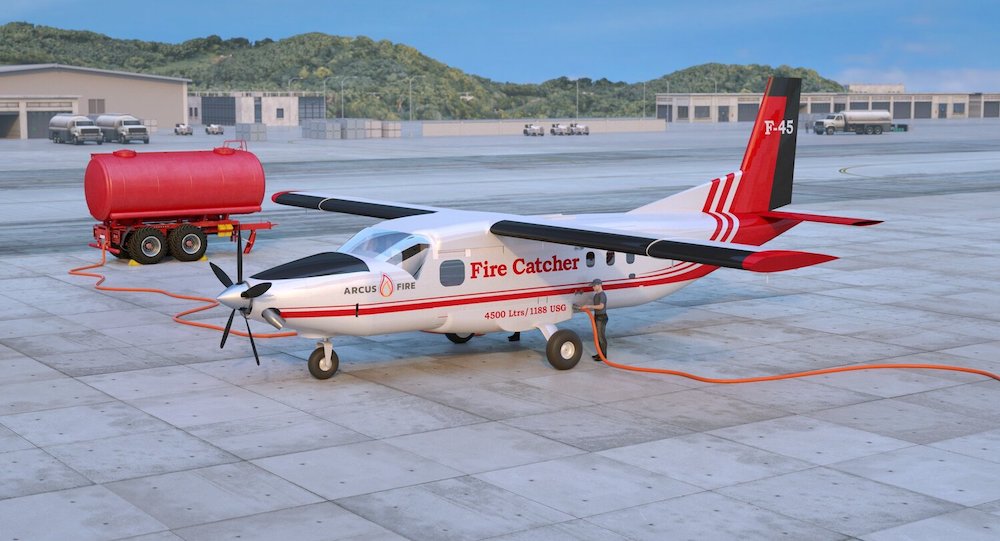 New Zealand aircraft makers Pacific Aerospace and Flight Structures are partnering with UK aerial firefighting startup Arcus Fire to develop a new single-engine turboprop aircraft.
Flight Structures CEO, Jon Kerr, tells Smart Aviation APAC that prior to Arcus Fire's proposal for a new firefighting aircraft, the clean-sheet F-45 had been a several-years-old Flight Structures side project designed for cargo use. The aircraft will be the world's first 19-seat single-engine turboprop, with first flight planned for 2023 and certification in 2024, he adds.
The company has already built some F-45 fuselage subassemblies to understand how manufacturing can be made more efficient and cost-effective, Kerr says. "We're trying to make a simple aircraft. The F-45 has a roomy cabin, but is also fixed gear and not very fast. When Arcus Fire came along [wanting to develop an aerial fire-fighting aircraft], we decided on a mature design hopper, and focused on making sure the aircraft was more rugged," he adds. A hopper is the section of the aircraft that stores and disperses fire retardant.
The first version of the F-45 will be a firefighting air tanker, the Firecatcher, with a 4,500l hopper, designed for the initial attack phase of fighting forest fires, Kerr says. Flight Structures is seeking certification for the F-45 in the restricted category for aerial firefighting with the New Zealand civil aviation authority, before seeking similar US and Australian certifications, he adds.
Once the air tanker version is launched, a cargo version carrying three LD3 cargo containers and a commuter version carrying 19 passengers, with full standing headroom, will be developed, Kerr says.
Arcus Air says the F-45 Firecatcher will have a maximum takeoff weight of 17,350lb (7,870kg), a maximum cruise speed of 190kn (350km/h) and a range of 1,000nm (1,850km). Kerr adds that since the F-45 is powered by a single engine, such as the Pratt & Whitney Canada PT6A-67F, it will likely have the lowest operating costs in its size class.
The PT6A-67F is a higher power variant of the PT-6 engine family with 1,796 equivalent shaft horsepower. This variant also powers the Air Tractor AT-802 fire-fighting aircraft.
Arcus Fire CEO, Nicholas Davis, says no final decision on engine choice has been made and they are also considering the Honeywell TPE331-14.
Davis says the F-45 will be quick to deploy when fires are first spotted.
The company plans to market the aircraft to countries where the need for firefighting aircraft continues to grow each year, he says.
Arcus Fire is responsible for marketing the aircraft, while Flight Structures is tasked with designing and supporting aircraft certification. Pacific Aerospace is involved in the manufacturing process, Davis says.
Arcus Fire is also developing a fire-fighting variant of Pacific Aerospace's single-engine Super-PAC XL, called the F-25.
The F-25 variant will carry up to 2,500l of water or retardant, and is expected to be certified next year in time for the 2021 fire season, Davis says.
Davis says the F-25 should be relatively easy to get certified because the Super-PAC XL is already certified.
They will be applying for a supplemental type certificate to cover the modification work required to turn this aircraft into an aerial firefighter, namely installation of the hopper and firegate mechanism, which releases the water or retardant, he adds.
Davis says the F-25 can carry 2,500l thanks to the higher power PT6A-140A engine that Pacific Aerospace installed on the P-750 to create the Super PAC-XL. It installed the more powerful engine, so the aircraft has a faster ascent – an important capability for skydivers that use the aircraft – but the higher power also means the aircraft has more payload.
Editor's comments:
This single-engine turboprop in development could prove later to be a strong competitor to the twin-engine Cessna SkyCourier. The advantage the F-45 has, is it is single-engine, so lower operating costs, an important consideration for cargo operators. But one of the issues the single-engine aircraft will face is getting regulators to approve it for commercial IFR (instrument flight rules) flight operations. This could initially restrict it to visual flight rules (VFR) – daytime flying. But certifying the F-45 as a general aviation aircraft to begin with, and focusing on aerial fire-fighting, is a smart move. It is easier to get regulatory approval as a general aviation aircraft in a restricted category. The aircraft type can build up its flight hours as a GA aircraft and when the aircraft-maker is ready to apply for the F-45 to be a commercial aircraft, regulators can see its track-record of performance. This means they may be more open to certifying it for commercial aircraft IFR operations. This is important as many cargo operators do night-time flying.
It is also interesting to note that Flight Structures' Jon Kerr is the former chief designer of Pacific Aerospace who worked on the P-750 program. When we asked him, why no one else has designed such a large single-engine turboprop aircraft before, he said it is because of the engines. He says in the past there was no single engine in the PT6 family that could power such a large aircraft, but now there is.
It is often said that aircraft are designed around the engines.
Photo: Arcus Fire
Edward Eng
Edward is based in Singapore. He writes stories on regional aviation across the Asia-Pacific region and has a background on covering socio-political issues. Edward holds a BA (Hons) in Philosophy, Politics and Economics from the University of Warwick in the UK.
Related posts
SUBSCRIBE TO OUR NEWSLETTER