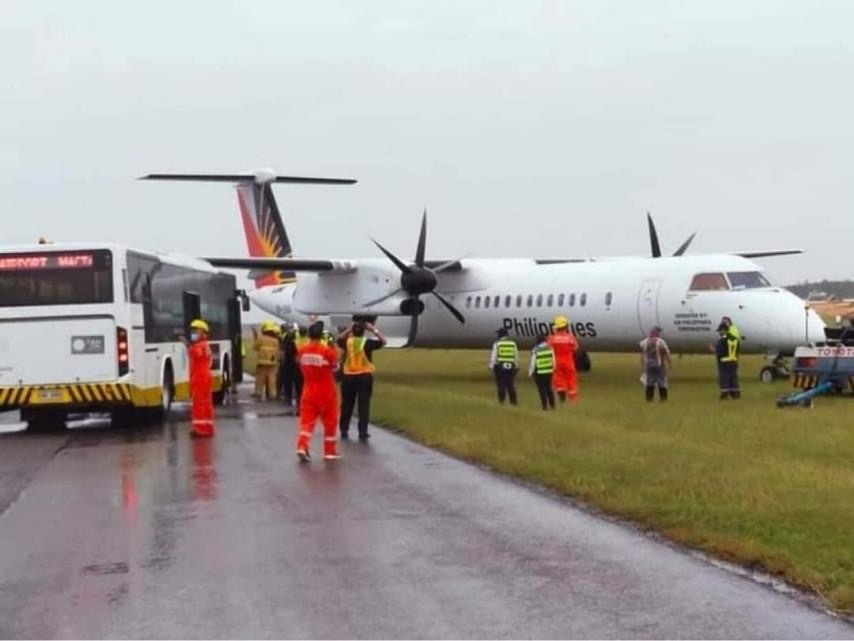 Philippine authorities are investigating an incident today in which a Philippine Airlines (PAL) De Havilland Aircraft of Canada Dash 8-400 came off the runway and onto soft ground.
The runway excursion occurred at 11:39hr today when one of the airline's Dash 8-400s, local registration RP-C5911, landed during rain at Mactan Cebu International Airport (MCIA) after completing a flight from Caticlan, PAL says in a statement.
"All 29 passengers and four crew members – two pilots and two cabin crew members – are safe and were able to disembark using the aircraft's airstairs," says PAL, adding that there were no injuries.
Pictures taken from the scene show the entire aircraft on flat grassy ground beside the runway.
The Civil Aviation Authority of the Philippines (CAAP) says it is investigating the incident, which caused the runway to be closed until 14:38hrs, resulting 34 flights being affected by the temporary runway closure including two flights that had to be rerouted to Iloilo International Airport.
Picture, from PAL, shows where its Dash 8-400 ended up after skidding off the runway.
Related posts
SUBSCRIBE TO OUR NEWSLETTER