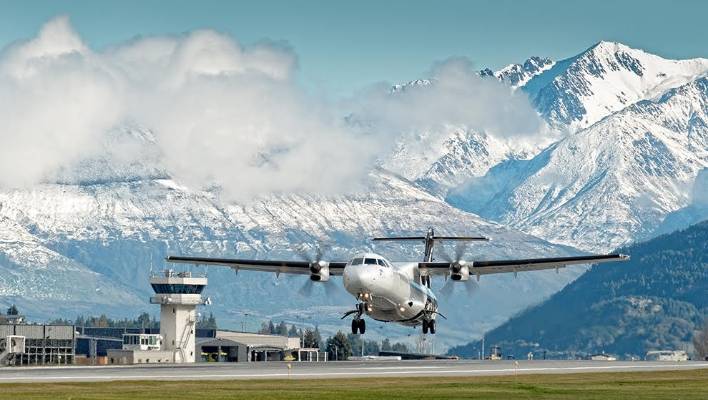 Air New Zealand has introduced required navigation performance (RNP AR) technology on ATR 72-600 flights, starting with flights in and out of Queenstown, a small city on the south island surrounded by high mountains.
The airline's chief operational integrity and safety officer David Morgan says: "The benefits of the technology mean that, even when the weather at Queenstown Airport is poor, disruptions to ATR passenger services are expected to be significantly reduced."
Air New Zealand says its 27 ATR 72-600s were upgraded with the RNP AR equipment last year. The company has been working with the Civil Aviation Authority of New Zealand (CAA) to introduce its usage since, culminating in CAA approval to operate using full RNP AR in and out of Queenstown, it adds.
RNP AR is a GPS-based navigation technology that locates aircraft on all three axes, ATCANZ CEO Barrie Malloch tells Smart Aviation APAC. With RNP value 0.15, the ATR 72-600 pilots flying to Queenstown will have about a 9m assurance of where they are, and a decision height of 300ft, he adds.
ATCANZ is a Christchurch-based company offering aeronautical services spanning airport compliance, risk management, air traffic management training and air navigation services.
This is a significant improvement over VOR/DME navigational aids previously used, which had no vertical positioning capability and required takeoff and landing by visual flight rules (VFR), Malloch says. VOR/DME, which is ground-based rather than satellite based, stands for VHF omnidirectional range (VOR) with a distance measuring equipment (DME).
RNP AR potentially allows pilots to fly at much lower altitudes, and a more precise and thus fuel-efficient route to the airport, says Malloch.
But where the technology shines, is in its ability to allow aircraft to operate in bad weather, which is important because Queenstown is an all-year round tourist destination, Malloch says. Previously, flights bringing tourists to the nearby ski fields might have been diverted to other airfields due to snowstorms and low cloud conditions, he adds.
"Within 20 miles of Queenstown there are something like 40 peaks over 5,000ft, which would previously have required safe holding at 9,000 ft. [Queenstown] is an alpine town on the side of a glacial lake. [It requires pilots to fly] quite deep, quite narrow past a massive mountain range. You can even look out from the control tower to the nearby ski fields," Malloch says.
Adding the RNP AR capabilities "clearly signals the longevity of the ATR on these [regional] routes," Malloch says. This is because Air New Zealand's 23 out-of-production Bombardier Dash 8-300s have not been equipped with RNP AR capabilities, he adds.
Malloch says other services to other airports – such as Nelson, Hamilton and Palmerston North – could also benefit from RNP AR enabled routes as bad weather can sometimes be a challenge there.
Editor's comments:
Air New Zealand's Airbus A320s were already equipped and approved earlier by CAA for RNP, but having the ATRs equipped and approved is significant. It means Air New Zealand now has the capability to deploy ATRs on more domestic routes in New Zealand to airports with challenging terrain.
Edward Eng
Edward is based in Singapore. He writes stories on regional aviation across the Asia-Pacific region and has a background on covering socio-political issues. Edward holds a BA (Hons) in Philosophy, Politics and Economics from the University of Warwick in the UK.
Related posts
SUBSCRIBE TO OUR NEWSLETTER