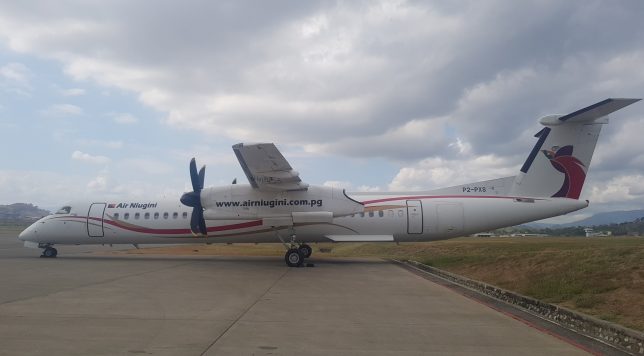 Papua New Guinea's (PNG) national carrier Air Niugini has received its second De Havilland Canada Dash 8-400.
The aircraft leased from Nordic Aviation Capital (NAC) will be operated by Air Niugini turboprop subsidiary Link PNG, which earlier this year received its first Dash 8-400 from NAC.
NAC says in its press release that the second Dash 8-400 was supposed to be delivered in 2019, but was delayed because of COVID-19 and travel restrictions. The aircraft could only be delivered now because COVID-19 conditions and the country's travel restrictions have eased, it adds.
PNG's daily COVID-19 cases have fallen to low single-digits from daily double-digit cases in July and August.
Air Niugini has yet to publicly disclose where the second Dash 8-400 will fly, but its spokesperson previously told Smart Aviation APAC that its turboprop fleet has proved useful for PNG's limited airport infrastructure and difficult terrain. He said Air Niugini is operating its first Dash 8-400 alongside its larger Fokker jets, replacing jets on flights to destinations like Rabaul Airport, East New Britain, where runway upgrading is ongoing.
According to online fleet database Planespotters.net, the Dash 8-400 Air Niugini has just received, is 13 years old. The aircraft was previously registered as D-ABQL and was in operation with German carrier Luftfahrtgesellschaft Walter which filed for insolvency in April of this year.
The Papua New Guinea government recently invested PGK100 million (US$28.6 million) into the airline, which Treasury minister Ian Ling-Stucky says in a statement is earmarked for restructuring. The funds come from a PGK1.65 billion (US$473.5 million) loan from the Asian Development Bank, which will be available to the country starting 2021 in tranches, and will be repaid over 12 years, Ling-Stucky adds.
Air Niugini's fleet comprises: two Dash 8-400s, five Dash 8-300s, two Dash 8-200s, four Fokker 100s, one Fokker 70, one Boeing 737-700, two Boeing 767-300s, and several stored aircraft.
Photo: Air Niugini
Edward Eng
Edward is based in Singapore. He writes stories on regional aviation across the Asia-Pacific region and has a background on covering socio-political issues. Edward holds a BA (Hons) in Philosophy, Politics and Economics from the University of Warwick in the UK.
Related posts
SUBSCRIBE TO OUR NEWSLETTER