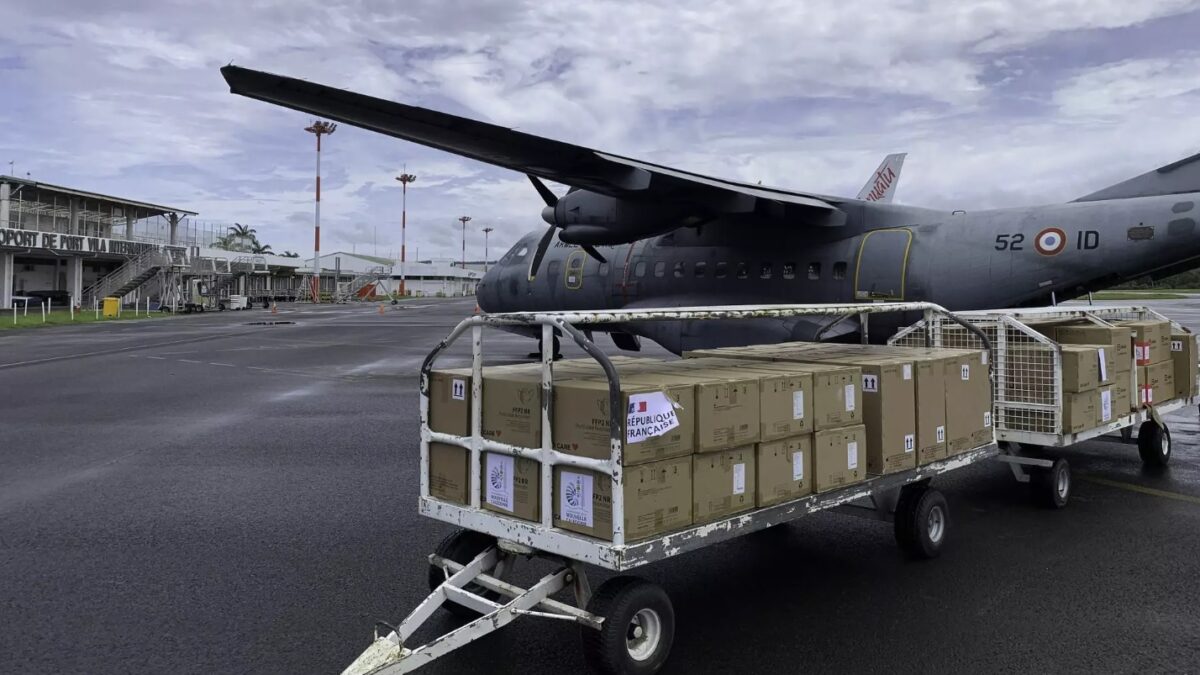 New Caledonian Military Transport Airlifting Supplies to COVID-Stricken Vanuatu
Ong Jeng Yang, 8 Apr 2022
2 min

read
France and New Caledonia are airlifting medical supplies to Vanuatu to help the Pacific island nation, which is experiencing a new surge in the pandemic that has caused it to suspend commercial flights and implement a curfews to prevent further transmissions.
Media outlet Outremers 360 reports that the New Caledonian government has sent 50,000 antigen tests; 50,000 self-test kits; 30,000 filtering face pieces (FFP2) and 200 pulse oximeters to Vanuatu.
France's Ministry for Europe and Foreign Affairs says in a statement it is coordinating the operation in conjunction with the French embassy in Vanuatu.
The Outremers 360 report says the first shipment arrived in Vanuatu from neighboring New Caledonia onboard a French Armed Forces in New Caledonia (FANC) aircraft, though it did not mention when.
Information online shows the aircraft used was a Airbus CN-235 military transport.
A second shipment – carrying medication for COVID, oxygen therapy equipment, respirators, oxygen generators, an additional 30,000 antigen tests and self-test kits – will be sent to Vanuatu, the report says, adding that it is scheduled for 15 April and FANC will be involved.
Vanuatu entered outbreak alert level three in March, the highest alert, shortly after a case was confirmed at a local hospital, indicating transmission in the community.
The Vanuatu government has imposed daytime movement restrictions, closed non-essential businesses and implemented a daily curfew between 1800hr to 0600hr. Authorities have also suspended all inbound international flights and domestic flights.
Only passengers on boarding Air Vanuatu international flights departing from Port Vila are authorized.
An official at the national airline confirms with Smart Aviation Asia Pacific that all domestic operations are suspended.
New Zealand media outlet Stuff reports, however, that Vanuatu will begin reopening its border from next month.
The report quotes Russell Tamata, Vanuatu director general at the Ministry of Health, as saying that a combination of high vaccination rates and low death and hospitalization rates make the reopening a possibility.
The report says there will be a 'soft opening' from 1 May to 30 June to allow more than 5,000 Vanuatu nationals and residents, who are stranded overseas, to return home.
Tamata says reducing travel restrictions will provide a stimulus for Vanuatu's economic recovery.
Featured photo from État-Major des Armées shows French Armed Forces in New Caledonia's CN-235.
Related Stories:
Air Vanuatu ATR 72-600 Returns After Nine Months (11 December 2020)
Ong Jeng Yang
Based in Singapore, Ong Jeng Yang has more than four years of experience working in the media industry.
Related posts
SUBSCRIBE TO OUR NEWSLETTER