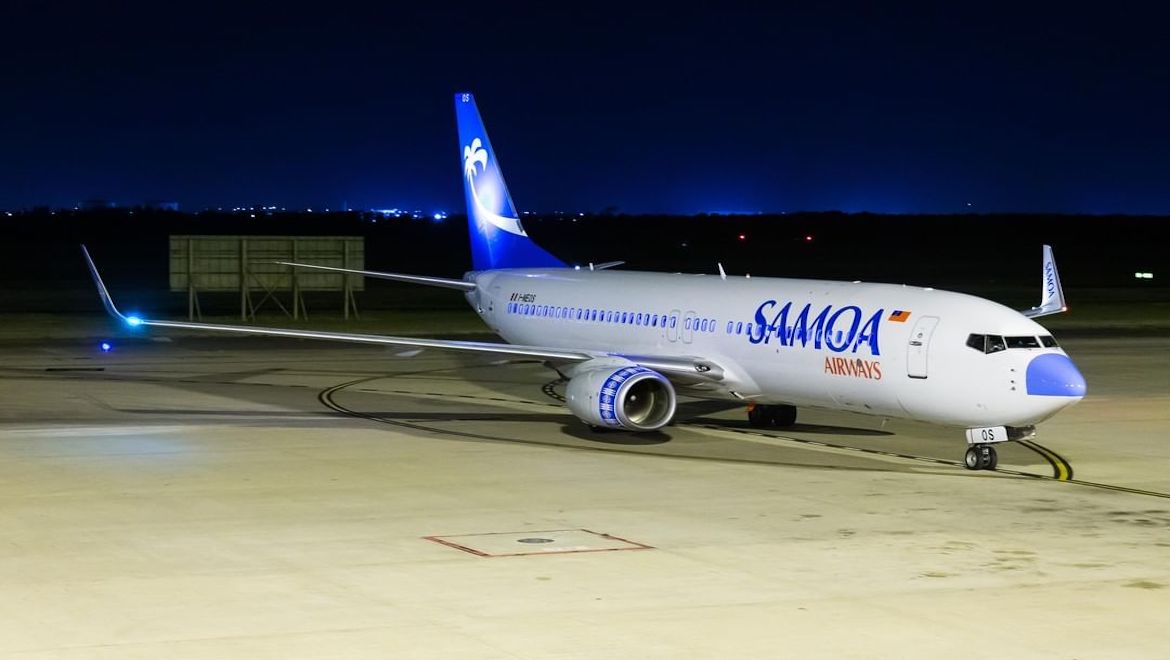 National carrier Samoa Airways has refuted claims about its difficulties in repaying debt obligations, as the airline races to complete lease negotiations on a replacement Boeing 737-800.
In its response to The Samoa Observer, the airline says reports about it having a WST300 million (US$118 million) debt are significantly overstated. It says the Samoan Government has settled much of the debt.
Samoa Airways says it is still negotiating the lease on a Boeing 737-800 presently in the Netherlands, and that any further divulgence of information on the lease could be damaging to the deal. It adds that no payments are being made for the aircraft while negotiations continue.
The airline  says the aircraft will support COVID-19-related repatriation flights as well as medevac and freight services. . It could also be used to support neighboring Pacific island countries with charter operations as an alternative to using larger airlines that may offer unfavorable conditions, it adds.
The Samoa Observer had quoted former Samoa Airways CEO Fauo'o Fatu Tielu as saying the airline is "technically bankrupt". Fauo'o, who is running for parliament, added that the airline's 2018-2019 financial year net losses were US$25 million, meaning the airline would be in an even worse position during the current COVID-19 crisis.
The newspaper also reported that Samoa Airways owes over US$11 million to creditors, including US$155,000 to a local hotel it regularly booked for foreign crews operating a Boeing 737-800 it was wet-leasing from Malindo Air. The Malindo Air lease ended in March, when the country closed borders because of COVID-19.
But Samoa Airways' 2018-2019 annual report, as published by the country's parliament, shows a yearly net loss of WST24 million (US$9.5 million), with total liabilities exceeding assets by WST11 million (US$4.5 million).
The newspaper also said the replacement Boeing 737-800 is being leased from Dutch maintenance company Fokker Techniek.
According to planespotters.net, the aircraft is already painted in Samoa Airways livery. It was previously owned by US lessor BBAM, which was then leasing the aircraft to India's Vistara, the website states.
When Smart Aviation APAC spoke to Samoa Airways management last year, the airline said that it was looking to replace some of its De Havilland Canada Series 300 fleet with a 50-seat aircraft. The airline said it was also looking at alternatives for its wet-leased Boeing 737-800, which was in turn replacing the cancelled Boeing 737 MAX 9 order it had.
The Ministry of Public Enterprises was unavailable for comment when contacted by Smart Aviation APAC.
Photo: Brisbane Airport
Edward Eng
Edward is based in Singapore. He writes stories on regional aviation across the Asia-Pacific region and has a background on covering socio-political issues. Edward holds a BA (Hons) in Philosophy, Politics and Economics from the University of Warwick in the UK.
Related posts
SUBSCRIBE TO OUR NEWSLETTER