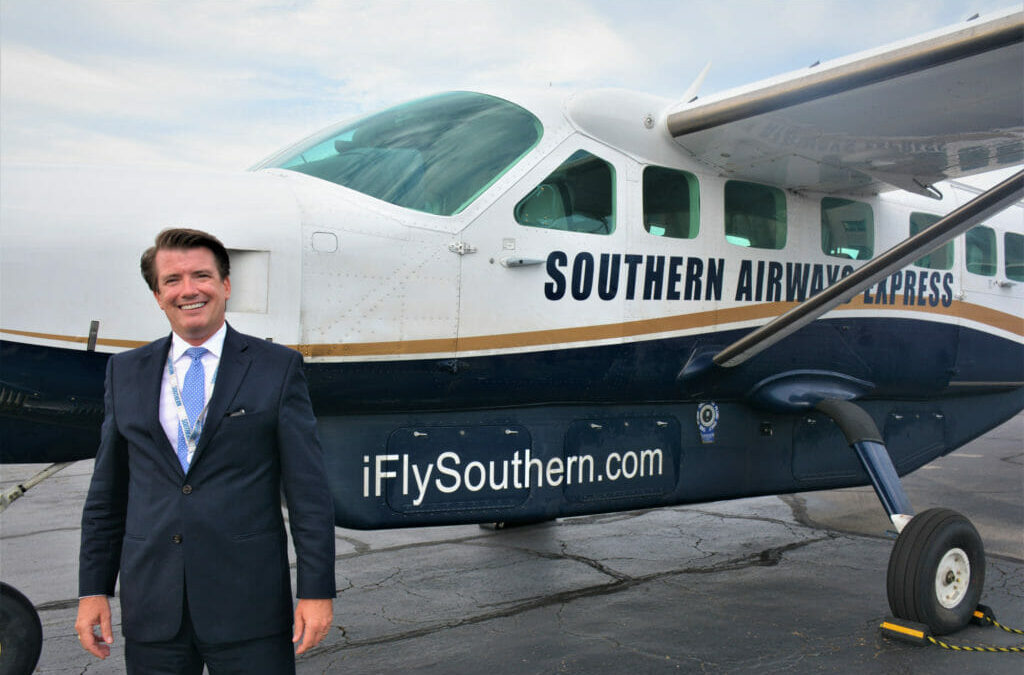 Marianas Southern Airways, a start-up carrier in the Marianas Islands, plans to launch operations next month using the air operator certificate (AOC) of US carrier Southern Airways Express.
The new airliner is a joint-venture between Southern Airways Express and Marianas Islands real estate company MP Enterprises.
Stan Little, chairman and CEO of Southern Airways Express, tells Smart Aviation Asia Pacific that the joint-venture airline will use Southern Airways Express' AOC. The Marianas Islands are in the north Pacific and are an overseas territory of the US.
Little says Southern Airways Express is adding two new Tecnam P2012 aircraft and will operate these on behalf of Marianas Southern Airways which is providing domestic air services in the Marinas Islands and an international service connecting the Marianas Islands' capital Saipan to Guam.
Aircraft Choice
The first Tecnam P2012, named 'Spirit of Saipan' with US registration N503SA, is still in Italy, he says. Tecnam is an Italian aircraft-maker.
Marianas Southern has sent a check pilot to Italy to train with Tecnam's chief pilot and will soon ferry the aircraft across the Atlantic, Little says.
The aircraft will be undergoing inspections at Southern's maintenance facility in Pennsylvania before moving to the paint shop in Arkansas, before finally being ferried to the Marianas Islands, says Little.
In terms of the second Tecnam, Little says it will be named 'Spirit of Tinian' and will have US registration N504SA.
He says they chose to buy the Tecnam P2012 for the Marianas operation, because it is a nine-passenger twin piston engine aircraft, making it ideal for interisland services.
He says the benefit of a piston-powered aircraft is lower maintenance costs and lower fuel burn on short sectors.
Short sectors are not ideal for turbine-powered aircraft due to the turbine's poor fuel performance at lower altitudes and on very short sectors.
The new airline plans to provide a high frequency domestic service on the route linking Tinian Island and the capital Saipan, says Little, adding that the flight time is only 11 minutes.
He says the new carrier also plans to operate between Saipan and Guam but this international route is still under an hour.
Maintaining a piston engine is easier than a turbine engine, especially considering the far distance from all of Southern's maintenance facilities, he adds.
Marianas Southern is currently shipping an inventory of spare parts, and some other spare parts will be carried on the Tecnam P2012 on the ferry flight, he says.
Fuel Concerns
Little concedes that one issue with piston-engine aircraft is that it uses avgas and in the Marianas Islands there is virtually none, so the start-up has to import its own supply.
Marianas Southern has bought tanks and two 5,000 gallon (22,730 litre) fuel trucks to keep an inventory of about 20,000 gallons of avgas in the islands at any given time, he says. Avgas will be shipped from Asia directly by Southern Marianas, he adds.
Pilots
Some pilots, from Southern Airways Express and its subsidiary Mokulele Airlines, have expressed interest in spending a year in the Pacific, he says. And there are two or three local pilots that have already begun training, he adds.
Some of the pilots have already gone through indoctrination training at Southern Airways Express' headquarters in Palm Beach, Florida, he says. The goal is to have as many pilots from Saipan as possible for a stable supply of pilots, he adds.
Marianas Southern should have the two aircraft in the islands at the time of launch, with a specific date yet to be determined but it will be in late July, he says. Marianas Southern plans to add a third aircraft in the third quarter, he asserts.
Market Outlook
The market will support five to seven Tecnam P2012 aircraft, depending on the economy, he says. The local market alone can support five, and it can go as high as seven with tourism fully back, he adds.
Marianas Southern is open for new opportunities for interline agreements, giving precedent to United Airlines and Marianas Pacific Airlines, he says. It is open to having discussions with other carriers as long as they are not competitors with existing partners, he adds.
Southern Airways Express has an existing interline agreement with United in the US. United, coincidentally, has Guam's Antonio B. Won Pat International Airport as a Pacific hub.
Little says Marianas Southern is especially keen on interline agreements with Korean and Japanese carriers, as these markets have a lot of inbound traffic into the Pacific.
The ability to market Mariana Southern's flights on major airlines will increase the load factor tremendously and being a 'first and last mile' carrier for them will quickly fill up aircraft, he says.
Little says the Marianas market is poised to grow tremendously even among the locals. When the reliability is there, and the price point is correct, a new airline coming to the market will grow the size of the air travel market, he says.
Featured photo from Southern Airways Express shows CEO Stan Little
Related Stories:
US DoT Approves Start-Up In Mariana Islands (3 June 2022)
North Pacific Start-Up Aims To Begin In July (30 May 2022)
Davy Lim
Davy is based in Singapore. He is passionate about aviation and has flight experience in various single engine piston aircraft, gliders and seaplanes from his time in the United States. Davy holds a BA in Economics from the State University of New York in Buffalo.
Related posts
SUBSCRIBE TO OUR NEWSLETTER