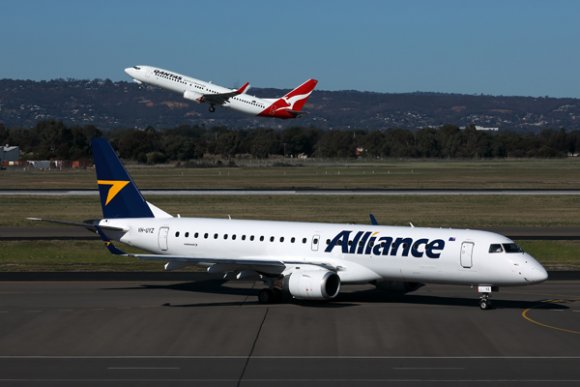 Australia's competition watchdog has raised the possibility it may reject Qantas Airways' take-over of Alliance Airlines, because is concerned it will significantly dilute competition on regional routes in Western Australia and Queensland.
"We are concerned that this proposed acquisition is likely to substantially lessen competition for air transport services to and from regional and remote areas in Queensland and Western Australia for corporate customers," Australian Competition and Consumer Commission chair, Gina Cass-Gottlieb, says in a statement.
"Alliance and Qantas closely compete in the supply of these services to mining and resource companies who need to transport 'fly-in fly-out' workers in Queensland and Western Australia," she says.
"This merger would combine two of the top three operators of air transport services in Queensland and Western Australia."
"Industry participants have expressed strong concerns about the impact of this proposed acquisition on air transport services, particularly to regional and remote areas," she adds.
The ACCC in its statement cites the Queensland regional route of Brisbane- Moranbah as an example of a route that would only have one airline group serving it, if Qantas were to take over Alliance. Alliance serves the route in competition against Qantas.
Alliance is primarily a fly-in, fly-out charter operator but it does also provide some scheduled air services to regional Australia. Some of these scheduled services are marketed as Alliance air services and others are marketed under Virgin Australia which wet-leases the aircraft from Alliance.
"The proposed acquisition would remove Alliance as the only competitor to Qantas on the Brisbane-Moranbah regional passenger transport route," says the ACCC.
The ACCC says it is considering the level of competition provided by airlines such as Virgin Australia and Cobham Aviation Services' regional services arm, that Regional Express recently purchased, to see if it will provide sufficient competition against the combined might of Qantas and Alliance.
The ACCC also says it considering how the removal of Alliance's wet-leasing services would impact the ability of current and new entrants to compete against Qantas on regional routes.
The ACCC flags the possibility of rejecting the Qantas-Alliance by saying in its statement: "Our preliminary view is that there are already significant barriers for airlines who want to enter or expand their operations in regional and remote areas, including access to pilots, airport facilities and infrastructure, and associated regulatory approvals."
"The removal of Alliance as a supplier of wet-leases or the increase in price of wet-leases for Qantas' competitors is likely to significantly increase these barriers."
"A competitive and well-functioning aviation sector is fundamental to the Australian economy," it adds.
Qantas has immediately responded to the ACCC's statement today with its own statement saying: "Qantas is of the view that its acquisition of Alliance would not lessen competition in Australia's highly competitive charter segment."
"Alliance [only] represents around two per cent of the total Australian aviation industry and supplies about 30 percent of the charter services, with the remainder split between Qantas with around 23 per cent, Virgin Australia with around 22 percent and a number of other operators."
"Qantas has met with the ACCC and provided a detailed submission on the competitive nature of the charter services."
"Since Qantas announced its planned acquisition of Alliance, Regional Express (Rex) announced its acquisition of charter operator National Jet Express [the regional air services arm of] Cobham Aviation Services and received ACCC clearance 11 days later.
"Virgin Australia has been clear about its acquisition of new aircraft to expand its own resources flying. Several other airlines and aviation businesses also service the charter sector," adds Qantas.
Editor's comments: If the ACCC blocks Qantas' acquisition of Alliance it does create a potential problem for Alliance, which just disclosed publicly, in its latest financial results announcement, that Qantas will account for the vast majority of its Embraer E-190s.
Alliance says that by January it will have 33 E-190s of which 18 will be allocated to Qantas.
The ACCC's concerns are understandable. There are actually two-parts to this matter: one is to maintain competition in the fly-in, fly-out (FIFO) mining sector and two is to maintain competition on scheduled passenger routes in Queensland and Western Australia.
Qantas in its response conveniently focuses on the matter of the FIFO market, but fails to address the issue pertaining to maintaining competition on scheduled passenger routes for Australian consumers.
It is clear that Cobham Aviation Services is and will continue to be a strong competitor against Qantas in the FIFO market, but the problem is, it is not a scheduled passenger operator.
The two Qantas competitors in the scheduled passenger market are Virgin Australia and Rex. Virgin Australia, when it phased out its ATR fleet to focus on an all-Boeing 737 fleet, largely exited the regional aviation market, with the exception of a few routes it serves using regional jets wet-leased from Alliance.
Rex, meanwhile, has very little presence in Queensland and Western Australia with regards to scheduled passenger operations. Excluding its Queensland Government-subsidized routes, which are to very small remote communities; Rex only has three routes in the state and all are out of Cairns.
In Western Australia, it serves five routes but because it operates short-haul Saab 340s, it can only serve routes closer to Perth, leaving large swathes of the state to Alliance which uses regional jets that have longer range.
If Qantas is to win over the ACCC, it needs to demonstrate that in a monopoly situation it will still offer affordable airfares to regional Australia.
On the Brisbane-Moranbah route, cited in the ACCC's statement, Alliance is charging about A$730 (US$510) for a return airfare on the route which is a one-hour 30minute flight served by a jet aircraft.
On the Brisbane-Bundaberg route – which is a 50 minute flight and monopoly route served by a QantasLink De Havilland Aircraft of Canada Dash 8-400 – the return airfare is nearly A$1,000.
Feature picture, from Routes Online, shows a Alliance D-190 in the foreground.
Related posts
SUBSCRIBE TO OUR NEWSLETTER