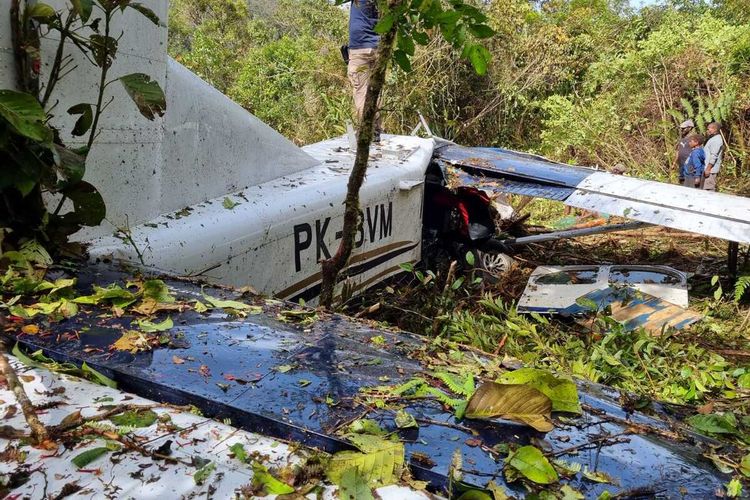 Indonesian Susi Air Pilatus PC-6 Flight Data Recorder Recovered
Davy Lim, 27 Jun 2022
1 min

read
Indonesian authorities recovered the flight data recorder yesterday from the crashed Susi Air Pilatus PC-6 aircraft in West Papua.
West Papua police head of public relations, Kombes Kamal, says in a statement the joint team retrieved the flight data recorder yesterday after reaching the crash site using an Indonesian Air Force Eurocopter EC725 helicopter.
The joint team includes the Mimika police criminal investigation unit, members of the Kapiyau Air Base and the National Transportation Safety Committee (KNKT) team, he says.
At this time, it is unclear what caused the Susi Air aircraft to crash, but the flight data recorder will help reveal the cause of the crash, he says.
The KNKT team is inspecting the flight data recorder to determine the cause of the crash, he adds.
Susi Pudjiastuti, CEO of Susi Air, says on social media the PC-6 , local registration PK-BVM, went missing on 23 June while doing a flight in West Papua from Timika town's Mozes Kilangin International Airport to Duma Airstrip.
All six passengers and one pilot survived the crash but all had injuries and were sent to hospital, say local news reports.
Featured photo shows the Susi Air Pilatus PC-6 Aircraft with major damage to the wing spar (Source: voi.id)
Related Stories:
Authorities Evict Indonesia's Susi Air From Hangar In North Kalimantan (7 February 2022)
Best on the Web: SpiceJet Nok Air Skytrans Joy Air Susi Air and Missionary Aviation Fellowship (26 January 2021)
Davy Lim
Davy is based in Singapore. He is passionate about aviation and has flight experience in various single engine piston aircraft, gliders and seaplanes from his time in the United States. Davy holds a BA in Economics from the State University of New York in Buffalo.
Related posts
SUBSCRIBE TO OUR NEWSLETTER