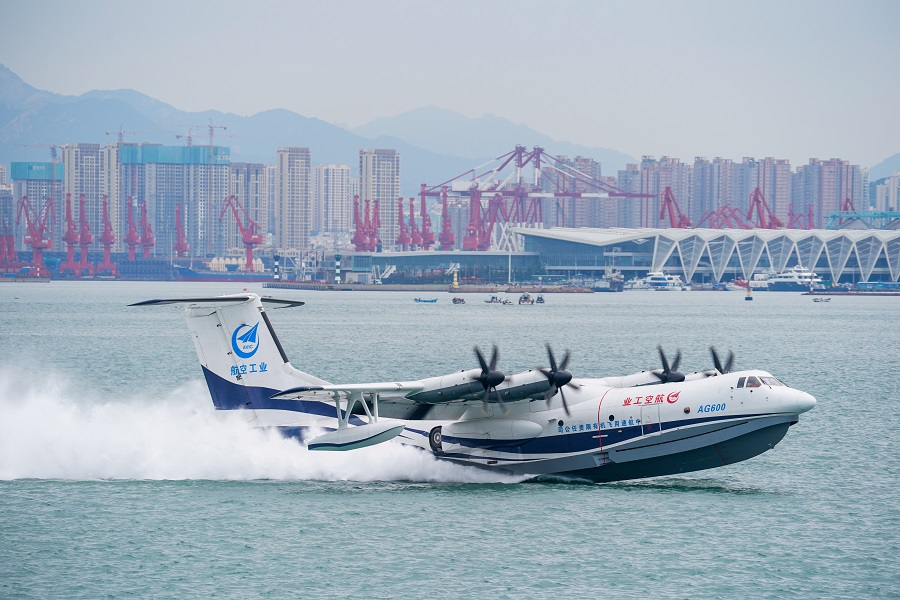 The new Aviation Industry Corporation of China (AVIC) AG600 seaplane has completed its first sea-based test flight, meaning it is one step closer to achieving a previously-announced goal of certification by 2021.
The AVIC AG600 prototype flew for 46mins from Rizhao Shanzihe Airport in Shandong province and landed in the Yellow Sea, off the coast of Qingdao city, says state-run China Daily.
AVIC did several sea-based and flying tests with the amphibious aircraft, which is also the world's largest seaplane, before flying it back to Rizhao Shanzihe Airport, it adds.
AVIC's new seaplane is designed for aerial firefighting, with the ability to scoop 12t of water in 20 seconds, as well as maritime search and rescue (SAR), it says. AVIC adds that the seaplane has an operational range of about 4,500km (2,430nm), but where it exceeds competitors such as the ShinMaywa US-2, is its ability to carry 50 passengers during SAR, more than the US-2's 20 passengers.
This is significant as AVIC says the AG600 can also be used for environmental inspections, resource surveying and as a transport aircraft.
Defense analysts from the US have also highlighted that AVIC's seaplane can access most – if not all – of the islands in the disputed South China Sea.
The AG600 seaplane is powered by four Zhuzhou WJ-6 turboprop engines, a license-built copy of the Ivchenko AI-20. Its listed cruising speed is 500km/h, with an endurance of 12hr and a maximum takeoff weight of 53.5t.
The aircraft had its first flight in late 2017 when it flew from Zhuhai city's airport where it is manufactured. It was then transferred to a reservoir near Jingmen, Hubei province. That year state media quoted AG600 chief designer Huang Lingcai as saying they aim for airworthiness certification by 2021 and deliveries by 2022.
In 2015, the then-general manager of AVIC subsidiary China Aviation Industry General Aircraft (CAIGA), Qu Jingwen, was quoted in state media as saying the aircraft had received interest from countries with many islands, such as Malaysia and New Zealand. But since then AVIC has yet to confirm any sales.
Photo: China Daily
Edward Eng
Edward is based in Singapore. He writes stories on regional aviation across the Asia-Pacific region and has a background on covering socio-political issues. Edward holds a BA (Hons) in Philosophy, Politics and Economics from the University of Warwick in the UK.
Related posts
SUBSCRIBE TO OUR NEWSLETTER