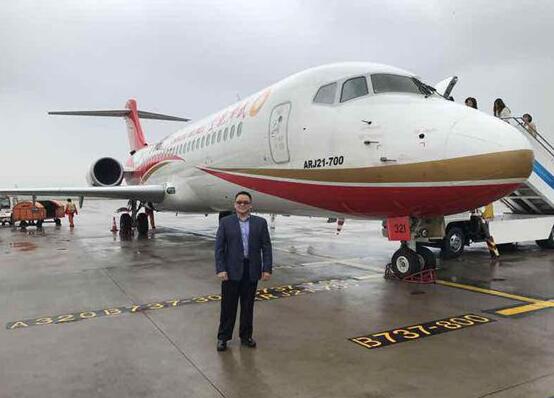 China Aircraft Leasing (CALC) plans to lease 30 Commercial Aircraft Corporation (Comac) ARJ21 regional jets to Indonesian regional carrier TransNusa Aviation Mandiri, representing a renewed push by China aircraft manufacturers to gain traction in the largest aviation market in Southeast Asia and one that is forecast to become the world's fourth largest aviation market.
The Chinese aircraft lessor says in a statement to the Hong Kong stock exchange late yesterday that it has agreed to buy 30 Comac ARJ21 regional jets with options for 30 more. "It is estimated that the aircraft will be delivered in stages up to 2026. Before the delivery of an aircraft, the parties will agree on the delivery arrangement among themselves. Further announcement will be made by the company as and when appropriate," it adds.
CALC says it plans to lease the aircraft to TransNusa, a regional airline in Indonesia linked to CALC.
An earlier CALC statement to the exchange on 4 March last year says the Chinese lessor has an equity stake in TransNusa via Aviation Synergy, a Cayman Islands company that owns Naga Pacific Holdings, which in turn owns 49% of TransNusa.
CALC says it owns 72.8% of Aviation Synergy, while its CEO Mike Poon and deputy CEO owns 14.1% and 13.1% respectively.
The 51% equity is held by an Indonesian company controlled by Leo Budiman who is a director of the airline, it says.
CALC also says in its statement yesterday that even though Aviation Synergy indirectly holds 49% equity in the airline, it is "beneficially interested in 50% of the voting rights and 75% of the economic interest".
All the remaining interests are held by the Indonesian shareholder, an Indonesian company controlled by Leo Budiman, a director of the airline. The airline's website lists him as director and vice chairman who also oversees corporate affairs, investor relations and government relations.
The website also says the airline's fleet currently comprises of one ATR 42-500 and seven ATR 72-600s and that it serves 20 destinations in Indonesia on a scheduled basis, mostly routes in eastern Indonesia. It also provides charter services to Indonesia's oil and gas sector.
The airline was founded in 2005 and led by president director Juvenile Jodjana, but then some of the Indonesian owners sold out early last year to CALC. It was always understood, in the local airline industry, that CALC's acquisition may help pave the way for Chinese aircraft makers wishing to sell into the Indonesian market.
Comac has a press release on its website with a picture of TransNusa's Budiman posing in front of the ARJ21 in Shanghai in May 2017. The statement says Budiman made the trip to China to see the aircraft. The statement quotes him as saying: "At present, the mainstream models in Southeast Asia are Boeing 737-800 and Airbus A320. Although ARJ21 has been in route operation not long, this aircraft is very suitable for flying such routes as in Indonesia where there is a lot of islands, and its competitiveness will not lose to other models."
Indonesia is by far the largest commercial aviation market in Southeast Asia. IATA last year also said Indonesia is the tenth largest commercial aviation market in the world and forecast it would become the fourth largest by 2039.
Chinese aircraft-makers have a sketchy track record in Indonesia.  The country's second national carrier Merpati Nusantara, which is now defunct, used to operate Chinese-built Xian Aircraft MA60s. The airline had a MA60 crash in 2011, in which 25 people died, and several other serious accidents involving MA60s. Cash strapped Merpati acquired the MA60s as part of a broader China-Indonesia government to government deal involving soft loans and Chinese-backed investment and infrastructure projects in Indonesia.
Working with Chinese aircraft leasing companies, such as CALC, marks a new strategy for placing Chinese-built aircraft into overseas markets.
The ARJ21 is a 90-seat regional jet that has Chinese certification, but has yet to achieve US FAA or European Aviation Safety Agency (EASA) certification. The failure to get international certification for the aircraft may hamper efforts to place it in overseas markets. But that said, the MA60 never had FAA or EASA certification and it still was able to penetrate developing markets, particularly in Southeast Asia and Africa.
Picture from Comac: TransNusa director Leo Budiman posing in front of the ARJ21 during a visit in 2017 to see the aircraft.
Edward Eng
Edward is based in Singapore. He writes stories on regional aviation across the Asia-Pacific region and has a background on covering socio-political issues. Edward holds a BA (Hons) in Philosophy, Politics and Economics from the University of Warwick in the UK.
Related posts
SUBSCRIBE TO OUR NEWSLETTER