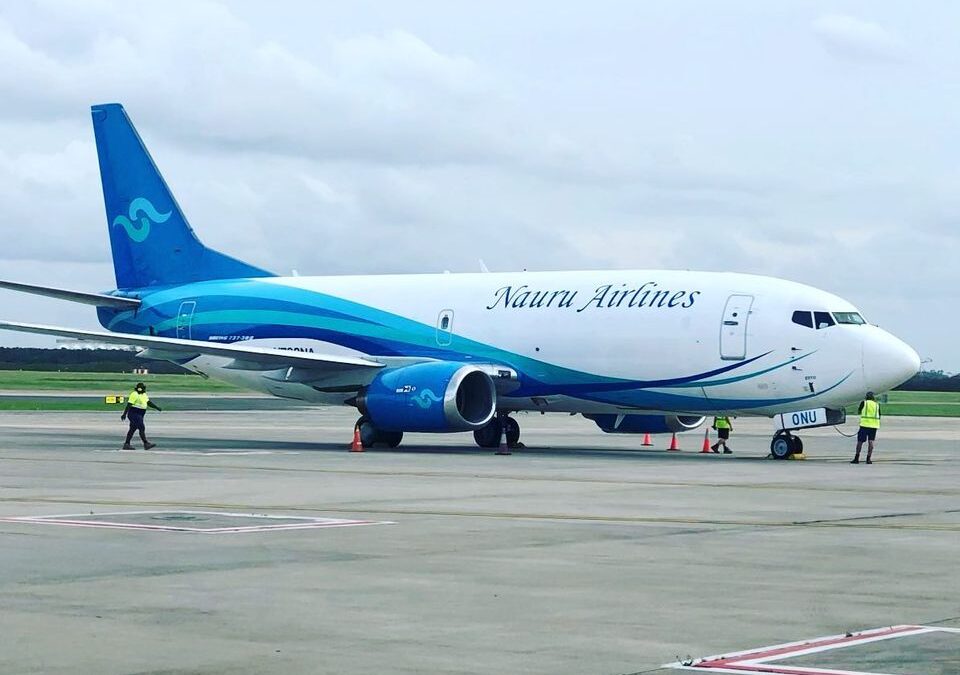 The 17th paragraph of this article has been edited to clarify that Exim refers to Taiwan's Export and Import Bank.
South Pacific national carrier Nauru Airlines has issued a request for proposals (RFP) to purchase next generation 737 aircraft so it can renew its fleet.
The airline currently operates five Boeing 737-300s, three of which are passenger aircraft and two are dedicated freighters, Nauru Airlines CEO, Geoffrey Bowmaker, tells Smart Aviation APAC.
Bowmaker says it plans to remain a Boeing operator and has issued a RFP to buy either Boeing 737-700s or Boeing 737-800s. The 737-700/800 are referred to as next generation aircraft, the last of which was delivered in January 2020 before Boeing fully switched commercial production to the 737 Max. The 737-300, meanwhile, is commonly referred to as a 737 'classic', the last of which was manufactured in the year 2000.
Nauru Airlines plans to add one next generation 737 as early as this year and steadily replace all the -300s over the coming years, says Bowmaker, adding that the 737-300 freighters will be the last to leave the fleet.
Nauru Airlines last month received its second 737-300 freighter which was one of its passenger aircraft that it had converted to a freighter by Aeronautical Engineers Inc (AEI), a freighter conversion company headquartered in Florida.
Bowmaker says the airline's cargo business has always been important, but has taken on even greater significance because of the impact of the pandemic.
Prior to the pandemic, Nauru Airlines operated passenger services from Brisbane to Nauru and then onto Tarawa in Kiribati, Majuro in the Marshall Islands and Nadi in Fiji.
Bowmaker says it has suspended all passenger services except for Brisbane-Nauru which has now been reduced to one flight a fortnight. He says passenger demand has fallen, but the main issue is the fact that international passengers arriving in Australia must do 14-day quarantine. There are also limited hotel rooms in Brisbane and elsewhere in Australia for quarantine, so airlines are given a limited quota, he adds.
The airline's cargo business, meanwhile, has been doing well thanks to higher cargo volumes and yields, says Bowmaker. He says the airline has been transporting perishable goods, such as food, as well as essential supplies such as medicines to various countries in the South Pacific. It has also been doing some of these fights on behalf of the United Nations World Food Programme, he adds.
Bowmaker says the airline needs to renew its fleet because the cost of maintaining the -300s is increasing, as the aircraft age, and it is also becoming harder to find maintenance personnel certified to maintain the -300 variant. "Everyone else has moved up to the newer generation 737s," he adds.
Bowmaker says the airline in the past has considered adding regional turboprop aircraft to serve some destinations in the South Pacific.
Tarawa and Majuro are only 700km and 970km respectively from Nauru. Passenger volumes on these routes are also relatively low, making it easier to fill a 70 or 90-seat regional aircraft rather than a 130-150 seat 737-300.
But Bowmaker says the issue with regional aircraft is the higher cost per available seat kilometre (ASK) and the fact regional aircraft carry much less luggage and cargo. Bowmaker says passengers in the South Pacific generally have a lot of luggage and the island nations have a real need for cargo services.  He says a 737-300 with a reasonably good passenger load still has three to four ton of spare cargo capacity in the belly-hold.
During the current pandemic, the airline has been operating some of its passenger aircraft as ad hoc freighters. It has the belly-hold for freight and in the passenger cabin it has put a stretchable canvas material over the seats, to protect them, and so they can then put cargo boxes on top.
Nauru Airlines is the national carrier of Nauru, but its aircraft are on the Australian aircraft registry and it operates under an Australian air operator certificate.
The Nauru Government published a supplementary appropriation bill in October saying that monies will be allocated "to support Nauru Airlines to replace its ageing aircraft."
It also says the government of Taiwan and Taiwan's Export Import Bank (Exim) of the Republic of China "have agreed to loan the Republic of Nauru US$25 million to support Nauru Airlines purchase replacement aircraft. The loan term is for 12 years with interest payable every six months at a rate of LIBOR plus 0.8 percent," it adds.
Nauru is one of the few countries in the world that still recognizes Taiwan. The South Pacific island nation of Kiribati also recognized Taiwan, but in September 2019 cut formal diplomatic ties with Taiwan and switched to China. Taiwan said at the time that one reason Kiribati switched was because China promised to help finance the purchase of Embraer regional jets for national carrier Air Kiribati.
Photo: Nauru Airlines
Edward Eng
Edward is based in Singapore. He writes stories on regional aviation across the Asia-Pacific region and has a background on covering socio-political issues. Edward holds a BA (Hons) in Philosophy, Politics and Economics from the University of Warwick in the UK.
Related posts
SUBSCRIBE TO OUR NEWSLETTER