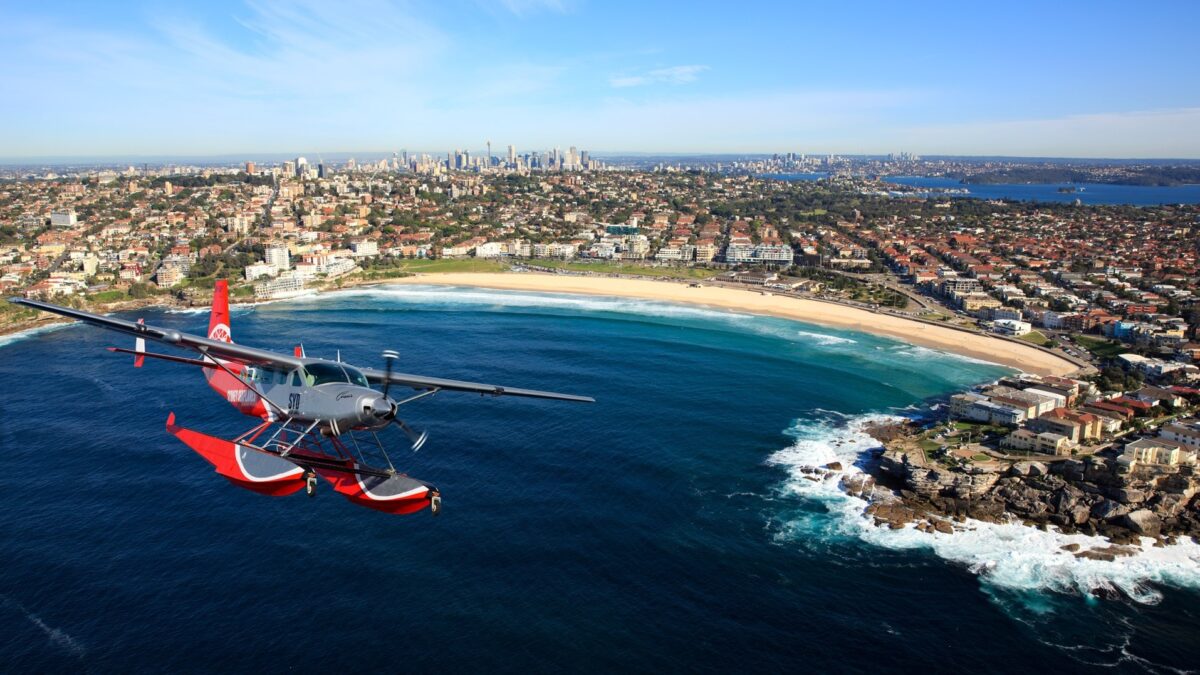 Australian seaplane operator Sydney Seaplanes estimates there is a market for 200 MagniX-powered Cessna Caravans across Australia, New Zealand and the South Pacific.
These 200 aircraft are just the start, as there is also a sizable market in nearby Southeast Asia, Sydney Seaplanes CEO Aaron Shaw tells Smart Aviation APAC.
Sydney Seaplanes is helping MagniX to apply to Australia's Civil Aviation Safety Authority to get a supplemental type certificate (STC) for Cessna Caravans so the single-engine aircraft can be re-engined with a MagniX electric motor.
He says a MagniX-powered De Havilland Canada Twin Otter would also be popular, especially in Southeast Asia.
For now, Sydney Seaplanes will be helping to distribute MagniX-powered Cessna Caravans in Australia, New Zealand and the South Pacific, he adds.
Sydney Seaplanes is a seaplane charter and sightseeing operator based in Rose Bay, Sydney. The airline operates three Cessna 208 Caravan seaplanes, two De Havilland Canada DHC-2 Beaver seaplanes and one Cessna 206 Stationair seaplane. It also provides training and consulting services for seaplane startups. Vietnam's Hai Au Aviation and New Zealand's Auckland Seaplanes are listed on its website as partners.
"With our own fleet, we can go electric completely by 2025. Australian certification [for the MagniX Caravan STC] starts early next year and will take about two years. There is also the electric Beaver conversion that MagniX has done for [British Columbia, Canada-based] Harbour Air. We are unlikely to convert ours as we will probably phase out the aircraft over time. But we can still be a distributor for it," says Shaw.
When asked why it chose battery-electric technology, Shaw says: "we believe that this is the future as an operator that flies over pristine environments. Electric has minimal impact on our immediate environment with nil emissions, but also a much quieter footprint."
"Economically it makes sense. We have a large seaplane terminal in Sydney Harbour which is a perfect opportunity to generate our own solar energy, as well as the hangar at the airport. We expect our aircraft to be powered overwhelmingly by our own solar, but they can be plugged into the grid too," he adds.
The MagniX-powered aircraft are cheaper to fly, because electricity costs less than jet fuel, says Shaw.
The MagniX-powered Caravan is also cheaper to maintain, because the time between overhaul is about three times longer than with turbine-powered Caravans, Shaw says. Maintenance is easier because the electric engine is much simpler, he adds.
MagniX's motors cost about the same to buy as an existing turbine engine, Shaw says. Once the Caravan STC is achieved in Australia, certifying a STC for the Twin Otter is likely to be next—Sydney Seaplanes recently proposed a Sydney-Canberra air taxi service using a Twin Otter seaplane.
Having an electric Twin Otter seaplane for the service would be very beneficial as the Canberra locale is quite sensitive to noise pollution, says Shaw.
The Sydney Harbour-Canberra service is pitched at business and government travellers and will likely start in 2021's second-half, Shaw says, adding that it will be a thrice-daily service.
Sydney Seaplanes also hopes to launch air taxi services between Sydney Harbour and Newcastle, as well as Sydney's Palm Beach suburb, in April to May 2021, he says.
Shaw says the airline aims to acquire four Twin Otters for the services. He says the Twin Otter was chosen because it carries more passengers and the fact it has two engines and is manned by two pilots means government agencies deem it to be safer. The Twin Otter also uses an instrument landing system so it can operate at night, he adds.
Shaw says electrified air taxi and seaplane charter services can be a test case for more widespread adoption of electric aircraft. Further government support is needed to kickstart the industry, but there are precedents we can follow like the UK's move to ban the sale of new petrol vehicles by 2030, he adds.
Photo: Sydney Seaplanes
Edward Eng
Edward is based in Singapore. He writes stories on regional aviation across the Asia-Pacific region and has a background on covering socio-political issues. Edward holds a BA (Hons) in Philosophy, Politics and Economics from the University of Warwick in the UK.
Related posts
SUBSCRIBE TO OUR NEWSLETTER