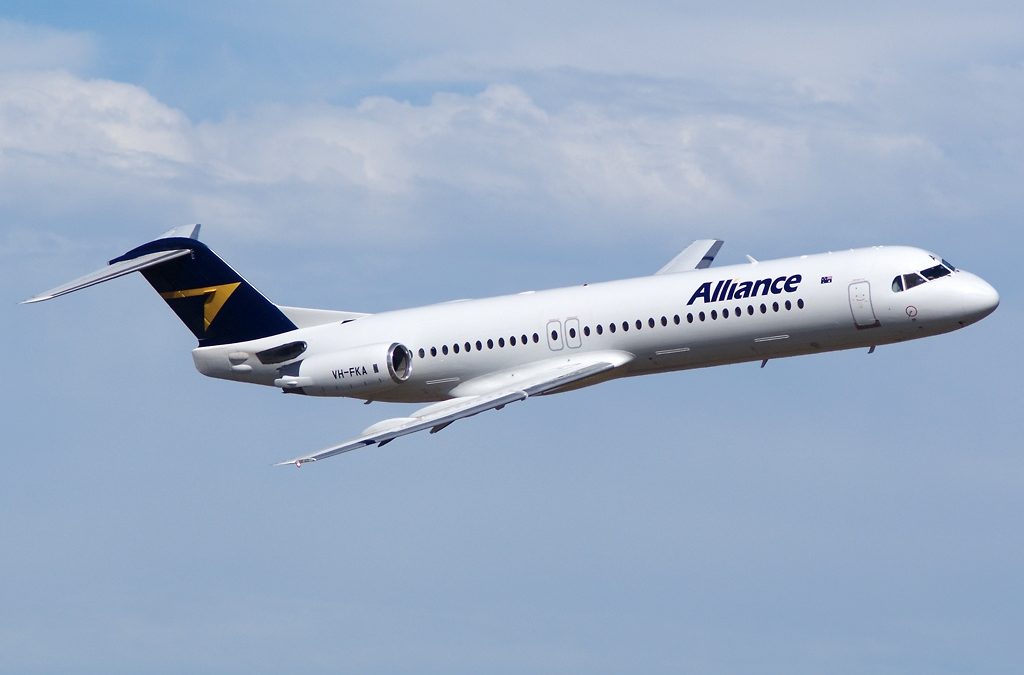 Australia's Alliance Airlines Continues To Add Fokkers
Leithen Francis, 27 Sep 2017
2 min

read
Australia's Alliance Airlines, the world's largest operator of Fokker aircraft, is continuing to add more of these aircraft.
The airline's managing director, Scott McMillan, says the carrier will be taking delivery of one Fokker 70 and two Fokker 100s by year-end, increasing its Fokker 100 and Fokker 70 fleet to 18 and nine respectively.
Alliance is sourcing its additional Fokker 70 from KLM Cityhopper while the Fokker 100s are ex-Austrian Airlines. It has an extensive agreement with Austrian Airlines whereby Alliance can store Fokker spare parts at the European carrier's facility.
Austrian will also be doing heavy checks on Alliance's Fokker 70s and Fokker 100s.
McMillan says the European MRO company can do the heavy checks 40% cheaper than what it would cost if Alliance did the work in Australia, and that is including the cost of ferrying the aircraft to Austria.
Besides the jets, Alliance also operates five Fokker 50 turboprops.
Fokker stopped manufacturing aircraft in the late 1990s, but McMillan says the low acquisition cost of Fokker aircraft means it is ideally suited for low utilization operations such as air charters.
He says Alliance has been able to keep the maintenance costs of the aircraft under control by enrolling the Rolls-Royce Tay 650 engines into a Rolls-Royce power-by-the-hour program. As for the Tay 620 engines, that powers the Fokker 70s, Alliance has a stockpile of spare engines and parts.
McMillan says the Fokkers have proven to be very reliable and robust aircraft that perform well in Australia's hot climate.
Low acquisition costs, also explains why Alliance prefers to retain its Fokker 50s rather than get new turboprop aircraft. "The Fokker 50 is a very reliable aircraft and we don't need a 70-seat [ATR 72], we need a 50-seat aircraft. Also, the Fokker 50 is powered by the Pratt & Whitney Canada PW125B, which is the same family of engine that powers the ATR."
Alliance is primarily a fly-in fly-out charter operator that serves Australia's mining industry across the country.
McMillan says the decline in Australia's mining industry in recent years was exaggerated by the news media. He says the mines in Australia continued to operate but what stopped was construction of new mines, which is what had been helping generate more business for some charter operators.
But he predicts that construction of new mines will begin again soon because mining production volumes are increasing and mining companies need to develop new mines for future growth.
Besides air charters for the mining industry, Alliance in recent months has resumed scheduled commercial passenger operations.
It is operating flights from Brisbane to: Gladstone, Port Macquarie and Bundaberg in partnership with Virgin Australia which handed the routes over to Alliance.
Leithen Francis
Leithen is based in Singapore and has over 17 years' experience working for news organisations. He is the former deputy Asia editor of Flightglobal and the former Asia editor of Aviation Week. Leithen has a BA in journalism from RMIT University in Melbourne, Australia.
Related posts
SUBSCRIBE TO OUR NEWSLETTER