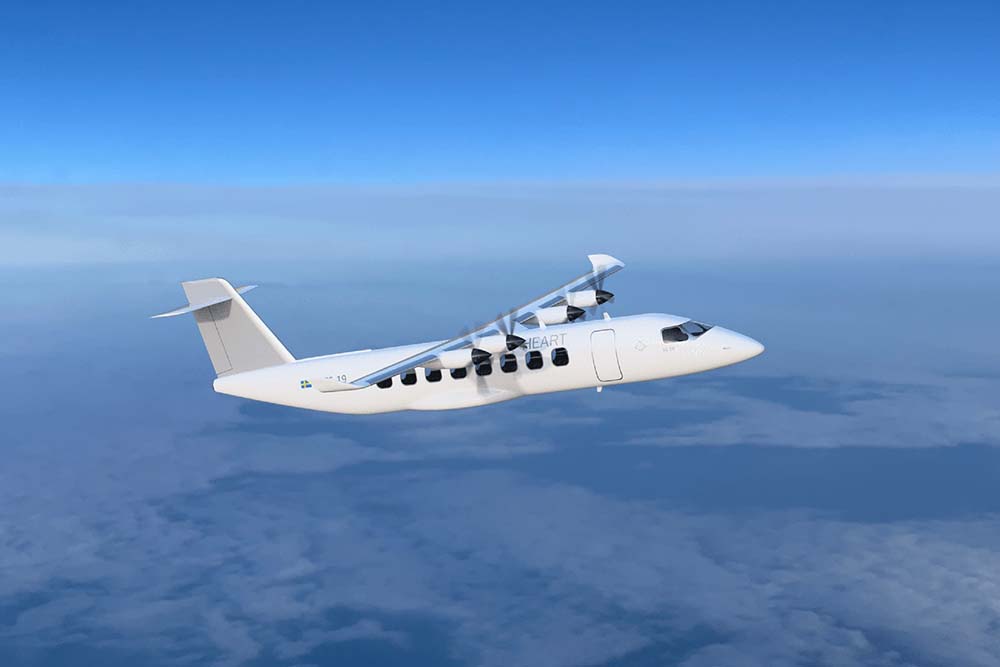 New Zealand regional airline Sounds Air aims to offer zero-emission flights using Heart Aerospace's new ES-19 battery-powered aircraft.
The airline is the first in Asia-Pacific to sign a letter of intent (LOI) to purchase the battery- powered 19-seat ES-19, which Swedish company Heart Aerospace has announced will enter commercial service in 2026.
Andrew Crawford, Sounds Air managing director, tells Smart Aviation APAC the airline decided battery-powered aircraft are well-suited to its network, which typically serves commuters and tourists around the Cook Strait region. The Cook Strait separates the two islands of New Zealand. Taking Wellington-Picton ferry, for example, typically takes about three and a half hours as compared to 30 minutes flying.
Heart Aerospace's 19-seat ES-19 makes good sense particularly for Wellington-Blenheim and Wellington-Nelson, higher density routes across the Cook Strait that take 30 and 45 minutes respectively, says Crawford. These will likely be the first routes flown using electric aircraft, he adds.
The airline also considered hydrogen-electric aircraft, but has tentatively chosen battery-electric since battery technology is already proven, Crawford says. Existing battery technology is sufficient for Sounds Air's needs in terms of charging time, range, and other factors affecting the switchover from combustion-powered aircraft, he adds.
Another reason Sounds Air prefers battery technology is it can achieve virtually zero-emission flying using electricity from New Zealand's electricity grid which is likely to source 99% of its electricity from renewables from 2026, mostly hydroelectric and geothermal, says Crawford.
Hydrogen-electric aircraft can also provide zero-emissions, as the electricity can be powered by 'green hydrogen' produced by electrolysis machines powered by solar and wind farms.
In Sounds Air's case, the need to develop the hydrogen infrastructure, is less cost-effective since New Zealand's electricity will use electricity from renewables, says Crawford.
Sounds Air is still discussing with Heart Aerospace the infrastructure required at airports for battery charging, Crawford says, who declines to say how many E-19 aircraft they plan to buy.
It is New Zealand's second largest commercial airline and operates on eight domestic routes in New Zealand using a fleet of four Cessna Caravans and six Pilatus PC-12s.
The E-19 is Heart Aerospace's first electric aircraft, and will be first certified under the EASA CS-23 category for utility, acrobatic and commuter aircraft, says Heart Aerospace. The company says it has LOIs for 147 aircraft in total from operators including: Sounds Air; Scandinavia's SAS, Sweden's BRA Braathens Regional Airlines, Norway's Widerøe, UK start-up airline CityClipper, Air Greenland, Canada's Pascan Aviation and US' Quantum Air.
Heart Aerospace says the E-19 has 400km range but it is working to extend the range of the ES-19 and subsequent electric aircraft to about 2,000km. It says the extended range covers about 85% of aircraft departures across the world, representing about 43% of the aviation industry's carbon dioxide emissions.
The Swedish startup founded in 2018 most recently received €2.5 million (US$2.9 million) in funding from the EU's European Innovation Council Green Deal Accelerator Programme.
Photo: Heart Aerospace
Edward Eng
Edward is based in Singapore. He writes stories on regional aviation across the Asia-Pacific region and has a background on covering socio-political issues. Edward holds a BA (Hons) in Philosophy, Politics and Economics from the University of Warwick in the UK.
Related posts
SUBSCRIBE TO OUR NEWSLETTER