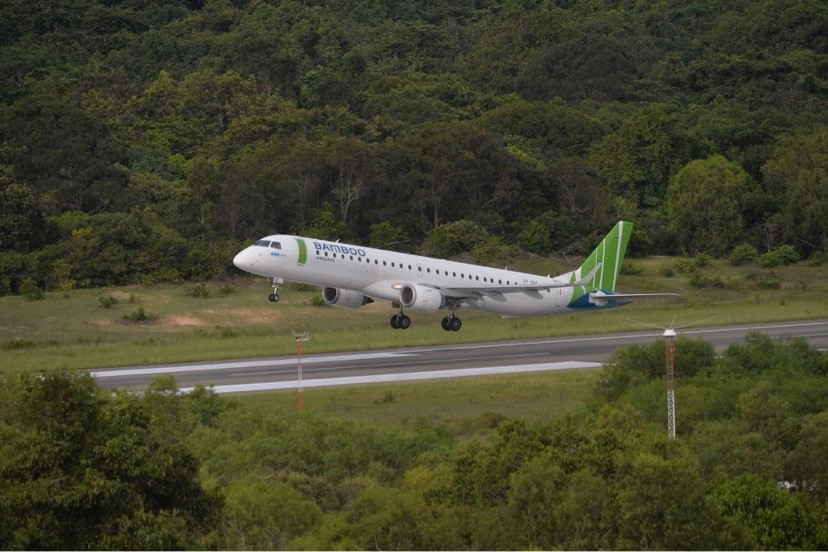 Privately-owned full-service Vietnamese carrier Bamboo Airways, which has just put into operation its first two Embraer E-195s, plans to add more because it wants to develop new destinations.
"We are getting additional E-195s for our fleet, taking into consideration market demand," the airline's spokesperson, Le Thi Hoai Thu, tells Smart Aviation APAC, without saying whether these will be purchased or leased.
Bamboo Airways' first two E195s are on wet-lease from Danish charter operator Great Dane Airlines. Le declines to disclose details on arrangements for additional E195s.
The airline is using the first two E-195s to operate a twice-daily scheduled service to the Con Dao islands in southern Vietnam from Hanoi. It also plans to use the E-195s to launch services to Con Dao from the northern port city of Hai Phong and the central Vietnam city of Vinh, says Le.
Le says regional jets are part of Bamboo Airways' strategy to connect to high potential, partially- untapped holiday destinations with the right-size aircraft. Con Dao Island is only one example of several destinations in Vietnam with such potential but are currently only served by ATR-size aircraft, she adds.
The Con Dao islands, which are about 100km southeast of Vietnam's southern coast, are popular for its national park, which is being considered for a UNESCO world heritage listing.
The airline says in joint statement with Embraer that Con Dao Airport lacks fuel provision and has a 1,800m-long runway with a light pavement, making it difficult to access for other jet aircraft.
Regional jets are clearly differentiated from the turboprops used by Vietnam Airlines and the narrowbody jets used by VietJet Air on domestic routes, Le says. Compared to the ATR 72, Bamboo Airways' 118-seat Embraer E-195s offer a wider cabin while maintaining two-two seating, as well as a business-class section on flights to Con Dao, she adds.
The Embraer E-195 can fly much thinner routes and to airports with more limited infrastructure cost-effectively, as compared to VietJet's 180-seat Airbus A320-200s, she says.
Bamboo Airways, which had its first flight January last year, also operates Airbus narrowbodies and Boeing widebodies. It reportedly has a fleet comprising of: one Airbus A319, nine A320s, five A320neos, three A321neos and two Boeing 787-9s. It has additional 787-9s and A320-family neo aircraft on order.
Having the two E-195s has helped Bamboo Airways to fully restore its domestic network, says Le, adding that "additional routes will be opened owing to increasing demand." The domestic business has rebounded with strong load factors, since most lockdowns have been lifted and the COVID-19 virus has been contained well in Vietnam, she adds.
The airline is also optimistic that domestic services will receive a further boost as international routes, which previously fed traffic into them, are re-established, Le says. Prior to COVID-19, soaring numbers of international travelers went on to take domestic flights, suggesting underlying demand, she adds.
But the airline and the country still need to carefully balance potential revenues with the health risks of reopening international routes, Le says. Flights to Taiwan and Korea have resumed; while flights to Japan, Singapore, Australia, Germany and the UK have yet to, she adds.
Bamboo Airways is part of Vietnam's FLC Group, a diversified conglomerate mostly involved in commercial, residential and resort development.
Photo: Bamboo Airways
Edward Eng
Edward is based in Singapore. He writes stories on regional aviation across the Asia-Pacific region and has a background on covering socio-political issues. Edward holds a BA (Hons) in Philosophy, Politics and Economics from the University of Warwick in the UK.
Related posts
SUBSCRIBE TO OUR NEWSLETTER