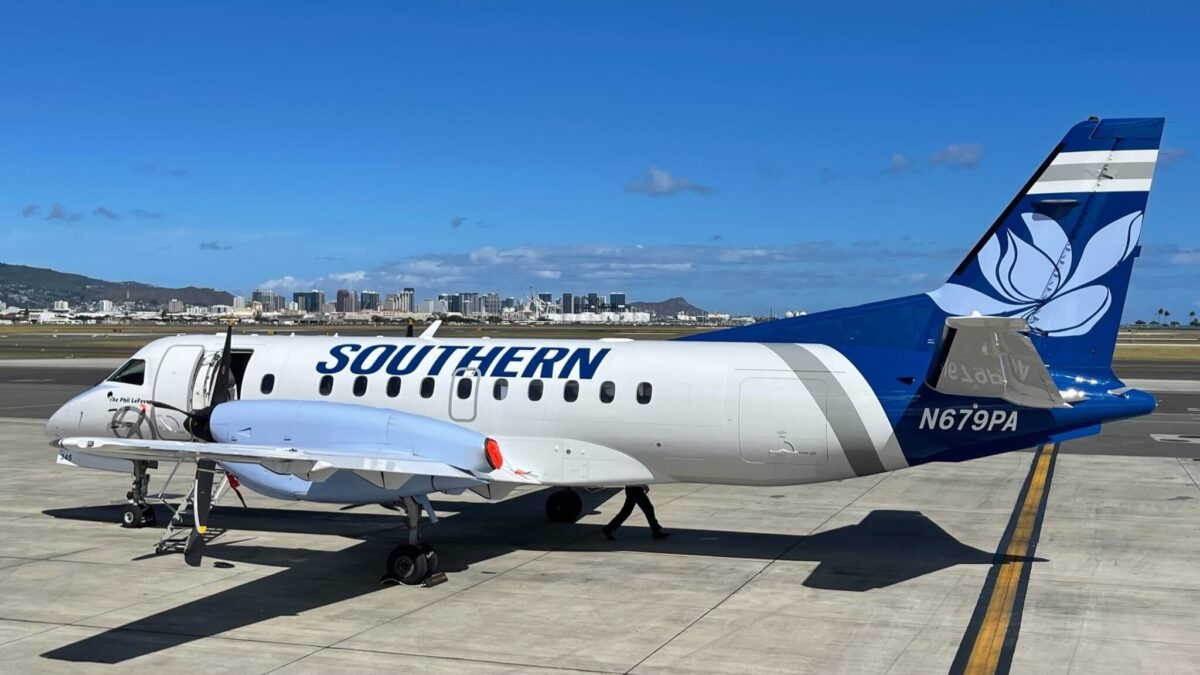 Hawaii's Mokulele Airlines is adding two Saab 340s, a new aircraft type for its fleet, to better serve the islands as the sole provider on certain routes.
Mokulele in a statement highlights that Hawaiian Airlines' regional subsidiary Ohana by Hawaiian closed down in early 2021, during the pandemic, leaving Mokulele as the "last guy standing".
Ohana operated ATR 42 and ATR 72 aircraft. Mokulele says it chose to acquire two 30-seat Saab 340s, which provides three-times more capacity than its fleet of nine-seat Cessna Caravans.
Mokulele says the 30-seater is the right choice, citing Island Air's 70-seat ATR 72 and Mokulele's previously operated 72-seat Embraer E-170 as too big for inter-island services.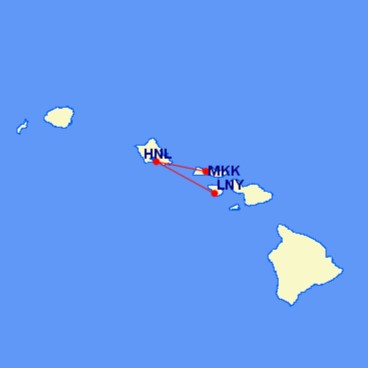 Source: Great Circle Mapper
Mokulele says the two Saab 340s will operate twice daily flights to Lanai Airport and Molokai Airport from Honolulu's Daniel K. Inouye International Airport.
Stan Little, chairman and CEO of Southern Airways Express, told Smart Aviation Asia Pacific on 6 June that Southern Airways Express will operate the two Saab 340s on Mokulele's behalf. Mokulele is Southern Airways Express' subsidiary.
Mokulele will wait for the second Saab 340 to be delivered later this summer before starting the Saab 340 operation, Mokulele chief of staff, Keith Sisson, tells local media. The northern summer is June-August.
Japan's All Nippon Airways (ANA), in a statement on 10 May, says it has resumed twice weekly Tokyo Narita-Honolulu flights and five-times weekly Tokyo Haneda-Honolulu flights.
ANA widebody capacity coming into Honolulu, including 520-seat Airbus A380s, gives Mokulele the ability to serve 40 departures a day out of Honolulu to the neighbouring islands, says Southern Airways Express' Little.
"Planes of that size coming into Honolulu every day completely changes the landscape of tourism in the Hawaiian Islands," he says.
"It's hard to imagine that three planes can do that, but when they're A380s and they're always full, it's a game changer."
Featured picture shows the first of two Saab 340 aircraft arriving in Hawaii. (Source: Mokulele Airlines)
Related Stories:
Hawaiian's Regional Subsidiary Suspended (13 October 2020)
Davy Lim
Davy is based in Singapore. He is passionate about aviation and has flight experience in various single engine piston aircraft, gliders and seaplanes from his time in the United States. Davy holds a BA in Economics from the State University of New York in Buffalo.
Related posts
SUBSCRIBE TO OUR NEWSLETTER