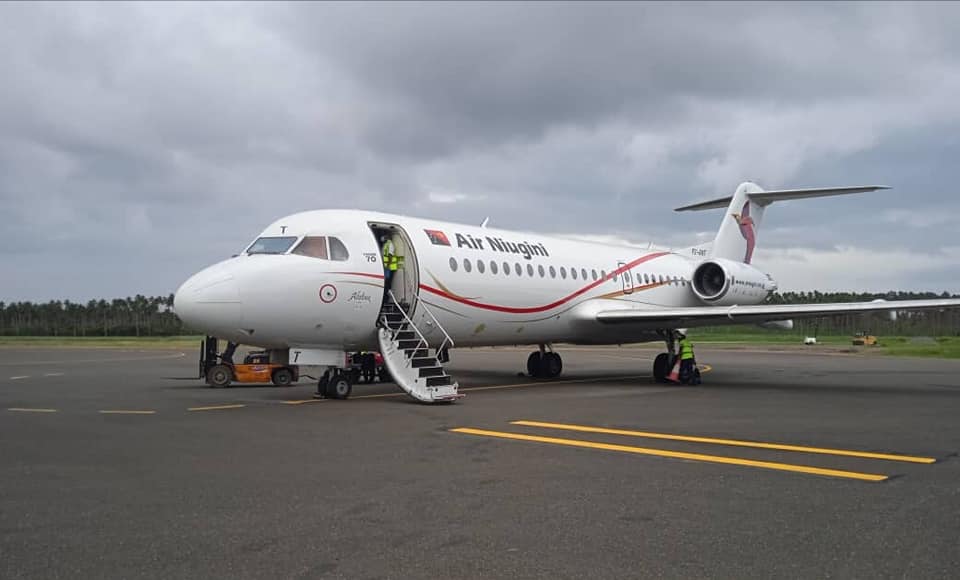 Papua New Guinea's national carrier Air Niugini is resuming Fokker 70/100 jet services to Kavieng Airport on 1 August, following the completion the airport's upgrade.
Kavieng Airport is in and derives its name from the capital of Papua New Guinea's New Ireland province. Kavieng is a trading and tourist destination, known for its diving, natural sites, and underwater ship and aircraft wrecks from the Second World War.
Prior to completion of the airport's runway maintenance and upgrading works, Air Niugini served the airport using De Havilland Aircraft of Canada Dash-8 turboprop aircraft.
The runway was temporarily shortened, for the runway maintenance works, so it had to serve the airport with payload restrictions as low as 20 passengers at times, Air Niugini says in a statement.
Works for Kavieng Airport's runway, along with a new terminal, began a year ago and were done under the National Airports Corporation in partnership with Asian Development Bank's Civil Aviation Development Invest Programme, it says.
Air Niugini general manager commercial, Paul Abbott, says daily Fokker 70/100 jet services between Papua New Guinea's capital Port Moresby and Kavieng will commence 1 August. During high demand periods it will deploy a Boeing 737 on the route, he adds.
Air Niugini says it also operates flights connecting Kavieng to: Rabauk, a town in New Britain island, Hoskins, a region in West New Britain, Lae, the capital of Morobe Province, Manus Island, an island in the Manus Province, and Buka, a town in eastern Papua New Guinea.
Featured picture, from Air Niugini Facebook page, shows an Air Niugini Fokker aircraft.
Related stories:
PNG Upgrades First Of 11 Airports With New Lighting
Air Niugini Appoints Former PNG Air CEO As General Manager Commercial
Prudence Lim
Prudence is based in Singapore and is a budding reporter who is passionate about journalism. She also has various experience in the media industry, ranging from film to news. She is pursuing a BA in Communication Studies from Wee Kim Wee School of Communication and Information, Nanyang Technological University, Singapore.
Related posts
SUBSCRIBE TO OUR NEWSLETTER