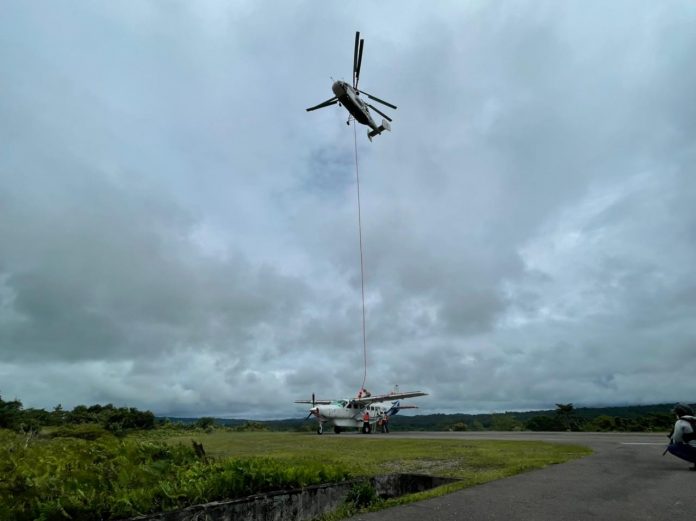 Indonesian SAM Air's Bullet Damaged Caravan Airlifted For Repairs
Davy Lim, 14 Jul 2022
1 min

read
The SAM Air Cessna Caravan that was shot by militant separatists in West Papua has been airlifted from Kenyam Airport for repairs.
SAM Air planned to airlift the Caravan on 12 July to Sentani's Dortheys Hiyo Eluay International Airport, SAM Air director, Wagus Hidayat, tells local newspaper Tribun-Papua. But due to unfavourable weather, the evacuation team airlifted the aircraft to Timika's Mozes Kilangin Airport yesterday, he says.
The Caravan will eventually be brought to Dorthey's Hiyo Eluay International Airport for maintenance and repairs, he says.
The Caravan was airlifted using a Kamov Ka-32 helicopter.
Smart Aviation Asia Pacific previously reported on 10 June that militant separatists shot the Cessna Caravan, local registration PK-SMG, hitting the front tire, fuel tank and the fuselage. Two pilots were the only occupants onboard, but none were reportedly injured.
Picture Source: Tribratanews
Related Stories:
Separatists In West Papua Shoot Civil Aircraft (10 June 2022)
Davy Lim
Davy is based in Singapore. He is passionate about aviation and has flight experience in various single engine piston aircraft, gliders and seaplanes from his time in the United States. Davy holds a BA in Economics from the State University of New York in Buffalo.
Related posts
SUBSCRIBE TO OUR NEWSLETTER