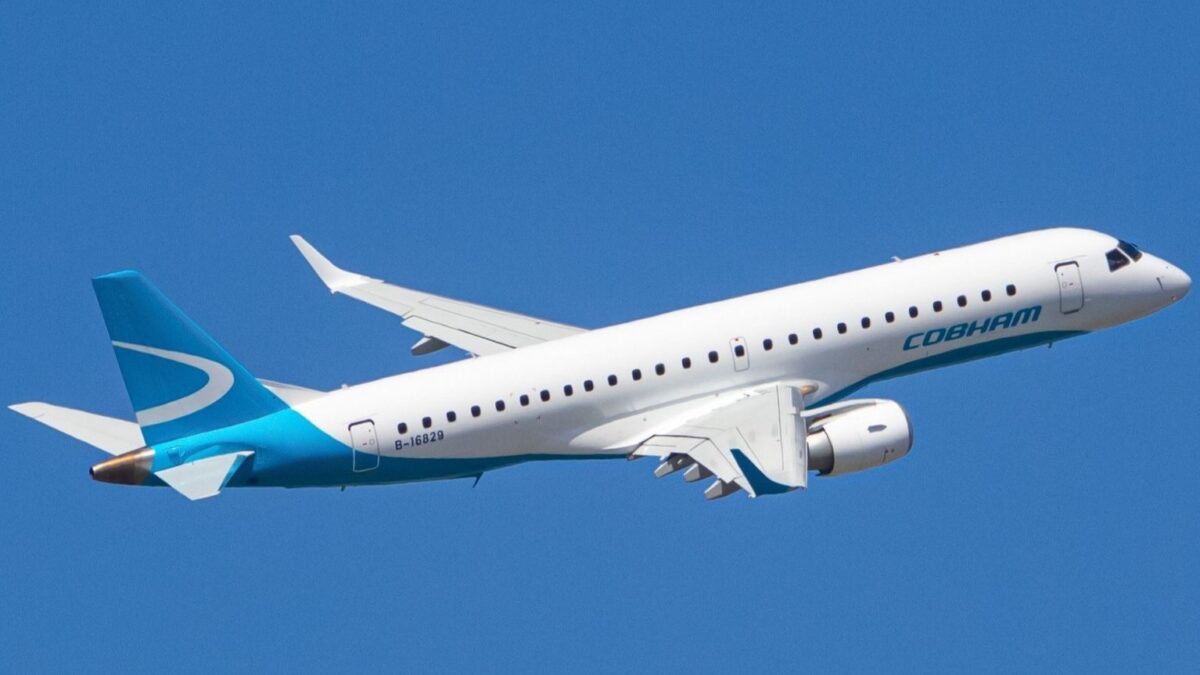 Regional Express (Rex) is purchasing Cobham Aviation Services Australia's fly-in fly-out (FIFO) charter business for A$48 million (US$32 million), a move that expands its market presence across Australia.
Rex says in a statement to the Australian Securities Exchange (ASX) it has signed a sale and purchase agreement to acquire 100% of Cobham's FIFO business National Jet Express (NJE) for A$48 million, subject to adjustments for working capital and other matters.
The NJE business had revenue of A$142 million in 2021's calendar year, says Rex.
It says it will fund 50% of the acquisition and its joint venture partners the remainder, giving both parties a 50% stake. The statement says one of the joint venture partners is Rex executive chairman, Lim Kim Hai, who will be using private funds.
It also says Rex will be funding its 50% share by drawing down on A$15 million from an investment fund from Hong Kong called PAG Asia Capital which had earlier agreed to invest up to A$150 million exclusively to support Rex's 737 operation.
Completion of the sale will be subject to regulatory approvals, including Foreign Investment Review Board (FIRB) approval, it adds.
NJE provides FIFO passenger services in Western Australia and South Australia as well as freight services from Sydney to: Adelaide, Brisbane, Melbourne and the Gold Coast, and charter services in Papua New Guinea, says Rex.
Acquiring NJE expands Rex's market coverage into Western Australia, a large state where it has little to no market presence.
"The joint venture will invest in modern aircraft and technology to enable NJE to expand from its traditional bases of Western Australia and South Australia and bring our unique brand of FIFO services also to Queensland and the Northern Territory," says Rex's Lim.
The acquisition complements Rex's subsidiary, Pel-Air Aviation, which provides air freight, aeromedical and charter services using Saab 340, Beechcraft King Air and Israel Aircraft Industries Westwind aircraft.
Rex says NJE operates eight De Havilland Aircraft of Canada Dash 8-400 and six Embraer E-190 aircraft. Rex's fleet, meanwhile, consists of 60 Saab 340s and six Boeing 737-800s, it says.
According to Lim, the NJE business has a competitive advantage in the mining charter market, because its aircraft have a lower fuel burn and lower CO2 emissions than some competitors that operate Fokker 100s, an older generation aircraft.
Editor's comment:
The Dash 8-400 and E-190 are useful aircraft for Rex, as they are longer range aircraft than Rex's Saab 340s. In the larger states of Western Australia and Queensland, longer range regional aircraft are required due to the vast distances involved.
Prior to this deal, Rex's business was concentrated in the smaller states of New South Wales, South Australia, Victoria and Tasmania. But it has wanted to expand into the other states. It does have a small presence in Queensland but no presence, until now, in Western Australia and the Northern Territory.
The acquisition also makes the Rex group larger and, therefore, harder for Qantas Airways to dislodge. The two rivals are currently embroiled in a fierce fight for market share on Australia's trunk routes as well as on some small regional routes.
Picture Source: Cobham Aviation Services
Related Stories:
Shares In Australia's Regional Express Halted Pending Further Announcement (13 July 2022)
Australia's Regional Express Reportedly Eyeing Cobham Aviation Services (6 May 2022)
ANALYSIS: Private Equity Owner To Sell Cobham Aviation Services Australia At The Top Of The Market (21 February 2022)
Davy Lim
Davy is based in Singapore. He is passionate about aviation and has flight experience in various single engine piston aircraft, gliders and seaplanes from his time in the United States. Davy holds a BA in Economics from the State University of New York in Buffalo.
Related posts
SUBSCRIBE TO OUR NEWSLETTER