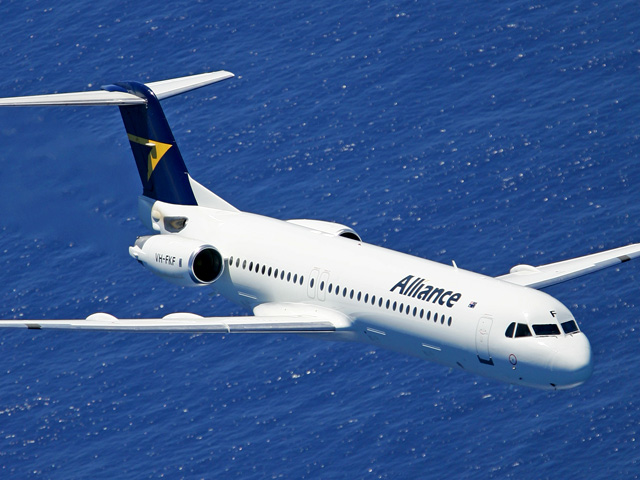 Qantas has purchased a 19.9 percent stake in major Australian charter operator Alliance Airlines, with long-term plans to build a controlling position in the operator.
Qantas says the stake was acquired at A$2.40 (US$1.70) a share for a total of A$60 million (US$43 million). It is not looking for board representation for the time being despite its significant 19.9% shareholding, the airline adds.
Qantas also says it will seek regulatory approval from competition regulators to build a majority position in the future. This move will improve offerings to charter clients, it says.
In response to the announcement, Alliance Airlines says it has not been informed by Qantas of the share purchase.
The airline operates a significant charter and fly-in fly-out business, working for several major mining companies. It is also known for owning the largest Fokker aircraft fleet in the world, which it means it has a strong presence in the Fokker maintenance, repair and overhaul (MRO) business and potential opportunities in the leasing market.
Virgin Australia, Qantas' biggest domestic competitor, is also one of Alliance's clients. The airline responded to the move, saying it was concerned about the impact on competition. Alliance is important to Virgin as it wet-leases Fokker aircraft on some domestic Brisbane flights and supports its charter business.
While Virgin could also purchase a significant stake in Alliance, its books show full-year net losses for the last six years.
Editor's analysis
Qantas wants to acquire Alliance Air so it can gain an even greater share of Australia's mining air charter market, which is a lucrative market segment.
Alliance is primarily a mining charter operator and a formidable competitor to Qantas' own mining charter operator Network Aviation.
There would be potential synergies between combining Alliance Air with Network Aviation, as both operate Fokker 100s and the two operations combined would have a good geographic spread. Network is based in Perth and Alliance is based in Brisbane and also has a base in Adelaide.
One potential stumbling block for Qantas is the Australian Consumer and Competition Commission (ACCC), which may argue that the take-over will limit market competition.
Qantas would most likely argue that there are other mining charter operators in the market, such as Perth-based Skippers Aviation. But many of these operators are relatively small. They generally operate smaller turboprop aircraft, rather than 100-seat regional jets which have proven popular with mining companies for fly-in-fly-out.
Another interesting aspect is that Alliance Air dominates the market for Fokker 100s because it has the largest fleet in the world and a stockpile of spare Fokker 100s and engines in storage.
If Qantas succeeds in taking over Alliance, it will make it very hard for Virgin Australia to compete for many of the mining charter contracts. It means Virgin Australia would need to then start up its own mining charter operation from scratch and invest in new equipment, namely regional jets.
Qantas' timing is impeccable. The mining charter market in Australia is starting to recover, after being in the doldrums for several years. And Virgin Australia is in no position to make significant new investments, as it has been losing money and has just undergone a management change.
Leithen Francis
Leithen is based in Singapore and has over 17 years' experience working for news organisations. He is the former deputy Asia editor of Flightglobal and the former Asia editor of Aviation Week. Leithen has a BA in journalism from RMIT University in Melbourne, Australia.
Related posts
SUBSCRIBE TO OUR NEWSLETTER