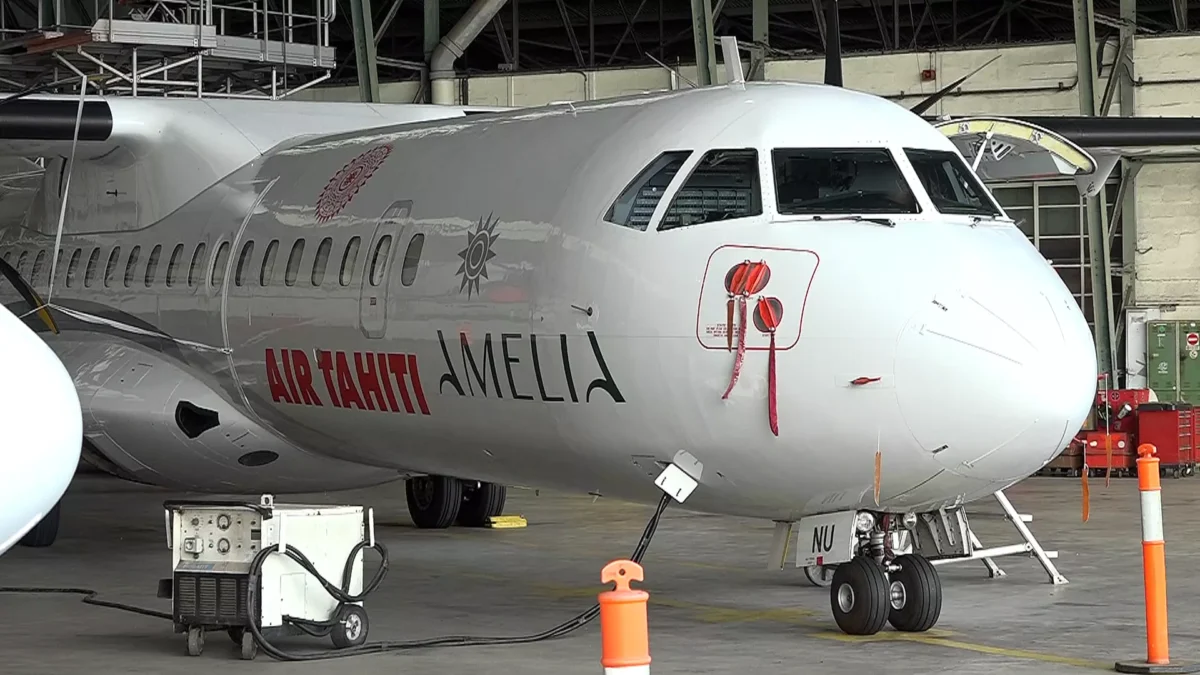 Air Tahiti has wet leased an additional ATR 72-600, to meet growing tourism traffic this year, and disclosed it plans to buy an ATR 72-600.
French Polynesian news website Tahiti-infos, which attended an Air Tahiti event where the aircraft was unveiled, says the ATR 72-600 arrived in French Polynesia on June 10 and will operate for the five-month period 15 June-15 November. Air Tahiti can extend the lease by three months if needed to cover the Christmas holidays, it adds.
Air Tahiti has wet leased the ATR 72-600 aircraft from Amelia International, says Tahiti-infos.
Amelia International says on its website it is a charter airline under the French aviation group, Regourd Aviation.
Air Tahiti is under personnel staffing pressure because of a rapid resumption in air travel, says Air Tahiti general manager, Manate Vivish, at the press event. Air Tahiti had earlier forecast the market would recover in 2024-2025, but the recovery is happening now, he adds.
Tourist numbers in April are only 6% lower than its pre-COVID levels, says the Institute of Statistics of French Polynesia (ISPF).
Recruitment and training are underway, with eight cabin crew already hired for the additional ATR, Vivish says.
Air Tahiti will maintain the aircraft on behalf of Amelia International but the pilots are coming from Amelia International, he adds.
Air Tahiti's website shows, that with this additional aircraft, it has eight ATR 72s and two ATR 42s.
Vivish says the carrier needs to maintain a fleet of 10 aircraft, to meet demand, so it plans to buy an additional ATR in May next year, replacing the wet-leased aircraft.
While Air Tahiti is scaling up to meet growing passenger traffic, Smart Aviation Asia Pacific has earlier reported, that it faces increased competition. French Polynesia start up Air Moana has said it plans to launch operations in September. Air Moana will be using three ATR 72s and two ATR 42s, with plans for more in the future, says Air Moana.
Smart Aviation Asia Pacific earlier reported that another domestic start-up Motu Link Airline, has received an air carrier license, but has yet to receive its aircraft operator certificate (AOC).
Featured photo depicts the leased ATR 72-600 F-HGNU in its operational livery at the press event (Source: TNTV)
Related Stories:
Tahiti's Air Moana Targets September Start Of Operations (20 May 2022)
Air Tahiti Schedule Continues To Be Affected By Grounded ATR 72 (11 April 2022)
Aviation Revolution In French Polynesia (17 January 2022)
Former Head Of Air Tahiti Behind New French Polynesian Start-Up (14 January 2022)
French Polynesian Govt Approves Another Airline Start-Up (21 December 2021)
Air Tahiti Reverses Plan for Reduced Network (8 July 2020)
Davy Lim
Davy is based in Singapore. He is passionate about aviation and has flight experience in various single engine piston aircraft, gliders and seaplanes from his time in the United States. Davy holds a BA in Economics from the State University of New York in Buffalo.
Related posts
SUBSCRIBE TO OUR NEWSLETTER