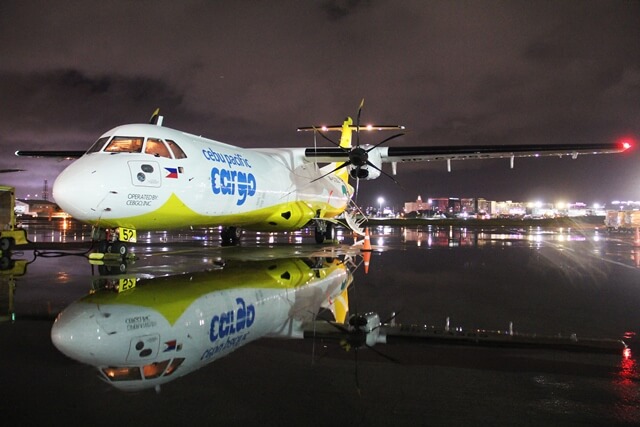 Cebu Pacific Air has taken delivery of its second converted ATR 72-500 freighter, as cargo becomes its main source of revenue.
The ATR 72-500Fs were converted at maintenance, repair and overhaul company Sabena Technics's facility in Dinard, France, using supplemental type certificates provided by Switzerland's IPR Conversions, Cebu Pacific says in a statement.
The second freighter comes at a time when Cebu Pacific is deriving 66% of its revenue from cargo, says Cebu Pacific's quarterly report for the period ending 30 September.
Cebu Pacific's passenger revenues dropped 75% year-on-year to PHP11.9 billion (US$247 million) for the first nine months of 2020, its quarterly report says. This is due to travel bans and passengers adverse to traveling, it adds.
Meanwhile, cargo revenues fell 18% to PHP3.6 billion (US$74 million) for the first nine months of 2020, largely because belly-hold cargo capacity has fallen with fewer passenger aircraft flying, it says. Cargo volumes dropped 56% year-on-year in 2020's first nine months, although lower volumes were offset by higher yield because of chartered cargo flights, the quarterly report adds.
The Association of Asia-Pacific Airlines says the regional cargo market remains strong. It says its statistics show freight loads in October, among its member airlines, continued to rise. The average cargo load factor of 72% in October is 10 percentage points higher than October 2019, and marginally higher than August 2020's 71% as airlines gear up for Christmas.
Cebu Pacific says it also recently contracted Madrid-based Aircraft Interior Refurbishment España to reconfigure two Airbus A330-300 passenger aircraft to freighters.
Photo: Cebu Pacific
Edward Eng
Edward is based in Singapore. He writes stories on regional aviation across the Asia-Pacific region and has a background on covering socio-political issues. Edward holds a BA (Hons) in Philosophy, Politics and Economics from the University of Warwick in the UK.
Related posts
SUBSCRIBE TO OUR NEWSLETTER