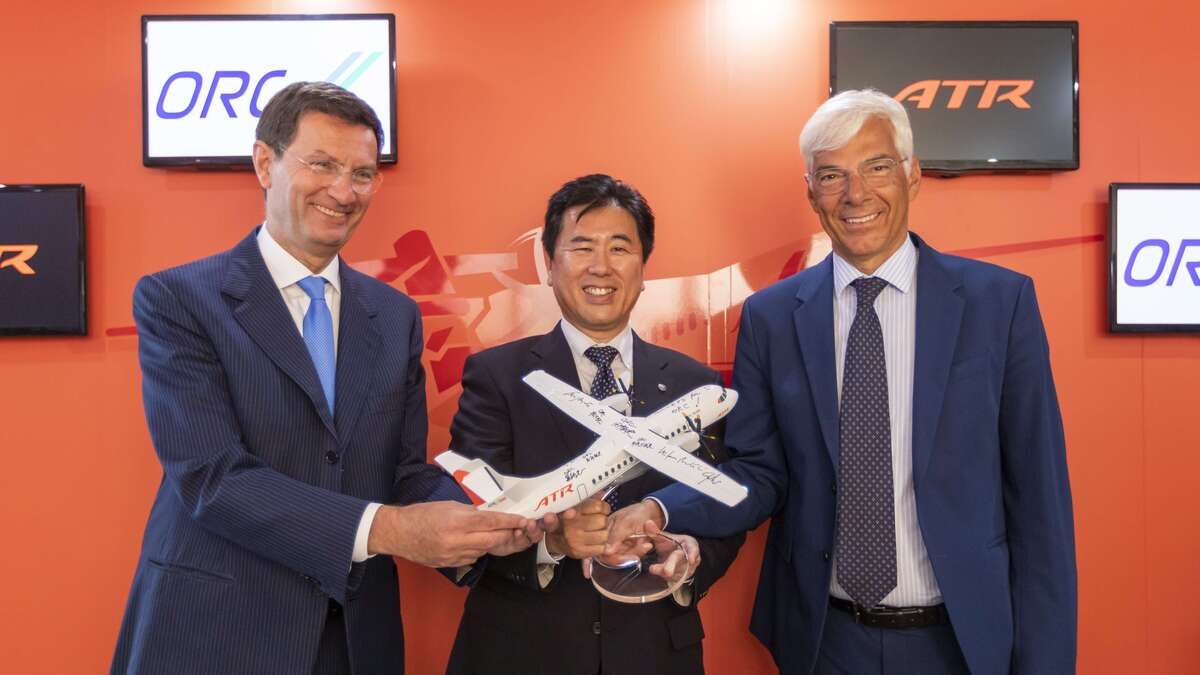 Japan's Oriental Air Bridge, which plans to retire its three De Havilland Aircraft of Canada Dash 8-200s, remains committed to purchasing a second ATR 42-600 after signing an order this week for the first.
An Oriental Air Bridge spokesman tells Smart Aviation Asia Pacific that the signing ceremony yesterday, at the Farnborough Airshow, was for the first of two ATR 42s it is buying. The second aircraft will be ordered later, he says, without elaborating.
Oriental Air Bridge told Smart Aviation Asia Pacific in May that it planned to order two ATR 42-600s to replace its three De Havilland Aircraft of Canada Dash 8-200s. It also has three Dash 8-400s that are leased from All Nippon Airways, it says.
ATR in a statement yesterday says Oriental Air Bridge has ordered one ATR 42-600 and also signed a global maintenance agreement (GMA) with ATR to support the aircraft.
ATR says there 15 ATR aircraft operating in Japan today with three operators, but it sees potential for 100 ATR aircraft in Japan.
In a separate development, Oriental Air Bridge says in a statement today that it will retire its first Dash 8-200 soon after the aircraft, local registration JA801B, completes some short 40-minute scenic flights on 17 August from Fukue Regional Airport and Iki Airport, and on 18 August from Tsushima Airport.
Fukue Island, Iki Island and Tsushima Island are off southern Japan.
The free scenic flight tickets are for local residents of each city through a lottery system, it says.
The first Dash 8-200 to be retired is 21.3 years old, according to Airfleets.net.
Featured picture at signing ceremony between ATR and Oriental Air Bridge (From left to right: Stefano Bortoli, CEO, ATR, Kazuhito Tanaka, senior managing director and representative director, Oriental Air Bridge, David Brigante, senior vice-president, customer support & service, ATR)
Related Stories:
Japan's Oriental Air Bridge Plans Sightseeing Biofuel Flights (20 July 2022)
Japan's Oriental Air Bridge Buying Two New ATR 42-600s (18 May 2022)
Japan's Oriental Air Bridge Replacing De Havilland Aircraft of Canada Dash 8-200s with ATR 42-600s (26 December 2021)
Japan's State Of Emergency Leads Domestic Airlines To Slash Services (30 January 2021)
Davy Lim
Davy is based in Singapore. He is passionate about aviation and has flight experience in various single engine piston aircraft, gliders and seaplanes from his time in the United States. Davy holds a BA in Economics from the State University of New York in Buffalo.
Related posts
SUBSCRIBE TO OUR NEWSLETTER