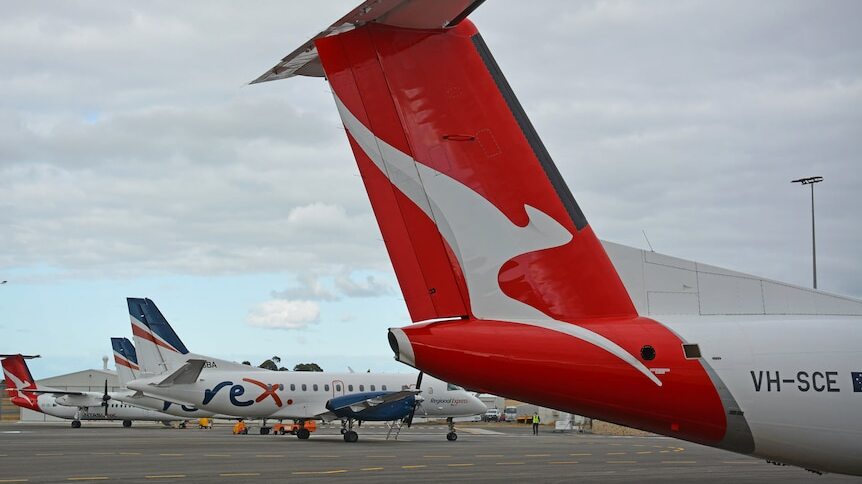 Regional Express (Rex) is calling on the Australian Competition and Consumer Commission (ACCC) to take action against QantasLink, which recently dropped two domestic regional routes.
Rex says in a statement it is calling on the ACCC to investigate Qantas for predatory behaviour and take action against the airline.
Rex claims the volume of traffic on the two routes was always too low to support two carriers and that QantasLink only entered the market to stymie Rex.
Qantas announced earlier this month it was suspending its Melbourne-Wagga Wagga service due to staffing issues and aircraft availability and cancelling its Melbourne-Mt Gambier route.
Rex continued to service these two routes in the face of competition from QantasLink, but there are other routes that Rex has exited, when QantasLink came in.
Rex says it had warned the public and regulators in December 2020, when Qantas was entering more regional airline markets, that Qantas' entry would eliminate weaker regional competitors. And that once smaller regional airlines are squeezed out, the loss is permanent and the communities suffer the consequences, it adds.
Rex predicts QantasLink will exit more marginal regional routes.
In a separate development, the ACCC has approved Rex's purchase of Cobham Aviation Services Australia's fly-in fly-out (FIFO) charter business, Rex says in a statement today.
The purchase will now proceed once the Foreign Investment Review Board (FIRB) gives its approval, which is expected within one to two months, Rex says.
Picture Source: Adam Branford 
Related Stories:
Australia's Regional Express Partners With Dovetail Electric Aviation For Turbine To Electric Powerplant Conversion (21 July 2022)
Australia's Regional Express Buying Cobham Aviation Services' FIFO Charter Business (15 July 2022)
Australia's Rex Pilots Poised To Take Industrial Action (23 June 2022)
Australia's Rex Increases Capacity On Regional Routes (16 June 2022)
Australia's Rex Axing Five More Regional Routes (30 May 2022)
Australia's Rex May Exit More Regional Routes (26 May 2022)
Australia's Rex Attributes Close Of Route To Increased Competition (24 May 2022)
Australia's Rex Attributes Closure Of Route Due To Qantas (20 May 2022)
Qantas Airways Expands Domestic Network (31 March 2022)
Australia's Rex Gets Six Out Of Seven Queensland Regulated Routes (23 November 2021)
Australia's Rex Appoints Legal Team To Pursue Actions For Qantas Anti Competition Behaviour (5 August 2021)
Davy Lim
Davy is based in Singapore. He is passionate about aviation and has flight experience in various single engine piston aircraft, gliders and seaplanes from his time in the United States. Davy holds a BA in Economics from the State University of New York in Buffalo.
Related posts
SUBSCRIBE TO OUR NEWSLETTER