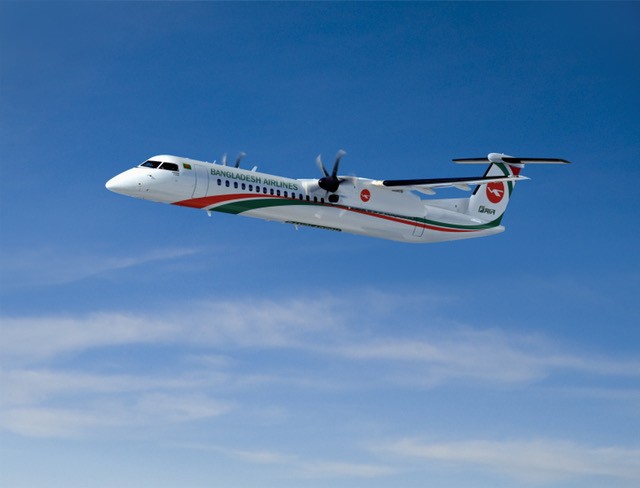 National carrier Biman Bangladesh still plans take delivery of its remaining De Havilland Canada Dash 8-400 turboprops on order despite facing mounting financial challenges. 
The airline will receive all three Dash 8-400s in its order shortly, Mahbub Jahan, Biman Bangladesh's director of planning, tells Smart Aviation APAC. He declines to comment further. 
A bdnews24.com report, citing a Ministry of Civil Aviation and Tourism parliamentary committee meeting in September, says the airline was planning to receive two Dash 8-400s this year, with the third arriving in 2021. The aircraft reportedly cost US$24 million each, it adds. 
Biman announced in September it had ordered the three Dash 8-400s. The announcement was made when the aircraft programme was part of Bombardier Commercial Aircraft. Bombardier sold the Dash 8 programme last June to Canada's Longview Aviation Capital, which also owns Viking Air, maker of the Twin Otter Series 400 aircraft. 
The three Dash 8-400s to Biman will increase the airline's Dash 8-400 fleet to five aircraft. Biman already owns one Dash 8-400 and the other one is on lease until 2021, the ministry says. Biman Bangladesh says on its website that it also operates six Boeing 737-800s, six Boeing 787-8s and four Boeing 777-300ERs. 
Biman Bangladesh is suffering, like many other international carriers, because of the pandemic-related travel restrictions. Past reports say it also has large outstanding loans, as well as unpaid arrears with the civil aviation authority and fuel supplier Bangladesh Petroleum.
The Ministry of Civil Aviation and Tourism says Biman Bangladesh lost BDT9.39 billion (US$110 million) for the March-April period. In comparison, domestic competitors US-Bangla Airlines, Regent Airways and Novoair lost BDT2.5 billion (US$29.5 million), BDT1.4 billion (US$16.5 million) and BDT 320 million (US$3.78 million) respectively, it adds. 
Competitor US-Bangla Airlines operates six ATR 72-600s, three Dash 8-400s and has announced plans to lease two more ATR 72-600s. Novoair has seven ATR 72-500s according to its last delivery announcement. 
Biman Bangladesh's small domestic operation continues to lose money even though the domestic lockdown ended 31 May, say local reports.
Photo: Bombardier
Edward Eng
Edward is based in Singapore. He writes stories on regional aviation across the Asia-Pacific region and has a background on covering socio-political issues. Edward holds a BA (Hons) in Philosophy, Politics and Economics from the University of Warwick in the UK.
Related posts
SUBSCRIBE TO OUR NEWSLETTER