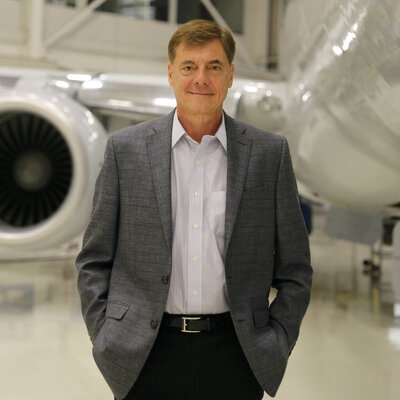 Embraer has disclosed that it is working on not one, but two very different turboprop aircraft.
The Brazilian aircraft-maker disclosed last year that it wanted to develop a 90-seat commercial turboprop aircraft, to compete against ATR and De Havilland Aircraft of Canada.
Embraer CEO, Francisco Gomes Neto, in a podcast with Aviation Week yesterday, says they still want to develop this aircraft. "We like this project but we need a partner – one, two or three – to fund with us and develop the aircraft."
When asked if this new 90-seat commercial turboprop aircraft will be powered by hydrogen, he indicated no and added that hydrogen technology had yet to mature enough.
But then he revealed that Embraer has been working on another new, smaller aircraft with the Brazilian Air Force that will be a replacement for the air force's fleet of ageing Embraer Bandeirante military transports. The air force has 48 Embraer EMB-110 Banderainte aircraft, according to Flightglobal's World Air Force 2020 survey.
The Bandeirante, which is an 18-seater, is both a military and a commercial aircraft and was the very first commercial aircraft that Embraer made.
Neto says the new, smaller aircraft will be hybrid-electric and that the technology needed to power such an airframe will be available soon.
"At Embraer, are working on making an aircraft with hybrid-electric propulsion. We believe the technology will be available in the short and medium term for commercial use."
"We are working with the Brazilian Air Force on this new light military transport and it will use hybrid electric propulsion," he says.
Neto says the plan to move into turboprop aircraft is part of the company's much broader strategy to increase revenues and improve profitability. He says the way to achieve this is three-fold: drive efficiencies across the group, continue to market and sell existing products and diversify the product portfolio and develop new partnerships. Development of the two turboprop aircraft is part of product diversification and developing new partnerships.
Embraer was planning to sell its commercial aviation business to Boeing but that deal suddenly fell through in April, because Boeing withdrew.
Editor's comments: If this new 18-seat aircraft has the backing of the Brazilian air force, it means Embraer would have a sizeable launch customer and the necessary funding to make this 'paper plane' a reality. Because of the air force's backing, the 18-seater appears very feasible from a business point of view. Embraer could develop the military light transport and then apply it to civil aviation.
Leithen Francis
Leithen is based in Singapore and has over 17 years' experience working for news organisations. He is the former deputy Asia editor of Flightglobal and the former Asia editor of Aviation Week. Leithen has a BA in journalism from RMIT University in Melbourne, Australia.
Related posts
SUBSCRIBE TO OUR NEWSLETTER