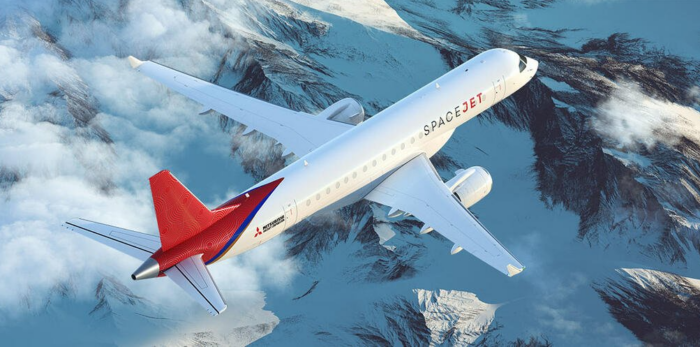 Mitsubishi Heavy Industries (MHI) is pausing the majority of its SpaceJet programme given the aircraft's development status and its weak projections for the aerospace industry.
Pausing the programme covers most SpaceJet activities, except for documentation of its type certification process, MHI says in the announcement today of its 2021 Medium-Term Business Plan (MTBP). The company says it is keeping track of market conditions and will make small improvements to the programme as it assesses a potential restart date for the SpaceJet.
The SpaceJet, formerly known as the Mitsubishi Regional Jet, is a 70 and 90-seat regional jet that MHI launched in March 2008. The aircraft's maiden test flight was in November 2015 and it has been undergoing flight testing since. There have been numerous delays with the programme over the years.
MHI says it is shifting its investment focus away from the SpaceJet programme and into other growth areas: renewable energy and carbon capture technology, new mobility and logistics. This will cut projected cash outflows for the SpaceJet programme to JPY20 billion (US$192 million) over the 2021-2023 period, it says. This represents a 94.6% reduction in cash outflows compared to the 2018-2020 period, where the programme had a cash outflow of JPY370 billion (US$3.45 billion), MHI adds.
Minimising SpaceJet costs will bring about JPY120 billion (US$1.15 billion) in projected savings over the 2021-2023 period, MHI says. It adds, SpaceJet development costs have already cost JPY30 billion (US$288 million) for 2020's first-half, and were expected to cost another JPY30 billion in the second-half.
MHI says because it is reducing funding to the SpaceJet programme it aims to reallocate some commercial aerospace personnel to its defense business. The SpaceJet programme will also actively share aircraft development knowledge with MHI's CRJ regional jet business, it adds, without explaining further the impact on its workforce. Production of CRJ aircraft was due to end middle of this year.
MHI says it will continue to grow revenue from the CRJ programme by expanding the CRJ maintenance, repair and overhaul (MRO) business as well as conducting a feasibility study for upgrades to CRJ aircraft models. It also says it plans to have CRJ MRO facilities expand their capabilities to add other aircraft types.
The Japanese conglomerate says it expects the MRO industry to recover quicker than passenger demand, which it predicts will occur only around 2024 due to the impact of the pandemic.
The company acquired the CRJ regional jet programme from Bombardier in June this year, so it has a customer support network in place internationally to support the entry-into-service of the SpaceJet.
When it acquired the CRJ programme, it also got Bombardier commercial aircraft's sales, marketing and business development teams around the world.
MHI's statements today fails to specify how many jobs will be cut from the SpaceJet programme. But it says it plans to reallocate 3,000 jobs in Japan across the group, and globally plans to cut around 2,000 jobs across the group.
It also remains unclear when the aircraft will be certified and be delivered to launch operator ANA. MHI announced in February that the first delivery of SpaceJet has been delayed to sometime in the 2021 fiscal year or later. The 2021 fiscal year is 1 April 2021 to 31 March 2022.
But today's announcement, puts that time-frame in doubt.
Editor's comments
Mitsubishi's aircraft program was officially launched in March 2008. All Nippon Airways was the launch customer with a firm order for 15 with options for 10 more. The aircraft-maker, which started with capital of three billion yen (US$28.7 million) and 200 employees, aimed to develop the aircraft and certify in time for entry into service in 2013.
The aircraft program has since been marred by numerous delays and cost over-runs. The workforce has swelled to around 2,000 employees and the program so far has reportedly cost MHI more than one trillion yen ($9.55 billion).
The losses at its troubled SpaceJet program, coupled with sluggish sales from its aerospace structures business that produces sub-assemblies for aircraft-makers such as Boeing, has caused MHI to post its worst ever quarterly loss – for the period April to June it was net loss of 57.9 billion yen (US$554 million).
MHI also manufactures gas turbines for the energy industry, another business segment experiencing sluggish sales.
The parent company has announced today that it cannot continue to sustain the losses at Mitsubishi Aircraft.
It also revealed it is highly unlikely that SpaceJet will secure any new aircraft orders in the near-term. The general consensus, among airlines, is the industry will only recover to 2019 passenger numbers in three to five years from now.
It makes sense to focus the Mitsubishi Aircraft programme's resources on completing the certification.
But the fact it says it has frozen the programme, seems to suggest that its launch customers really want to refrain from receiving the aircraft in the near future. Besides ANA, Mitsubishi also has a firm order from Japan Airlines for 32 aircraft.
One of the reasons the SpaceJet program has been so delayed, is because Japan has no experience designing, developing and certifying commercial aircraft. Japan lost that capability decades ago when the NAMC YS-11 commercial turboprop aircraft programme stopped production.
As a consequence, the Japan Civil Aviation Bureau (JCAB) has had no experience certifying commercial aircraft in recent decades. It has validated FAA and EASA certification of commercial aircraft but not since the YS-11, which was developed in the 1960s, has it put in place the system for certifying a commercial aircraft.
Mitsubishi Aircraft appears to have been developing this aircraft based on 'trial and error'. A notable example is the aircraft's wings. When it launched the program, Mitsubishi Aircraft said the wings would be all-composite, a major selling point as composite wings are lighter.
It then later scrapped that idea and developed wings made from aluminum alloy, arguing the weight savings from the all-composite wings proved insufficient to warrant the additional cost and complexity.
Fundamental changes such as this all leads to the same outcome: time-consuming redesigns and lengthy delays.
The delays also meant the SpaceJet programme has lost some of its competitive edge. If it had achieved entry-into-service in 2013, as originally planned, it would have been the first aircraft in the market with the Pratt & Whitney GTF engines, which provide much lower fuel burn.
Airbus delivered its first A320neo, powered by GTF, in January 2016. Mitsubishi's more direct competitor; the Pratt & Whitney GTF-powered Bombardier CSeries, now the Airbus A220; had entry into service in mid-2016. And the Pratt & Whitney GTF-powered Embraer E-190 E2 had first delivery in April 2018.
Despite all the problems, the SpaceJet programme will continue. The aircraft will eventually be certified and be delivered to Japanese carriers. The programme is a matter of national pride in Japan. There are still some who believe that to truly reach 'first world' status, with regards to technological prowess, a country must be capable of designing, building and certifying commercial aircraft.
Edward Eng
Edward is based in Singapore. He writes stories on regional aviation across the Asia-Pacific region and has a background on covering socio-political issues. Edward holds a BA (Hons) in Philosophy, Politics and Economics from the University of Warwick in the UK.
Related posts
SUBSCRIBE TO OUR NEWSLETTER