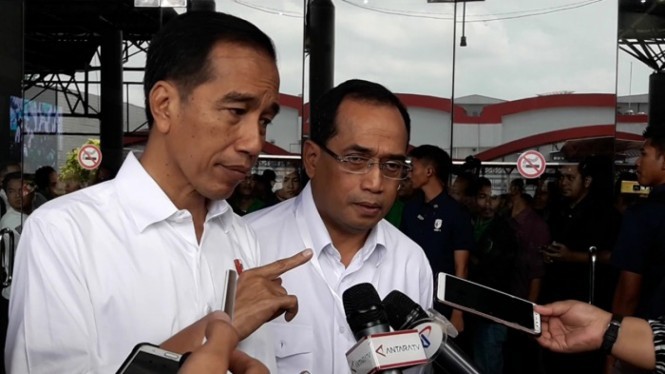 Indonesia's president, whose political party will be contesting the national elections less than two years from now, has asked his transport minister and the minister for state-owned enterprises to take action to deal with rising domestic air fare prices.
"I have also received complaints [about the air fare prices]. I have thus ordered the minister of transportation [Budi Karya Sumadi] to resolve this immediately," president, Joko Wododo, more popularly known as Jokowi, told reporters.
He says he is hearing the complaints often, when he is out in public meeting people, and has asked Budi Karya to take action, because it may contribute to the nation's inflation rate.
Jokowi says he has also spoken to Erick Thohir, minister for state-owned enterprises, to have national carrier Garuda Indonesia and its low-cost carrier Citilink increase capacity in the market to drive competition and help stabilise air fares.
He says it is hard to lower air fares, because of higher fuel prices.
During the pandemic several airlines either shuttered their operations completely – such as Expressair and TransNusa – or scaled back significantly, such as Sriwijaya Air Group and Garuda Indonesia Group. It means Lion Group – which includes Lion Air, Wings Air and Batik Air – has increased its market share significantly.
Data from Swiss-based aviation market research company Ch-Aviation, comparing August 2019 with August 2022, shows Lion Group went from 241 to 237 aircraft.
The family behind Lion Group also established a new carrier during the pandemic called Super Air Jet that now has 27 A320s.
Lion Group did return several aircraft to lessors during the pandemic. But it also added aircraft to capitalise on the much lower lease rates; something Super Air Jet also capitalised on. About 80% of Lion Group's fleet is active, says Ch-Aviation. 
Meanwhile, Garuda Group including Citilink, shrunk its fleet to 156 from 193, says Ch-Aviation, adding that only 49% of that fleet is active.
Some airlines have been struggling to return aircraft to service because of the maintenance costs involved, lack of slots at aircraft maintenance centres and supply chain issues that have impacted availability of some spare parts.
Indonesia's third largest carrier Sriwijaya Air Group, which includes NAM Air, has downsized to just 30 aircraft from 48 and it only has 30% of its fleet active, says Ch-Aviation.
The complaints about higher airfares are occurring at time when political leaders are publicly jockeying to lead their party's presidential campaign ticket in the February 2024 presidential elections. Jokowi is prevented, under the law, from contesting a third term.
Jokowi is a member of the Indonesian Democratic Party of Struggle (PDI-P). The leader of the PDI-P is former Indonesian president Megawati Sukarnoputri.
Picture, from Istimewa, shows Jokowi and his transport minister Budi Karya doing a door stop interview while out in public meeting people.
Related articles:
ANALYSIS: Lion Group's Wings Air Has Lion's Share Of Indonesia's Regional Aviation Market (16 August 2022)
Indonesia's Lion Group Hits Back At Local Govt Complaints Over Higher Air Fares (11 August 2022)
Related posts
SUBSCRIBE TO OUR NEWSLETTER